I'm not considered a sociable person, so you may be surprised that I joined a car club back when I was a younger man—more than half my life ago (oh jeez, where has it all gone). This club's existence was based on owning a particular brand—which one isn't important for my story—but the club member's general attitude was that no one should drive one of these cars because the mileage brought down their value. Insane, I know. Despite that, the club put on well-attended events like parties, tours, meetings, and track days.
The club event that drew the most participation was their annual progressive dinner. If you've never heard of that, it's a three to seven-course dinner served at the volunteers' houses who prepared each course. So we'd meet at the appetizer house, have a glass of wine, and when the food was all gone, we'd jump in our cars and drive to the next course. The club paid for the food and a couple of jugs of Carlo Rossi wines, and members paid a flat per-head attendance fee. The club made a lot of money. Things were different then. Phoenix had few roads north of Northern Avenue, and traffic was nil on Saturday nights, so by the end of the evening, the drive between houses turned into a Targa Florio race. Half the club would wind up in the slammer on DUI charges these days, and the insurance companies would cancel their policy.
Now hold that thought in the back of your head while I talk about the other part of another one of my grandiose ideas. I've written before about the trains that pass our house. They run less than a half-dozen times each day (and night), so the tracks are empty most of the time. The route runs from Phoenix to the northern town of Ash Fork, and it has so many twists and turns that it was dubbed The Peavine Line when it opened a century ago. The tracks run through the heart of Arizona's historic gold mining country.
Historically our little train used to carry passengers with depots in Phoenix, Wickenburg, Congress, Kirkland, Skull Valley, Prescott (now bypassed), and Ash Fork. Most of the town's stations are still there in one form or another. And—unlike the routes between Phoenix to Tucson and Phoenix to Yuma—there is some interesting backcountry scenery and at least two climate zones along the journey.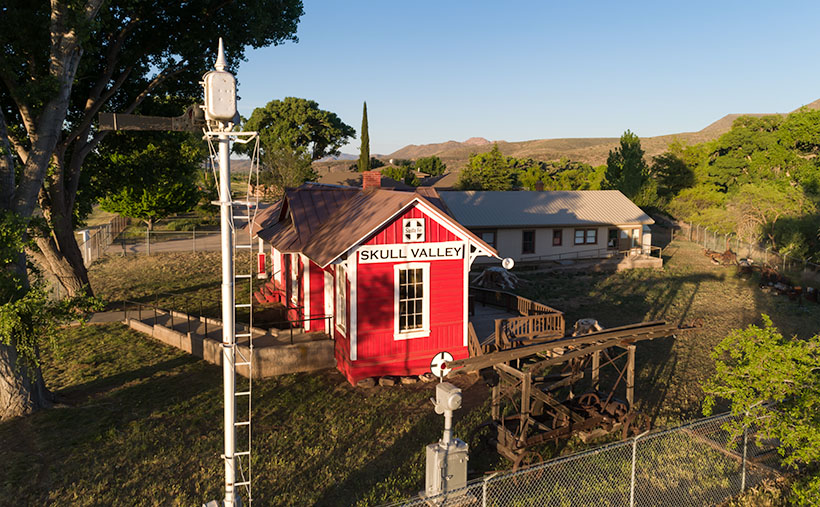 So, after my photo outing where I shot this week's featured image in Skull Valley, I began to fantasize about having a progressive dinner—on a train. The trip would start in Wickenburg (or maybe Sun City West), then make scheduled stops where the old stations are. At each stop, you could peruse the local museum, enjoy the designated course, spend money on useless trinkets in the gift shop, pee, and get back on the train. Between stations, the guests could taste wine samples (from Arizona vineyards?) and purchase bottles that they would pick up at the evening's end. At the end of the line, the train would make a leisurely two-hour trip back to the station. The night will have fallen by that time, and guests would enjoy non-alcoholic beverages to sober them up.
I only know of two train excursions in Arizona; the Verde River Line and the trip from Williams to the Grand Canyon. There once was the White Mountain steam train, but that closed a long time ago, and Durango bought the engine (which fell off the trailer along US 89—however that's another story). I think there's plenty of market for another train ride in our state, and the dinner would make it a unique experience. Think of it as a dinner cruise on rails.
If this lame-brain idea sounds good to you, then it's yours. On the other hand, if you feel it's a stupid idea, I never said anything. My brain hurts too much to work on stuff right now. I'm too old and penniless. Besides, it's time for my nap.
You can see a larger version of Skull Valley Depot—the picture that set my brain on fire this week—on its Web Page by clicking here. Be sure to come back next week when we continue with another Skull Valley artifact.
Until next time — jw