This week's featured photo concludes our May adventure to Alamo Lake's mud cliffs. I have another couple of detail shots that would fit nicely into this grouping, but I've run out of weeks this month and we have other places to go. I suppose I could put together a set of six and make up a folio like Santa Lucia Fog, or maybe I'll go back and shoot enough images to complete a portfolio. I'll have to think about that—what do you think?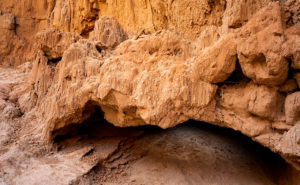 May's final image looks like I shot the mouth of a shallow cave with—if you squint and let your imagination go wild—a pair of cherub heads as keystones, and that's exactly what it looks like when you approach this structure in the field. But there's something in the photo that gives a clue that this isn't a cave. It's the light shining on the floor past the opening. If you crawled into the cave where that light area is, you could stand up—or you could just walk around the pile of mud to the left, and come back down the stream bed. This is actually a low arch that is torso high. If I had a model, her legs would show in the lower opening while her head and shoulders would be visible on top. It would make a unique open shower design—like you would have poolside.
In all honesty, I wasn't creative enough to come up with that idea. The woman in spring's photo class, whose images inspired me to visit this place, came here with a group, and one of her friends posed behind the arch. Except he was a guy and he wasn't naked. When I walked up to this spot, I wasn't sure it was the same because it's so well camouflaged. If I do go back for a reshoot, I'll need to have a model join me. What are the odds of that happening: me—a toothless old geezer—convincing an attractive woman to go with me to this barren wasteland so that we could shoot that picture? Yeah, I didn't think so either.
You can see a larger version of False Cave on its Web page by clicking here. I hope you enjoy viewing my newest entry and join Queen Anne and I as we present new photos from a different location—this time in Yavapai County.
Until next time — jw