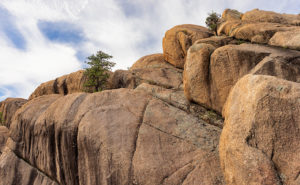 The wind was warmer than I expected at this altitude. Blowing on my back, it seemed to help push me along the John Muir Trail in California's High Sierra's. The Mt. Whitney Trail was only a half mile further when I stopped to snap this photo of massive granite formations along the tree line.
I just made all of that up. My chances of hiking those famous trails have long vanished, but this week's photo has a sense of scale that could work with a fictitious story like that. I took this photo I call Timberline at the Granite Dells along with the others featured this month. It's the angle that fools the eye so that you think you're looking at a craggy mountaintop. The trees also play tricks with your sense of scale. They're actually shrub-size like they were scale models of ones that are much taller—bonsai versions if you will, and the sheer drop in the lower left isn't the hundreds of feet that it seems. It's only a dozen feet over your head as you hike the Flume Trail to the park's northern boundary.
The reason I included Timberline in this month's set is that it distills the Granite Dells into three simple elements; massive rocks, trees eking a living in hostile conditions, and the changing sky over them. The photo speaks of weight—or mass—and it shows a time contrast of a changing sky and momentary life against the permanence of the weathered granite. The sky changes hourly while the trees will be different in a century, but the granite will survive the next millennia unaltered.
You can see a larger version of Timberline on its Web Page by clicking here. I hope you enjoy viewing this week's post and come back next week when we start a new set of images from a new location.
Until next time — jw