My first Phoenix visit was during the summer of my high school junior year. It wasn't much of a visit. Dave and Edith—my mom's niece and her husband lived here. They moved here from Michigan, and he hadn't been able to find steady work as a mechanic, so my dad offered him a job maintaining his debilitated fleet of Corvair vans. They accepted and immediately packed up to move to the coast. Since I was on summer vacation and my wallet had that new-drivers-license smell, dad volunteered me to drive one of their trucks.
My father put me on an early flight out of the tiny Burbank Airport, and I arrived at an even smaller terminal where Dave met me. Parked at the curb outside was his white El Camino. I don't remember the year, but it was loaded with toolboxes and the rest of his shop equipment. I didn't question if it was overloaded because that was above my pay grade and comprehension at the time. I was only impressed that it had a four-on-the-floor, and it made a rumble when he started it.
We drove straight to their home, where a moving van was packed and ready for the trip. The only things that I got to see in Phoenix were the airport, the freeway, his house, and the biggest Goodyear Tire sign in the world. Even Hollywood didn't have a sign that big and bright. I do remember that it was only mid-morning, and it was already hot. Automotive air conditioning was an exotic thing back then, so we drove with the windows down.
We didn't spend much time at the house because everything was packed and ready. I was assigned to drive the El Camino, and he would follow in the U-Haul (or whatever brand he had rented). Both vehicles were packed to the gills, but Dave still had loads of unpacked clothes and threw them on my passenger seat before heading west on Highway 60.
Not many cars had air conditioning in 1963, but they all had wind-wings, little adjustable windows at the front of the door windows. They were useful for defogging the windshield, sucking out cigarette smoke, and when driving across the desert, they would divert the scorching wind from your face. By noon we were driving across the open desert west of Wickenburg, and my wind-wings were wide open.
Cars also had temperature gauges then because they frequently overheated. Nothing was broken; they just did that. While you drove, you watched your speed, the gas gauge, and the water temperature. You planned your stops by what the gauges said. As the day grew hotter, and the overloaded little El Camino began to run hot, and I pulled over to let Dave know. We began stopping at gas stations in each of the little towns we passed in an abundance of caution. There we would hose down the truck's radiator and then continue on our way.
That was until we stopped at a place in the middle of nowhere. As I looked around, all I could see was the barren desert surrounded by dry, jagged mountains. The water spigot had a lock on it and a sign that read, "Water 1.00 a gallon." That was five times the price of his gas; it was outrageous. The man behind the cash register justified the cost by saying, "Look around you, kid. Do you see any water? I have to pay to have this trucked in." We gave in and bought a couple of gallons and slowly poured it over the gurgling radiator.
We drove another 200 miles without another incident, all the while the expensive water ate at my brain. Once we reached the cooler air in San Bernardino, the little truck behaved itself. As we drove the two-lane road crossing the lower Mohave Desert, we saw hundreds of freeway miles under construction off to the right. Interstate 10 was finished from L.A. to the Colorado River when I moved to Phoenix a decade later. In Arizona, it stopped at a place they called The Brenda Cutoff. For years I wondered who Brenda was. After moving to Congress, I realized that Brenda was the town where that infamous gas station was, and I finally put two and two together.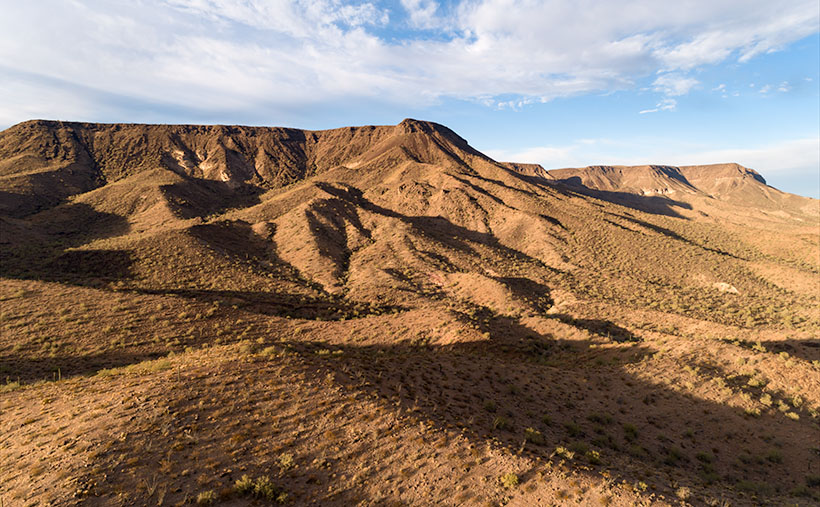 Last Tuesday, I pointed out the old station's ruins and told Fred this story—well, an abridged version—as we drove back from our photo-shoot. We went there to photograph this week's featured image of the Black Mesa in the New Water Wilderness Area. The Ramsey Mine Road approaches the wilderness, and it starts in Brenda. The lava-rock covered mesa cliffs are another of my favorite Interstate 10 landmarks. When I see them on the south side, I know that we're almost to Quartzite, and the Colorado River is soon after. I've admired these formations each time I pass under them, and it's taken me decades to figure out how to get closer. I called this shot New Water Black Mesa because there are dozens of Black Mesas throughout Arizona, so I have to start including which mesa I'm talking about.
You can see a larger version of New Water Black Mesa on its Web Page by clicking here. Next week we start a new monthly project as well as a new year. Queen Anne and I will still need to keep close to home, so come back next week and see what subject we chose.
Until next time — jw