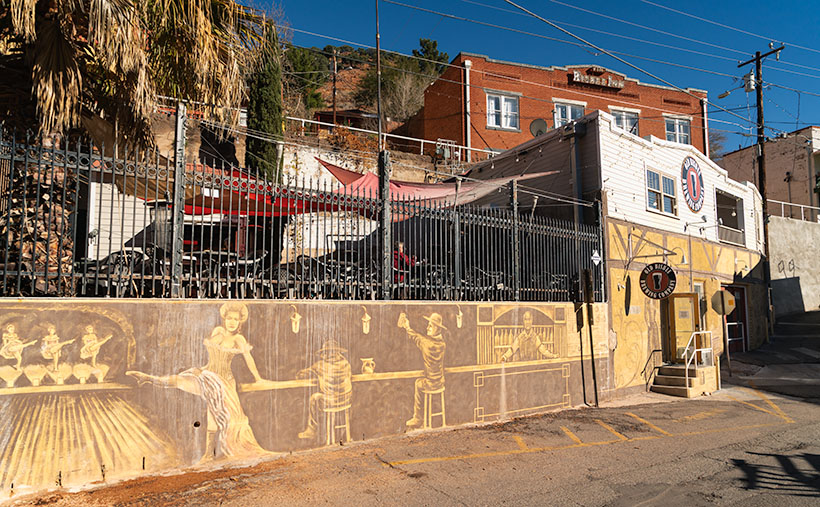 Last week, Queen Anne and I treated you to a before-and-after fashion show of Bisbee's historic buildings. In one corner, we had the Pythian Castle, restored to its former glory by the hard work and dedication of the town's residents. In the other corner, the Philadelphia Hotel, still in its 'before' state, left to daydream about what it could be when it grows up. But now, let's look from another angle—Bisbee's artistic side—and see what makes this town shine!
Bisbee, a small town in the Mule Mountains of southeastern Arizona, was once a bustling mining town in the late 19th and early 20th centuries. The town's buildings were constructed chiefly during its heyday and feature Victorian-style architecture, including ornate ironwork, stained glass windows, and decorative brickwork. The hilly terrain of Bisbee bares a striking similarity to Al Capp's fictitious town of Dogpatch, known for its unevenly matched cow legs. However, I've yet to see anyone in Bisbee with mismatched legs. The steep hills have led to the construction of many unique homes and buildings, with staircases and walkways connecting them to the streets above.
However, as the demand for copper dwindled, so did the mining industry, leaving the town struggling to survive. When Phelps Dodge pulled out of town, 40% of the town's population did too. It wasn't until the 1970s that a group of artists and hippies discovered the charm of Bisbee's historic architecture, mild climate, and rugged landscape and began to settle in the town. Since many of the old homes sat vacant, rent was cheap. But, with migrants came conflict. Power struggles erupted between generations, like when my father told me my photography wasn't real work. This influx of artists and bohemians eventually transformed the town from a mining town to a thriving hub of tourism and art. Since the mine closings, Bisbee has become a popular destination for those interested in historic preservation. Many of the town's buildings have been restored and repurposed for modern use while maintaining their original character.
In 1970, artist Stephen Hutchison and his wife Marcia purchased the Copper Queen Hotel from the Phelps-Dodge mining company. The property, which had been vacant for years, needed significant renovation for continued use, but the couple's decade-long labor of love breathed new life into the town. The Hutchinsons' dedication to restoring the Copper Queen Hotel was a model for other entrepreneurs, artists, and creative types to invest in Bisbee's future. The hotel's Victorian-era architecture, Queen Anne Revival elements, and cozy rooms transport guests to another time and place. At the same time, its elegant restaurant and bar offer a taste of sophistication. The Copper Queen Hotel is a testament to the town's unique and colorful history and a hub of contemporary hospitality and culture.
Bisbee's art scene has flourished recently, attracting diverse artists and artisans. From painting and sculpture to jewelry-making and pottery, Bisbee's art scene is as rich and varied as the town. This starkly contrasts the neighboring town of Tombstone, whose identity is narrowly defined by its Wild West history. As a result, Bisbee has seen a significant increase in tourism, with new businesses and galleries opening up to cater to the growing number of visitors and residents. However, this growth has also brought about concerns, such as rising living costs and impacts on the town's infrastructure. Additionally, there are questions about how Bisbee will continue to sustain this growth and whether it will eventually reach a saturation point. As Bisbee continues to evolve and grow, it will be interesting to see how the town navigates these challenges while maintaining its unique character and charm.
If Mother Nature had blessed the Mule Mountains with taller peaks and dependable snowfalls, Bisbee's future would be golden. Legend has it that the Mule Mountains were covered in Douglas fir trees. Today, it's hard to imagine the landscape before Bisbee's founders arrived and the trees were harvested to make the town and shore up the mines. But imagine, with those fir trees and a little snow, Bisbee could have been a ski resort rivaling Aspen or Snowmass. I can almost hear the sounds of skiers swooshing down the slopes and the town buzzing with excitement.
The photo for this week's post—Bisbee as a Canvas for Artists and Artisans Alike—captures the essence of Bisbee's artistic community. The Old Bisbee Brewing Company mural, created by local artist Doug Quimby, is a prime example of how art and culture have taken center stage in this town. The faded golden characters on the wall portray a lively scene of men at a bar, a bartender, and can-can dancers. The light quality of the mural gives it a nostalgic feel, transporting viewers to another time when the building served as a watering hole for miners. Today, the brewery is a thriving business that has embraced Bisbee's artistic spirit, creating a rich atmosphere for locals and visitors. The mural on the wall and the European-style architecture of the building are a testament to the town's unique and colorful history.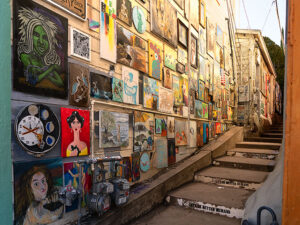 Bisbee's thriving art scene and creative community have played a significant role in transitioning from a mining town to a destination for tourism and the arts. Bisbee serves as a canvas for artists and artisans, with colorful murals adorning the town's walls and unique galleries and shops offering something for every art lover. We hope you enjoyed this week's article and encourage you to visit the web version of Bisbee as a Canvas by clicking here to view the accompanying photo. Join us next week as we look at some weird ways Bisbeeites celebrate holidays.
Till next time
jw