Along U.S. Highway 93, between Congress and Wickenburg, are a set of peaks that I've had my eye on for the last five years. They aren't named because they're slightly greater than a line of hills. Their color is the same as the surrounding desert, except they have a basalt mantle along the top. Sometimes the darker capstone looks like a shadow on the hilltops.
They're generally aligned in an east-west direction, with the Hassayampa River on the west and the Blue Tank Wash on the east side. As they face south, there never seems to be a flattering light on them. The other challenge that I have is getting all four peaks into a frame. Even from the highway (3 ½ miles away), they only fit in with a wide-angle lens. That means that all of the homes, ranches, and construction lining the Hassayampa would be included in the photo. So I decided to get closer and pick them off one-by-one.
Two old mine roads radiate out from Wickenburg (Rincon Road and Constellation Road), and connecting the two is another path called the Blue Tank Wash Road. This dirt trail runs through the valley on our range's south side. Late afternoon this Tuesday, I drove Archie up there to see what I could do.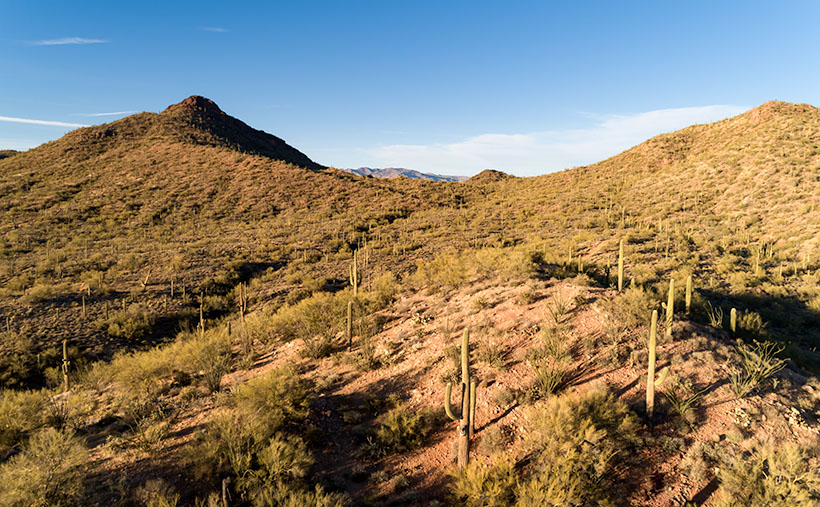 This week's featured image is the first variation that I liked. I wanted shadows to show texture and depth, so I shot this from the third peak looking west at the second. I was fortunate to find some sunlit saguaro growing in reddish soil to place in the foreground for scale. The bright spot gives balance to the dark peak in the background. I call this image Blue Tank Wash.
You can see a larger version of Blue Tank Wash on its Web Page by clicking here. Be sure to come back next week for another of my images from the small mountains above the Harquahala.
Until next time — jw