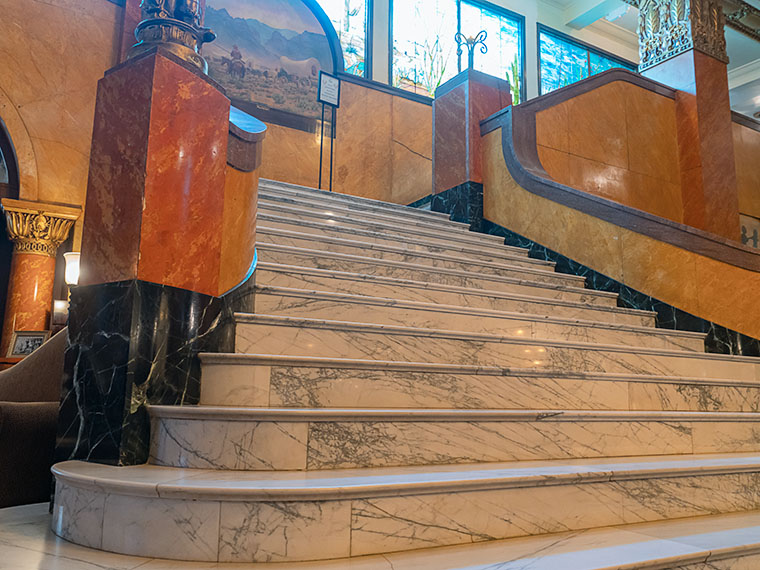 Welcome to our wrap-up of May's Orphan Photo Project. I hope you've been enjoying the show so far. This week's episode takes us back to Cochise County and the border town of Douglas. Like several towns along our southern border, it has only a quarter of the population of its southern sibling—Agua Prieta. Unless you're on a mission to score some cheap Kahlua, mescal, or prescription drugs, there are not many reasons to go to Douglas, but a stop at the iconic Gadsden Hotel is one of them.
Yes, I have uncovered another grand hotel from Arizona's mining days—so indulge me. It was built at the turn of the 20th Century by mining corporations to satisfy old fat cats that traveled here to inspect the books. They couldn't be expected to sleep in tents like the commoners they paid. These tycoons needed a place to smoke cigars and sip cognac while stuck in the wild.
The Gadsden Hotel's architecture reflects the elegance and grandeur of the time, with its ornate facade and intricate details. It was designed to provide a luxurious experience for its guests, offering luxury accommodations, fine dining, and entertainment. It was among the first to provide in-room toilets, fresh air ventilation (yes, that sounds like open windows to me, too), and an elevator that stopped on each of its floors. Today, I'm not going to waste time gushing over this fabulous hotel; I'd rather gossip about some of its guests. That's where all the fun is.
In the early 1900s, during the tumultuous Mexican Revolution, battles often spilled over into the border towns of Arizona. Douglas was no exception. One day, as the sounds of gunfire echoed through the streets, the guests of the Gadsden Hotel sought refuge on the rooftop to witness the spectacle. Among them was the notorious revolutionary leader, Pancho Villa.
In an audacious display of bravado, Villa rode his horse into the hotel and galloped up and down the magnificent staircase that graces the lobby. The clatter of hooves and the cheers of onlookers reverberated throughout the grand halls, creating an unforgettable moment in the hotel's history.
Legend has it that the spirited Villa, with his characteristic wide-brimmed hat and commanding presence, left a lasting impression on the staff and guests who witnessed this daring act. It became a story that would be told and retold, forever etching Villa's name into the annals of the Gadsden Hotel. Today's Gadsden visitors still search for a legendary chip in the white marble.
You want to know what I think. I think Pancho got bored fighting with the Federalies in Agua Prieta and decided to take a break. He rode across the border to enjoy a frozen Margarita at the Gadsden bar—after all; it was May 5th. When the bartender tried to explain that the Margarita hadn't been invented yet, Pancho went ballistic. He went outside and untied his horse— Siete Leguas—from the parking meter and road back inside in an attempt to trash the place. You know, rock stars. That's what they do.
In the 1920s, famed radio evangelist Amy Semple McPherson captured the nation's attention with her charismatic preaching and healing services. However, her life changed dramatically when she mysteriously disappeared from Los Angeles. Authorities launched a widespread search, and the public anxiously awaited any news of her whereabouts. Eventually, Amy reappeared in Douglas—of all places.
There were conflicting accounts and rumors surrounding Amy's disappearance and reappearance. Some sources suggested that she was kidnapped and held for ransom, while others speculated that she had run off with a lover to a secluded location. According to her account, she claimed to have been abducted and held captive. My legal staff told me there is no historical evidence to put Amy inside the Gadsden, but after being released from the local hospital, where else would someone with all that wealth and fame stay—it certainly wasn't the YWCA.
The Gadsden Hotel has welcomed several less controversial personalities throughout its history. Among them, aviator Amelia Earhart graced the hotel with her presence during her visits to Douglas in the 1930s. The iconic actor John Wayne frequented the Gadsden Hotel in Arizona. Presidents Franklin D. Roosevelt and Lyndon B. Johnson also left their mark on the hotel during their travels in the Southwest. These visits, spanning different eras, have contributed to the Gadsden's rich history and enduring allure.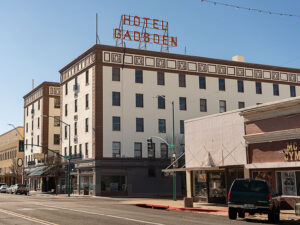 We hope you've enjoyed hearing the fascinating Arizona stories as we end our journey through May's Orphan Photo Project. As usual, you can see the larger version of Marble Memories by following this link to the web page: (https://www.jimwitkowski.com/newWork/gadsdenStairs.html). As we bid farewell to the Gadsden Hotel, we invite you to join us next week when we embark on a new adventure. Until then, thank you for joining us on this journey, and Queen Anne and I can't wait to share more with you soon.
Until next time
jw
Technique
Capturing the essence of Gadsden's famous staircase presented a unique challenge. Instead of the typical head-on view, I wanted to emphasize the polished marble steps and the potential hazard they posed to Pancho Villa's horse, Siete Leguas. To achieve this, I opted for a wide-angle lens and positioned myself low at the left side of the marble waterfall, shooting upwards towards the bank of stained glass windows. The dim lighting inside the Gadsden lobby required a higher ISO of 2500, and I stopped down the lens to f/6.3 to ensure everything was in focus. I captured a handheld shot at 1/15th of a second in the low light conditions. Remember to hold your breath to minimize camera shake in challenging situations like this.