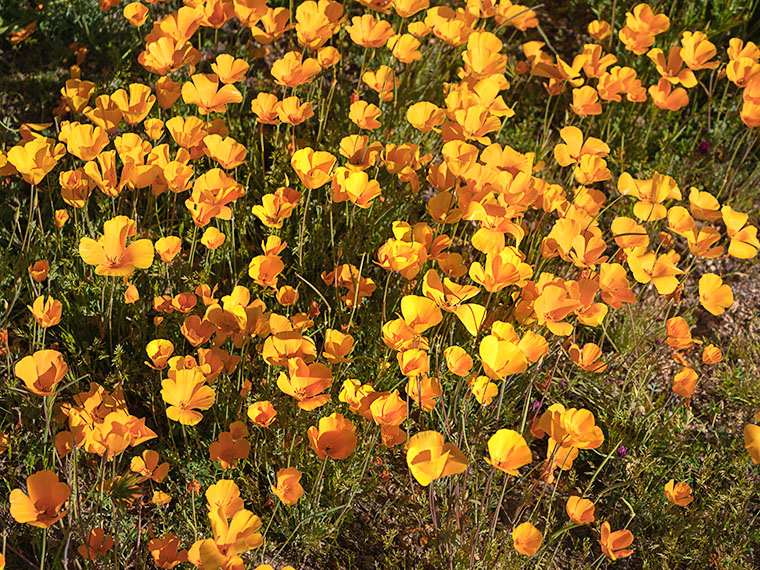 May has arrived, and so far, it has left the 100° temperatures in a closet at home. To take full advantage of this comfortable weather, we threw open the curtains and windows wide to let in that fresh warm air, allowing the breeze to blow away the stale air that had settled in our home over the long winter months. As I breathed in the cool fresh air, I couldn't help but notice the unwelcome grime that had accumulated on the windows over the winter. I thought, "Geez, it's already time for spring cleaning." Armed with the remains of a five-year-old bottle of Windex, I dove headfirst into restoring our crystal-clear view of the neighbor's houses. When finished, I still had the energy to waste, so I turned to my recent photography files. You see, not everything I shoot fits neatly within a scheduled project. The subjects sometimes catch my eye purely because they're pretty, colorful, or bask in the glory of captivating light. These may be image orphans, but I must share them with you. As a man of ridged habit, I occasionally gather and present these gems in their project, Odds and Ends. So, over the next four weeks, I invite you on a journey through a series of unrelated shots I took. They may not fit a specific theme, but they're worth interrupting our regular schedule to share with you.
Thanks to this winter's abundant rains—the perfect recipe for a natural phenomenon known as a 'super bloom'—it was no surprise when the buzz of a colorful and vibrant floral display echoed through the air. I couldn't help but share my enthusiasm, goading you to grab your camera and join in on the Great Flower Hunt of 2023. I hope you took up the challenge and immersed yourself in the joy of capturing nature's stunning tapestry or at least romping through fields of wildflowers. Even the weather forecasters can't resist showcasing fantastic flower shots as their backgrounds.
In this week's photo—Dancing Petals—I present a patch of Mexican poppies, their bright petals basking in the warm afternoon light. These pretty little flowers, known for their radiant shades of orange and yellow, grace the landscape with their delicate beauty. As I stood above this scene, capturing the poppies from a downward angle, their unique characteristics came into focus. You may wonder how Mexican poppies differ from their close relatives, the California poppies. While both belong to the poppy family, they exhibit distinct but subtle traits. With their bright and fiery colors, Mexican poppies often cluster together in patches. The outer edge of their petals is rounded.
In contrast, California poppies display a softer and more muted palette, with shades of golden yellow and orange. Their petals are more uniformly arranged, creating a charming carpet-like effect across fields and meadows. These subtle variations in color and growth patterns add to the intrigue and diversity of the poppy world, reminding us of nature's endless ability to surprise and delight.
Living in the Sonoran Desert with its unique diversity, we are accustomed to a world that is harsh and colored in shades of brown and muted green. But when the spring blooms come, they bring a welcome burst of color to our arid landscape. The rich oranges and yellows of Mexican poppies, the electric pink of hedgehog cactus blooms, and the striking white of saguaro flowers create a dazzling and surreal tapestry. However, the ephemeral nature of these blooms reminds us to cherish their beauty while we can, as they wither and dry all too soon. Their transient nature only adds to their preciousness, inviting us to pause and marvel at nature's fleeting creations. In the desert, where the dry underbrush seems to beckon wildflowers to replenish the soil, these blooms represent a delicate balance of resilience and beauty, a reminder that even in the harshest of environments, life finds a way to thrive.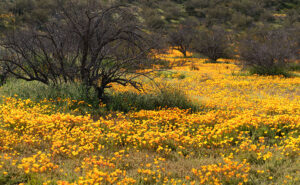 If you're eager to see a larger version of these Dancing Petals, you can check out the photo on the web by clicking here. Stay tuned for the next installment of Odds and Ends, where we'll explore two different eras of farming equipment. Join us as we travel through time, delving into the captivating tale of an abandoned grain hopper that stands as a testament to a bygone era and the shiny new silos that mark the modern age of agriculture. Through these odds and ends, we'll unravel the mysteries and stories within these two vastly different pieces of farm equipment. Until then, cherish the beauty around you, for it may be as short-lived as the delicate dance of the Mexican poppies.
Till next time
jw
BTW:
Queen Anne must not be feeling well. She didn't get out of bed at 2 am and watch the coronation of King Charles throughout the night. She settled on watching the reruns—without wearing her usual Tierra. You should offer your wishes if you bump into her along the road.