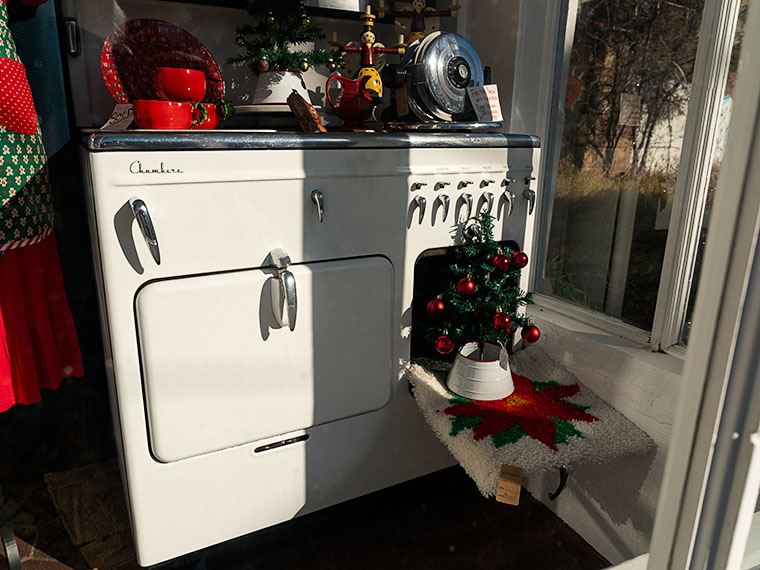 Prepare to embark on a mouthwatering adventure as we take a bite out of Bisbee's culinary scene. My first visit to the old mining town was on a double date with another couple. In the Phoenix paper, we read a feature story about the Copper Queen Hotel restoration that convinced us to explore it firsthand. After checking into the hotel, Dick and I went out to find a beer while the girls refreshed themselves. We only walked a block to the Brewery Gulch corner before we were overcome with the aroma of tortillas fresh off the press. We went inside the tortilleria and bought a half dozen—still warm—a couple of Fantas and a stick of butter. Since there weren't any tables, we sat on the front stairs, let the butter melt on the warm corn delicacies, and then wolfed them down in a few bites. That delightful moment sealed my love affair with Bisbee.
Let's be honest; I'm a foodie. I know that because when we redid our kitchen, I insisted on a six-burner gas stove; I replaced my college-era Farah Fawcett poster with one of Alton Brown; I buy cookbooks and never use them. My cupboard is full of spice jars arranged in alphabetical order. Maybe, one of the reasons why Queen Anne and I have stayed together for 35 years is a vow that she cooed on a date, "You cook, and I'll clean." By sharing my dirty little secret with you, I hope you'll understand why we try to discover the best local cuisines during our overnight photo trips. As I've previously written, it disappoints us when our choices are limited to Burger King, Taco Bell, or Pizza Hut. Bisbee doesn't disappoint.
When I checked TripAdvisor this morning, there were over 30 Bisbee restaurants, and the list didn't include the dozen or so food trucks operating in Cochise County. That's too much food for one man to tackle, so I'll share a selection of places that Queen Anne and I recommend.
Breakfast— Bisbee Breakfast Club (TripAdvisor #3): Start your day with a hearty breakfast at the Bisbee Breakfast Club, a must-visit spot. This local favorite serves delicious breakfast and brunch options, including pancakes, omelets, and breakfast burritos. The Breakfast Club is down Highway 80 in Lowell at the head of Erie Street.
Lunch—Le Cornucopia Café (TripAdvisor #1): An American café that features soups and sandwiches. Its customers rave about the fresh ingredients, generous proportions, and friendly staff. The café is located downtown on the main street (In last week's picture, it's the third building from the left). They're open for lunch on most weekdays, dinners on Friday and Saturday, and Sunday Brunch.
Dinner—Café Roka (TripAdvisor #2): Known for its upscale dining experience, Café Roka offers a seasonal menu featuring creative fusion cuisine. Their dishes incorporate local ingredients and flavors, resulting in a memorable culinary experience. This is my go-to spot for an upscale dinner in Bisbee. While it leans toward the pricier side, it's a YOLO experience. Café Roka is also on Bisbee's main street, almost directly across from Le Cornucopia.
Bar Food— Old Bisbee Brewing Company (TripAdvisor # 8): If you're a beer enthusiast, stop by Old Bisbee Brewing Company. This local brewery offers a range of handcrafted beers, including IPAs, lagers, and seasonal brews. Pair your beer with their pub-style food for a satisfying meal. The brewing company is a short walk-up Brewery Gulch.
Mexican—If you're looking for authentic Mexican food, Douglas and Agua Prieta are only 30 miles away, and Naco is even closer. You can't get any more authentic Mexican food than in Mexico—where they just call it food. As a word of caution, stay away from unbottled water and ice, and wear a bulletproof vest.
Before I move on, there's one more place I think you should experience. It's the Spirit Room at the Copper Queen Hotel. The restaurant is low on the TripAdvisor totem pole because the food isn't inspiring, but I feel that the hotel's grand history and mystique are food for the soul, so you should try it at least once.
You may wonder what sparked our appetite to delve into the delectable world of Bisbee's culinary scene. Well, let me introduce you to this week's featured image—Vintage Charm: A Festive Window Display—a captivating glimpse into the heart of Bisbee's gastronomic heritage. This charming image invites us to take a step back in time, where the centerpiece is an old Chambers 36″ wide gas stove, an emblem of vintage cooking prowess. With its unique features, including the pointed handles and the accompanying seasonal cookware, this snapshot serves as a delicious reminder of the rich traditions and joyous moments associated with home-cooked meals. Wouldn't this be the perfect gift for a chef with a retro kitchen?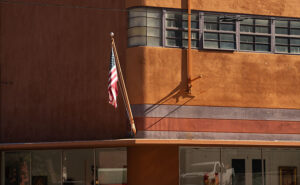 As we bid farewell to Bisbee's culinary adventure, we end our month-long exploration of this charming town. We've taken a Technicolor stroll down Tombstone Canyon, delved into the fascinating history of Bisbee's Pythian Castle, immersed ourselves in the vibrant art scene, and marveled at the exhilarating coaster races and stair climb. It's been a captivating journey filled with diverse stories and visuals. But fear not; our exploration doesn't end here. Next week, we'll embark on a new project, uncovering the secrets and wonders of a different location and theme. So stay tuned for more exciting adventures! In the meantime, don't forget to check out the larger version of the captivating Vintage Charm: A Festive Window Display photo on its webpage by clicking here. We hope you've enjoyed our Bisbee tour and that it inspired you to visit this great town.
Till next time
jw