Cholla and Brittlebush
It's the end of April, and last week we went from, "let's open up the windows and let some warmth in," to "Oh my Gawd—turn on the air conditioner." I don't recall a year when the temperature gained thirty degrees in a week. I'm not ready for summer; I haven't even put my sweaters away.
Spring began with an excellent opening act here in southern Yavapai County. In case you didn't get out, a colorful ribbon of wildflowers lined the roads for weeks. They're now drying in the heat and will soon turn to the thick golden straw that catches fire if you look at it cross-eyed. As happens every year, the public service announcements are already predicting 2020 to be the worst fire season ever.
Even with the temperatures over 100, spring isn't over. The second act is about to begin. That's when the palo verde trees take center stage and sprout bright yellow blossoms. Beneath their canopy, creosote bushes put out dark green leaves punctuated with tiny dots of yellow flowers. While they're full, they look like a proper shrubbery that any gardener would be proud to have in their garden. But don't go planting one in your back yard. I'm sarcastic; they're a weed.
I'm glad that we snuck out for an afternoon and got some desert colors for you—like this week's featured photo. On the hike that I described in last week's post, I dawdled along the way back to the truck and shot some flowers near the path. The best of the bunch was this one that I call Cholla and Brittlebush. I find that both of these subjects are hard to capture. Mature cholla is pretty when the light is behind the needles, but as they grow, the stalks are bare and unattractive. Brittlebush flowers grow like a dome covering the plant, but the yellow washes out in bright sunlight.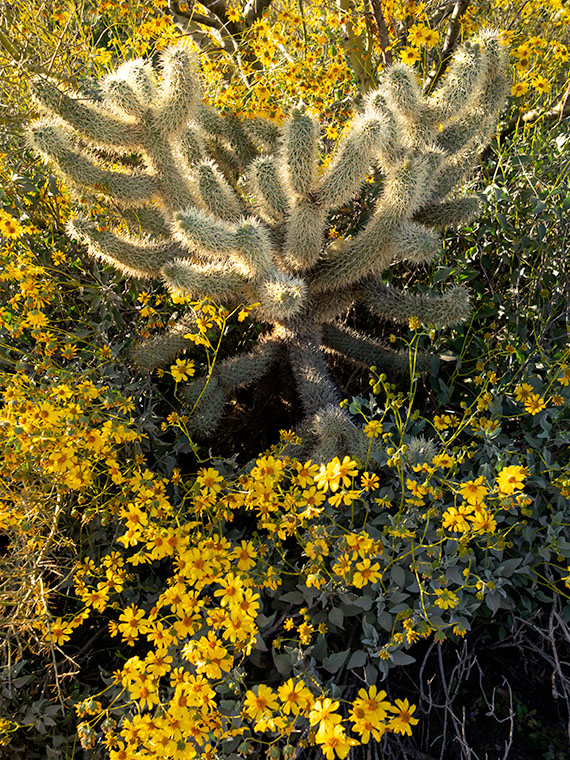 None of that happens in this week's image. I found them growing under a palo verde tree. The cholla is a young plant, so it hasn't had time to drop its lower branches. The backlight shows off the sharp needles, and the cactus shades the flowers. The flowers at the bottom are more rooted in color, while the sunlight washes out those at the top. There's even a gap where the olive-colored brittlebush leaves show. The photo may not be a still life worthy of Irving Penn, but I think it explains why April is the best time to experience the Sonoran Desert.
You can see a larger version of Cholla and Brittlebush on its Web Page by clicking here. I hope you enjoy it. Next week, I'll begin a new chapter on our back road travel adventures. I'm keeping our destination a secret so the authorities won't stop us when we sneak out under cover of darkness. Come back next week to see what we found—if we successfully evade the quarantine police.
Until next time — jw