The cottonwood trees I showcased in this month have told a story of winter in the uplands of Arizona—a part of our state we Zonies keep secret from outsiders. The photos show as much about the chilly morning, crystal clear air, and open spaces as the trees do. After all, there's nothing special about cottonwood trees—they're everywhere. Their Latin name is Populas, which means "People's Tree." (Wow, did you catch the irony? I have a series of People's Tree photographs that I shot in Peeples Valley. Yeah, I meant to do that all along).
Although you can find cottonwoods throughout the United States—in one form or another—they're not widely used in landscaping. In Arizona at least, some homeowners associations explicitly forbid them in their association rules. Although they are fast-growing and provide shade, they're messy, attack water lines, and are prone to disease, so as they age—just like me—parts fall off. One of their significant irritants is in their name. The mature trees spread seeds to the wind on white cotton-like tufts. When seeds are in the air, it can look like its snowing, and quite a few folks are allergic to them.
If you're a rancher and you want a fast-growing tree to say, line your driveway, there is an alternative—the Arizona Ash. These trees grow tall quickly, but are less messy, live longer, respond to pruning, and they are more pest resistant. They also have more fall-color than cottonwood, but only slightly. The ash doesn't get that gnarly old look that interests me.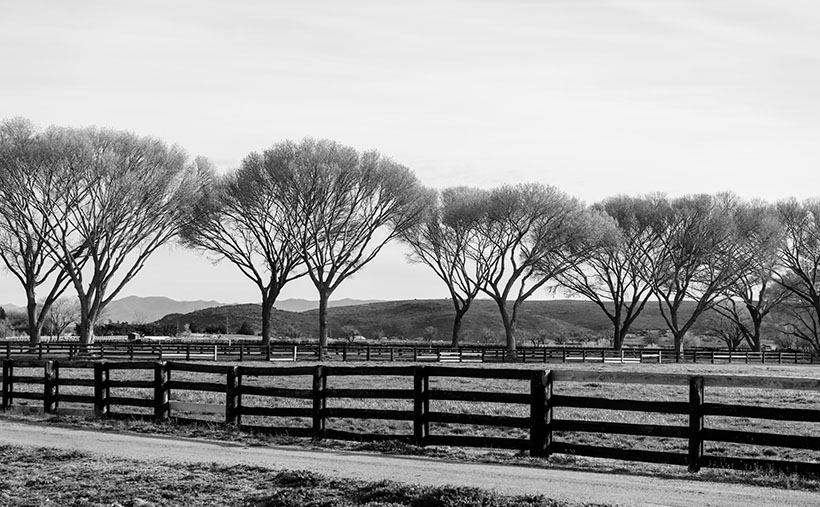 When I was shooting my Peeples Valley trees, I first thought that the Hidden Springs Rancher lined his driveway with our friend, the mighty cottonwood. That's why I photographed the entrance. On second glance, I did a face-slap and thought, "Of course!" Unless you wanted to drive over broken branches all of the time, you would pick a different kind of tree. But, it was winter, and from afar, a bare tree is a bare tree.
I included this week's photo—called Hidden Springs Ranch—in this series because … well, I needed five pictures instead of the usual four, and my first impressions were wrong. My intentions were good. In case you're wondering, Hidden Springs is the other ranch in Peeples Valley—they raise horses instead of cattle.
You can see a larger version of Hidden Springs Ranch on its Web Page by clicking here. I hope you like it. Come back next week when we begin a new series from another Arizona back road.
Until next time — jw