Well, I might as well tell you right off, because you're going to find out anyway. I'm cheating on this month's project. I didn't search out a new back road for us to explore. Instead, I just drove up the highway to Peeples Valley and photographed old cottonwood trees that I've meant to shoot for the last couple of years. I guess you could consider Arizona 89 off the beaten path if you're used to driving I-17 to Prescott, but it's the way we go to Costco all of the time, and it's the official route for every car and motorcycle club tour every weekend.
The reason I shirked my responsibility this month is that I had to put Queen Anne down—wait, that's not right—oh yeah, she had knee replacement surgery, and I've been wearing two extra uniforms since. I've been her nurse and maid, and quite frankly, I prefer the white stockings because my toes keep getting caught in the fishnets.
When she first came home from the hospital, her knee looked like a sewed up bag of haggis—that's the Scottish delicacy of oats and various animal parts boiled in a sheep's stomach. It was black and blue with stitches that could make Frankenstein jealous. She was all doped up on pain medication and spent most of her time in bed. When she did get up, she'd hobble on her walker to the bathroom or eat a cup of food.
In less than two weeks, she's moving much better and can make her way through the house without assistance. Now she's going to rehab three times a week where they ask her, "How far can you bend your knee before it hurts?" After she demonstrates, they grab her leg and bend it further. The whole town of Wickenburg knows when that happens—sort of like the Pit of Despair in The Princess Bride. It seems to work though, because she has more movement each day, and she'll soon be back to normal. I do think shes enjoying being waited on hand and foot because she milks it for all she can get. She even claims the doctor said that ice cream was medicinal.
Enough about her, let's talk about photography. As I said, we frequently travel through Peeples Valley, where there is a large cattle ranch—Maughan Ranches—with white fences lining each side of the highway. In the green pastures, there are some very old cottonwood trees that I find appealing, so on a Saturday, when I was able to escape, I drove up and spent a moment behind the camera. After looking at images on my screen, I decided that since it's winter and there's no leaves or color, I would process them in black-and-white. In all, I think it shows the subjects off much stronger.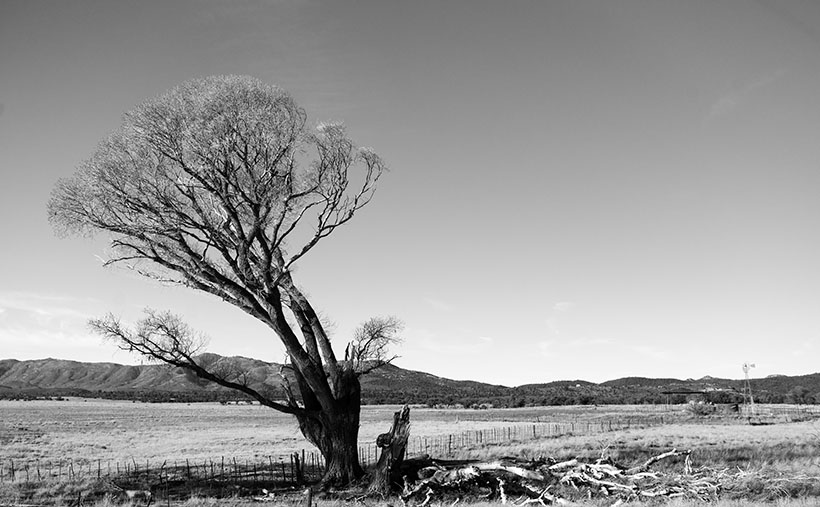 This week's featured image is called Broken Cottonwood. It shows half a pair of old trees. One of them has fallen from decay or rot whose remains litters the ground. The second tree leans to the left to avoid crowding. Now that it stands alone, it leans precariously, like Grandpa McCoy on his cane. There's a tension in this shot that the little windmill on the right seems to balance.
You can see a larger version of Broken Cottonwood on its Web Page by clicking here. I hope you like it. Be sure to come back next week for another cottonwood portrait from Peeples Valley.
Until next time — jw