I want to begin this week's post by thanking Deb Poteet for her advice about wearing fish-net stockings. If you missed what she said, it was a helpful comment to last week's post. She said that she got her information straight from the Candy Store dancers—the gentlemen's club on Cave Creek Road near Costco. It made both Queen Anne and me wonder what she was doing hanging around old strip clubs. Deb really does surprise us sometimes.
On another subject, Her Majesty is improving with each day. She goes to physical therapy three times a week and limps around the house without her walker or a cane. When I remind her that she doesn't need to do that, she drops the Chester impersonation. It's interesting to see how fast a woman can recover when you walk up to her death bed with a bottle of Dawn dish detergent and ask, "How much of this do I put in the dryer?"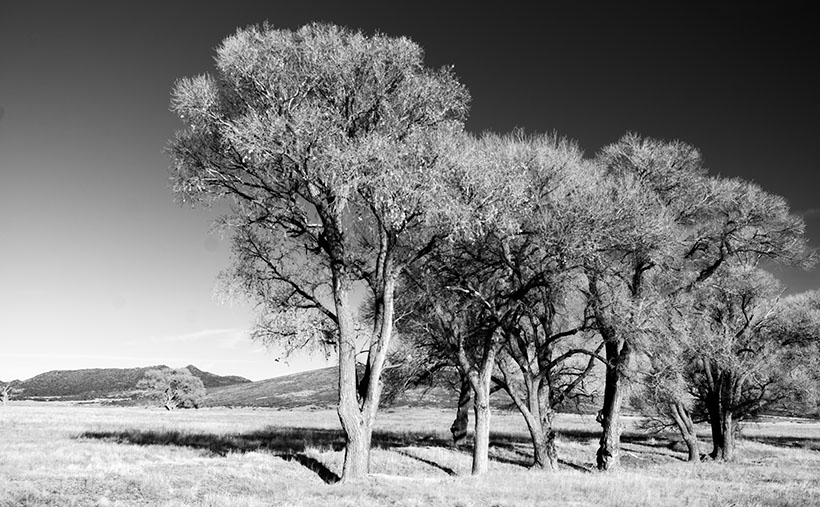 Meanwhile, back up the mountain in Peeples Valley, and the second in my series of cottonwood tree images. This week's featured image that I call Cottonwood Grove was another image taken on the Maughan Ranch north of town. Like other members of the Poplar family, these large fast-growing trees only grow where there's a good water supply. In this image, there's about a half dozen growing along the banks of a dry brook, which eventually feeds Kirkland Creek. Scenes like this one are familiar throughout the west.
In an Arizona Geography class that I took at Arizona State University, the professor told us how the trees filled the length of the Salt River bed. A family of beavers dammed the river under the Mill Avenue Bridge while the river still flowed. When the Corps of Engineers built the dams east of town, the Salt River stopped flowing, and the trees died, rotted, and eventually, a summer monsoon storm blew them over. That would have been a swell topic for a photo essay, but I wasn't here then.
You can see a larger version of Cottonwood Grove on its Web Page by clicking here. I hope you like it. Be sure to come back next week for another cottonwood portrait from Peeples Valley.
Until next time — jw