Eucalyptus trees along California's coast are so pervasive that you'd think they were an indigenous species. They're not—Australian miners brought them during the '49 Gold Rush. As a kid growing up in Southern California, the tall trees were always a part of the landscape. One of my fondest memories was how the eucalyptus scent in the air announced the coming rain—much like the creosote does in Arizona. Can you imagine visiting San Diego without eucalyptus? It would look like the coastal desert that it really is.
There are many good reasons why these trees are popular. For one thing, they're fast-growing, and that's why they're planted in new subdivisions. If you wanted a tree to dominate your backyard, you'd have to wait a couple of hundred years for a live oak to mature. If you stick a 15-gallon eucalyptus in the ground, it will reach 20-30 feet into the air in five years. Depending on the variety, these trees can grow to 200 feet into the air.
The fast growth of these trees is why farmers plant them on the windward side of their fields. They make great windbreaks. And because they are drought-tolerant, they don't require a lot of water, even here in Arizona. Decades ago, when Phoenix's west side was mostly farmland, I would detour off I-10 onto Cotton Lane. It avoided the congestion closer to town. I remember driving past the rows of towering eucalyptus and enjoying the flickering shadows on the windshield in the afternoons. Even during temperatures of 110°, it seemed cooler, if only psychologically. Sadly, those farms have given way to housing developments and warehouses along the loop 303 corridor.
I had always believed that these trees produced trash wood, but—while doing my research—I watched a YouTube video on how to harvest one type of eucalyptus to produce 16 foot long clear white planks suitable for flooring. The wood is quite hard and rivals bamboo in durability. I may have to consider using it on one of my wood projects.
On the other hand, eucalyptus trees have drawbacks. Although they are evergreens, they shed leaves and bark all year round, fueling fires. So, you constantly have to "rake the forest." Like cottonwood trees, they're lepers. Infected limbs tend to fall off—onto your head unexpectedly. Unfortunately—like tumbleweed, tamarisk, and kudzu—one of its varietals (Tasmanian blue gum) has escaped and is considered invasive. It doesn't do well in drier parts of California, but it's become a nuisance along the foggy coast.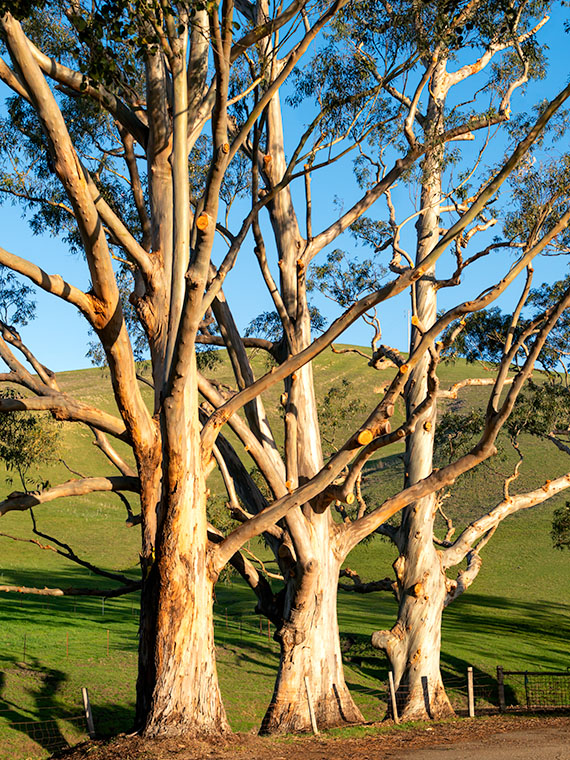 I found this trio of eucalyptus—featured in this week's image—during my morning drive on California's SR-46. They were only a couple of hundred yards down from the Yucca Hedge that I wrote about last week. At first, it was the light golden bark that caught my eye, but when I began processing this image, I was really pleased to find that there are only three colors in the picture; white, green, and blue (which happen to be the colors of the Sierra Leon flag, but that's not important here). The simple colors here suggest a graphic photo. I'll take it, even if it wasn't planned.
I called this photo Tres Eucalyptus, and you can see a larger version on its Web Page by clicking here. Be sure to come back next week when we add another picture from our time along California's central coast.
Until next time — jw