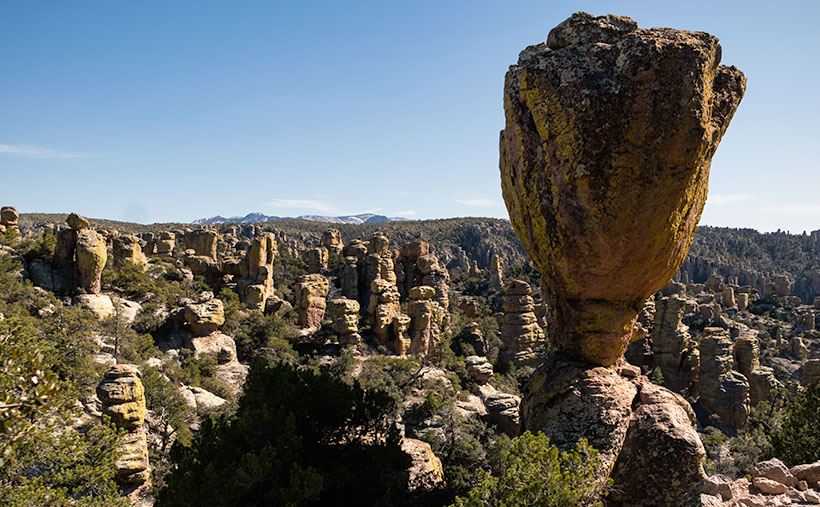 One of my loyal readers commented that she couldn't see the rock creatures like me. If you're like her, that's ok. Maybe your mind isn't wound up like mine, or you're not on the same prescriptions. Whatever the difference is, I'm simply trying to show you the world as I see it.
This week, I have another Rorschach test for you. It's a picture of a second remarkable formation I found while hiking the Grotto Trail. I call it Tulip Rock because I think it looks like a flower. It could be a rosebud, a daisy, or a dew-covered morning poppy. Don't see it? As long as you don't see the Prince of Darkness who's come to cast humanity into eternal damnation, you're alright. If that were the case, I'd suggest you consider a change of meds.
When I composed this image, I wanted to show a couple of things. The first is that most of the hoodoos in Chiricahua don't look like sculptures; they're ordinary. That uniqueness makes the formations like this and last week even more special. I found two examples (there are more) on my short hike on the Grotto Trail. Imagine the images I'd have if I had visited the Chiricahuas as a younger man.
The other thing that I wanted to show is the background. The higher peaks of this range are along the horizon, including the 9700-foot Chiricahua Peak. As you can see in this image taken in late March, they are still snow-covered. They're part of the Coronado National Forest—sometimes called the Sky Islands. The forest isn't contiguous—it includes several southeastern ranges separated by broad basins. I'm not aware of another forest like it in the United States. Feel free to correct me if I'm wrong.
You can see a larger version of Tulip Rock on its Web Page by clicking here. Come back next week when we finally make it to the Grotto—a four-pillar room with a rock roof.
Jeff Goggin
It's painful to type these words. Jeff Goggin—the other half of the Ballast Brothers Racing Team—died Thursday a week ago (7 April 2022). He was the last surviving family member and lived alone in the family's Scottsdale home. Jeff's mother lost a long degenerative battle with Lou Gehrig's disease. It's still untreatable. Several years ago, he told me that he was starting to show the same symptoms. Being the insanely practical man we knew, he ended his life to spare himself further suffering while he could still make his own decisions. Jeff is survived by his estranged partner, Paula Hoff.
Jeff was a brilliant, caring, funny man who loved good music, sick jokes, fast cars, fine art, a good scotch, and pretty women. Queen Anne and I miss the jerk.
Till Next Time
jw