Sometimes you get lucky. As a photographer, I keep scenes in my head, so I can go back when the light is right when I want to capture them. That's what happened for last week's image, Resting Santa. We had a series of dry fronts move through Congress during the month, but the weather forecasts called for an afternoon where the sky would be clear so the evening sun would pleasantly light up the Harcuvars. I left the house at 3:30 and purposely drove out to get that shot. It was practically a product shot.
More often, I pass by beautiful once in a lifetime scenes that will never be replicated, and I chastise myself for not having a camera with me—or worse—not taking the time to stop. That's almost what happened with this week's featured image.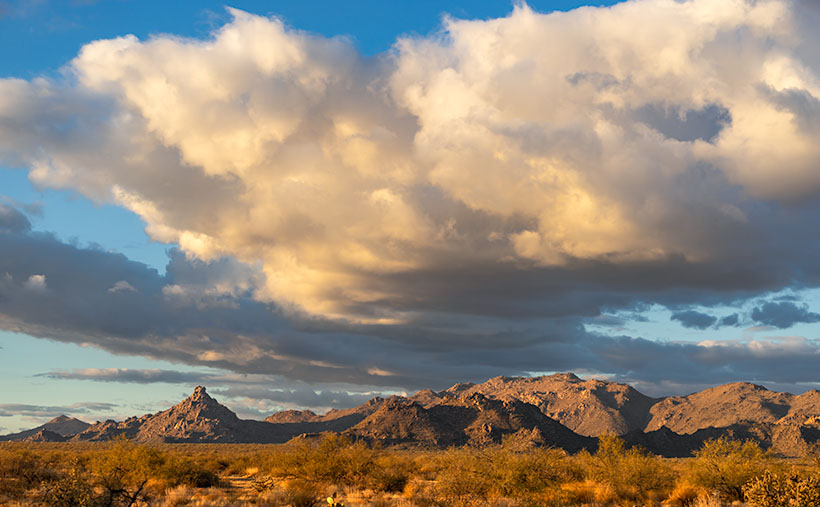 After I was finished shooting Resting Santa, I drove home on State Route 71. I was looking forward to getting back to a warm home, a nice glass of wine, and one of Queen Anne's famous home-cooked Stouffer's dinners. The sun was low on the horizon, and outside my window, a golden cloud hung over the Date Creek range. The conversation in my head went something like this.
"Oh my, that's gorgeous. I should really come back with the camera sometime when the light is like this."
"You idiot! Your camera is on the passenger seat, and the light is like this right now. Stop the truck, walk across the road, and take the picture."
I was very convincing, so I did stop and take a shot—several of them to be exact. The version that I like most is called Date Creek Clearing. There are two prominent peaks in the Date Creek Range; both of them are unnamed. On the left is the rocky pinnacle that ate my first drone, so I call it Drone Eater Mountain. On the right side is the Range's high point. They are only bit-players in this photo. The real stars here are the clouds caught in a moment that can never be duplicated. Those storm leftovers can never be the same.
I know that my work is considered trivial and will never warrant a Pulitzer Prize or other great awards. I shoot mostly meaningless pretty pictures, valued at a dime-a-dozen. But on a week such as the one we've experienced, I needed a bit of calmness and serenity. If you feel the same, then this is my gift to you.
You can see a larger version of Date Creek Clearing on its Web Page by clicking here. Next week, I'll bring you another image from our small corner of the world. Stay safe.
Until next time — jw