When I was a younger man, I had too many hobbies. Besides photography, I raced cars, fished, listened to music, and gorged on food and wine. Since retiring, we've downsized. I've given up cars, fishing, and expensive restaurants. We live on a pension now, so photography is my last indulgence—and it's a good thing that I don't have to buy film anymore, else I'd have to throw that out the window too.
I took a while to adapt to Arizona living. Sure, half the year is divine, but summers are hell—literally. So, as every good Zonie knows, you head for the hills to escape the heat and humidity of the monsoons. The only other option is to close the drapes, lock the doors, and hibernate in front of the telly. As an aspiring angler, I bought a new edition of Bob Hirsch's Best 100 Arizona Fishing Holes every year. They never changed, but I always read the ink right off of my copy by the time the Outdoors Show rolled around. I preferred fishing for trout instead of bass, so we'd make our pilgrimages to where the waters were cold; the Mogollon Rim, White Mountains, Lake Powell, or Lee's Ferry—if the weather was good.
On the trip that Queen Anne and I made to Pierce Ferry for this month's topic, I kept asking myself, "Why haven't I been here before? This part of Arizona is beautiful and very photogenic." I think the simple answer is that there are no trout here, so I didn't care. Of course, there's the Black Canyon below Hoover Dam, but it's 675' above sea level. That's lower than Phoenix, and black rocks surround it. Besides, I got skunked on the one trip that we made, so I never went back.
Hualapai Valley, as I said, is Basin-and-Range topography—like Nevada. It's flanked on the east by the southern end of the Grand Wash Cliffs, while the Cerbat Mountains line the west. The valley floor's low spot is Red Lake—which is dry most of the year. Orchards surround the lake, but I don't know how successful they are. Hualapai Valley is also home to a large grove of Joshua Trees, which fills an area about the same size as ours in Yavapai County.
It's the Grand Wash Cliffs that caught my attention on the map. They're a long string of mountains—above and below the Colorado River forming the western edge of the Colorado Plateau. They're the transition to the Great Basin Desert.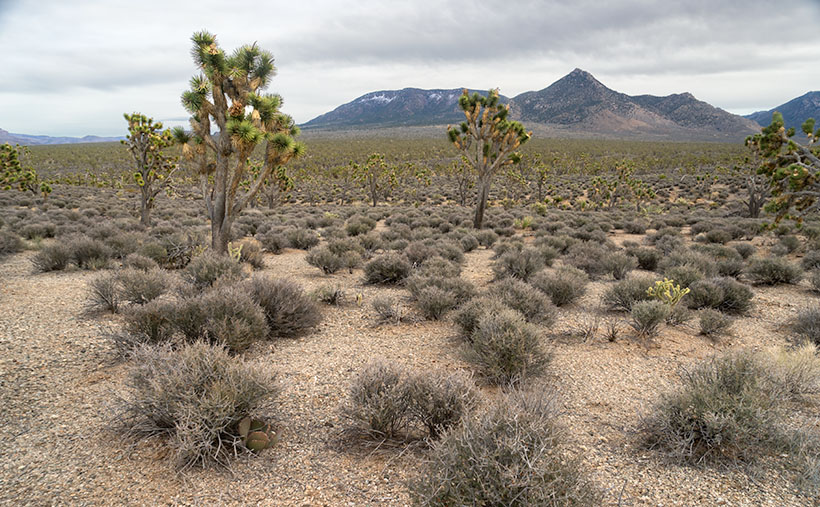 This week's featured image, which I call Garnet Mountain, shows Joshua Trees and sage growing to the mountain's foot. The mountain is over 6,000 ft high and has snow from previous winter storms. The unnamed pointy peak is closer but a thousand feet shorter, so that's why it's not snow-capped. Together, they show two of the geological forces that shaped Arizona. Block shapes are generally uplifts caused by plate tectonics, while pointy mountains are usually volcanic. I like what we saw on this visit, so I'm planning a trip to the Colorado River's north side later this year, but to do that, I'll need to travel via Utah or Nevada, so I'll need some slot machine money.
You can see a larger version of Garnet Mountain on its Web Page by clicking here. I hope you enjoy seeing it. Join us next week as we drive home and stop for more photos along the way.
Until next time — jw