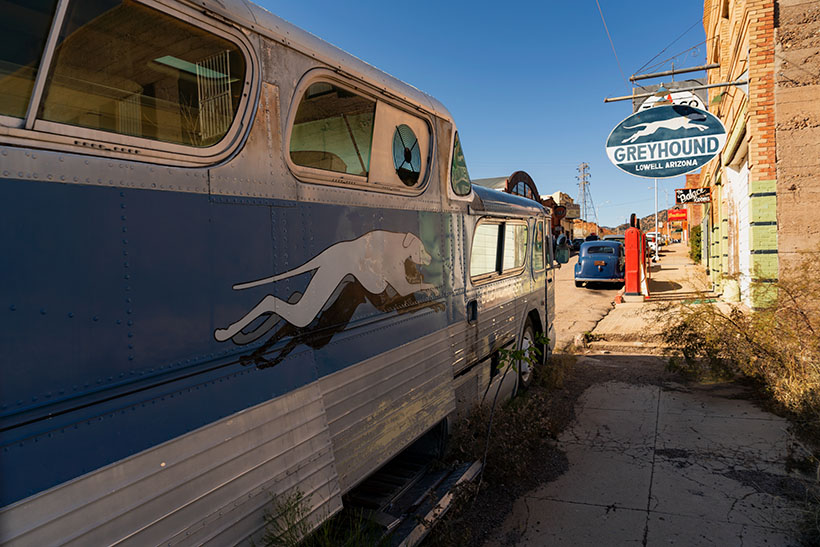 I have ridden my share of buses in my life. I rode in school buses, metro buses, tour buses, trams, and trolleys, but the only time I was a passenger in a Greyhound Scenicruiser—like the one seen in this week's image (titled Greyhound)—wasn't one of my most pleasant memories.
That ride happened in 1967. Two other recent graduates and I were in the Army and on our way for a 13-month Korea tour. We flew commercially from Fort Holabird in Baltimore to Seattle on the first part of our journey. The sun was going down as we took off, so it was late in the evening when we landed at SeaTac. As we got off the plane, a military representative greeted us. He looked at our orders and directed us to the buses waiting outside. After retrieving our duffel bags, we headed out into the damp and chilly night.
We looked around and saw a line of Greyhound Scenicruisers. To keep the engines and interior warm, they sat idling at the curb and spewed plumes of white vapor from their exhaust. They looked like steam engines at a railroad depot. As we reached the lead bus, someone ordered, "Stow your duffels in the cargo bay and get on board." Like good PFCs, we obeyed unquestioningly. Once seated, we waited, and waited, and waited for something to happen.
In case you don't remember, in 1967, the U.S. was in the midst of the Vietnam War. The military was going through boys like Lucy and Ethel at the chocolate factory. The Army drafted kids off the street, trained them, sent them to Fort Lewis, and put them on the next plane crossing the Pacific. The Army ran an efficient system at SeaTac. They grabbed anyone coming off an airliner in uniform and stuck them on the bus.
We sat in that dark Greyhound for hours before it filled. The door closed, and—around midnight—it started on the short drive to Fort Lewis. I don't sleep well in moving vehicles, so I was looking forward to a warm cot and sleeping till noon. Silly me; I forgot that I was in the Army. When we got to the base, we had to be processed, which meant we stood in line filling out forms until they handed us a pillow and assigned us a bunk.
I was in a deep sleep and busy sawing my way through a pine log when someone rousted me at 03:30 (I can still remember the military time). "Get up and get dressed. You're on KP duty this morning," a strange voice barked in the dark. After donning my last set of clean fatigues, I fell in with a group on their way to the mess hall. I guess someone has to peel enough potatoes to feed hash browns tor a hungry Army base. That morning was the only time I had to do KP in my military career.
We finished up our kitchen duty at lunch. I was dog tired and just wanted to flop on my bunk and recover, but when I got back to the barracks, I was told to change and pack my bag again. I was moving out in an hour. This time, there was no fancy civilian bus waiting. Instead, they loaded us in the back of a duce and a half for the ride to a military air base. As the sun went down again, the Army loaded us on a Northwest 707 that the solders affectionately dubbed the Big Red Tail. We knew and counted the days until we'd board the Red Tail to come home—some of us walked on, but Honor Guards loaded too many in the plane's cargo bay.
The Scenicruiser in this week's shot was designed and built by General Motors and was supposed to imitate the luxury stainless steel passenger train cars of the time. GM only manufactured them between 1954 and 1956, but Greyhound used them into the 70s. The buses were supposed to offer a luxury parlor experience and had an onboard toilet (RVs from the past). The early ones were delivered with whitewall tires. Their Achilles heels were that they were too long and too tall to be driven in some states. After Greyhound retired them, they started using ordinary buses that fit within the size restrictions and had enough cargo space for 50 passengers.
Click here to see a larger version of Greyhound on its Webpage. Next week we'll finish our stroll down Erie Street and the memories it evokes. Be sure to join us then for another tale from Lowell, Arizona.
Till next time
jw
BTW:
Last week, I threw out a challenge for my gearhead friends that know 1957 Chevrolet trivia. Interestingly, all the commenters who had the correct answer (including myself) are older than dirt. Kids these days don't have the passion.