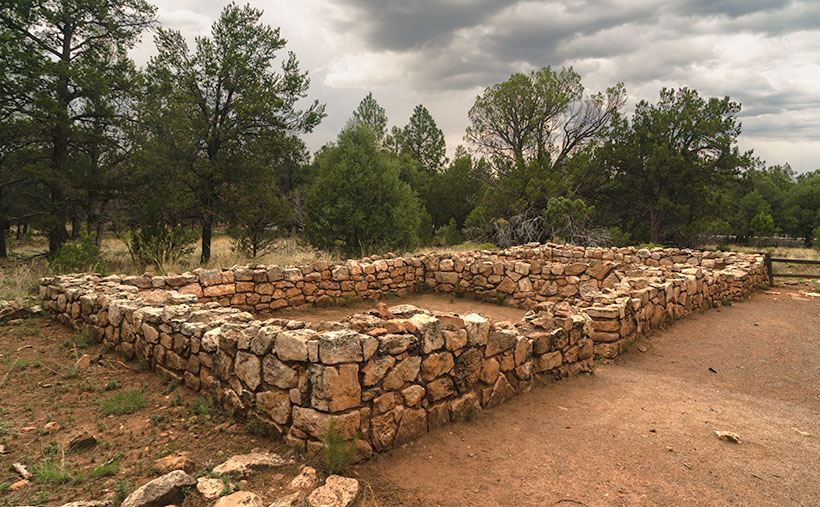 When Queen Anne and I married, we lived most of a decade in a second-floor condo. Besides living in cramped quarters, the thing we most disdained was lugging groceries from the parking lot and up those stairs. My right knee cracked with each step. We swore then that we'd never live in a two-story house.
The Sinagua people would've considered us Snowflakes. Imagine your family living in a small cave with a plastered rock façade built on the side of Walnut Canyon. They scaled the canyon walls (without stairs) to get to work. Once on top, the men tended small patches of fertile soil along the edge. They grew drought-resistant crops because their name means Without Water. At least, the Spanish called them that when they first visited the canyon. For protein, they hunted deer, elk, and big horn sheep. After butchering the game, they stuffed the meat into Safeway plastic bags and lowered it on ropes.
Given my extreme age, my most significant anxiety would be getting up in the middle of the night for a glass of Water. As it is, I struggle to find our kitchen in the dark, much less climb down to the creek and back. Of course, their local wise man was in his thirties, and he knew when to stand up and declare, "Today is a good day to die." Then as he tossed his blanket over his shoulder, he'd tromp out of the camp to the nearest mountaintop, where he'd sit for weeks until dying of starvation. Once again, I've proved that exercise is unsuitable for you.
There are many disadvantages to living on a cliff-side cubby hole, but for me, it's the TV reception. It's lousy down there. You'd need to get cable or a satellite dish. Then you'd waste time waiting for the cable guy to show up.
There are two trails for you to explore when you visit Walnut Canyon National Monument. Both are under a mile long. The Island Trail is a loop that drops into the canyon, past several dwellings, and then climbs back to the rim. We'll explore it next week. The Rim Trail stays on top of the mesa and is easier to hike. It goes past some old crop fields and a couple of ruins. I took this week's picture on the Rim Trail.
The image that I call Sinagua Pueblo shows a two-room stone building of generous size. This structure was probably a communal building for ceremonies and grain storage, like your condo's community center. Here is where the Sinagua unloaded their trucks after a Costco run. Surely you realize that I'm joking. Flagstaff doesn't have a Costco. Recovered artifacts show that the Sinagua traded with the villages at Eldon Mountain, Wupatki, and Homolovi—after a short train ride to Winslow.
As you quietly stand and admire the pueblo's stonework, you can hear Sinagua ghosts laughing, smoking peyote, and chanting with the rhythm of deerskin drums late into the night—until the neighbors come by and yell, "turn down those damn drums." More cowbell.
I hope you enjoy seeing the pueblo at Walnut Canyon. You can view the Web version of Sinagua Pueblo on its page by clicking here. Next week, we'll explore the Island Trail and show those photos—if I can only make it up this last flight of stairs.
Till next time
jw