I broke down and bought one of those dorky bicycle helmets. Not the pink and white one that Anne picked out. She only liked it because it came with a Hello Kitty backpack, ideal for carrying my Capri Sun juice boxes. Mine's bright silver with a black visor, and when I wear it, I look like the cartoon character in Pearls Before Swine—Jeff the Cyclist. Women swoon when I ride by.
I didn't buy a helmet as a riding accouterment; it was a practical choice. A couple of weeks ago, I fell off my bike and landed on my head in a neighbor's front yard. Don't worry, nary a scratch, so I got up and finished my ride, but I was all over Amazon the minute I got home.
The bike was an innocent bystander in the crash; the real culprit was my balance. I've had dizzy spells recently. They're caused by the microscopic sand particles in my inner ear balance thingy—the vestibular system. Some of the particles in my ear have escaped, and when I tilt my head, they brush hairs and set off dizzy spells—vertigo.
As I was climbing the hill on my morning route, I looked down at the chain to see which gear I was in, and when I looked back up, my head started spinning. The spells usually only last a short time, so that I thought I could power through, but the bike kept drifting toward the left curb, and I couldn't control the steering, so I stopped to get off. If I get dizzy at home, all I need is to touch a wall for balance. There was no wall in the street. I was on my way to the ground before I knew it. I landed on my back, and I pounded the gravel with the back of my head. I sat up and checked for anything broken or bleeding. Then, I glanced around to ensure that no one had seen me before continuing my ride when I found none.
I've already seen my doctor, and she gave me exercises to round up those little buggers, so I'm doing better. There are a few recalcitrant grains that still run loose in my ear, but we'll get them back in their cage eventually.
The dizziness was a concern on this month's hike, but I wasn't affected on the trail. I guess that the strenuous exercise kept it at bay, but I touched every boulder and tree along the way to be safe. When I reached the top, I was rewarded with views like in this week's image.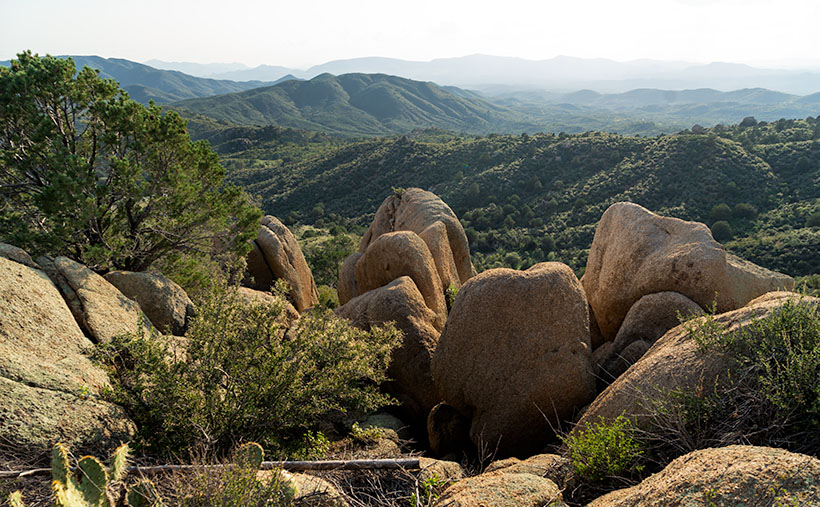 I call this picture Sierra Prieta Afternoon, and in it, you're looking south from the hilltop. Beyond the eroded granite boulders, there are three mountain ranges. The closest peaks—the ones with color—are the Sierra Prieta. The next range—the one that has the large rounded peak—is the mountains around Kirkland and Skull Valley. Finally, along the horizon on the left-center is a glimpse of the Weavers. Our home is down on the desert floor on their far side—four thousand feet below the point I was standing.
You can see a larger version of Sierra Prieta Afternoon on its Web Page by clicking here. Next week, I'll finish with a whimsical thing I found on the Little Granite Mountain Trail, so be sure to come back.
Until next time — jw