Do you remember my buddy, Fred? He's been an actor in several of my adventures when his wife allows us to go out together. The truth is that his wife—Little Deb—and I have been longtime friends. We first met when we were both decorators at a local curtain shop, and have counseled each other through our serial marriages. I think well enough of her that I asked her to be my best man when Queen Anne and I tied the knot.
Miss Deb—as we call her now that she's a grandma—has a caring heart, and—unlike me—will drop everything to help people out, sometimes to a fault. She must have been a nun in a past life, and she's shorter than Sally Field (so, two and two equal Flying Nun). At one point in her life, she went through a goose phase. The art in her home involved all kinds of poultry. I think it influenced her maternal instinct because she fusses about her kids, and now grandkids, like an old mother goose.
She does have one idiosyncrasy—well, maybe more than one, but we'll talk about those some other time. She collects rocks. Each time we'd go camping, we'd drive home with a backseat floor full of rocks—pretty rocks, interesting rocks. When she got back to the house, she would wash them, label them like an archeologist, and then carefully place them out in the yard. She's trained Fred well. Each time we go out together, he kicks at the dirt, looking for pretty rocks to bring home. So far, they're working on their yard's third layer.
I tried it, and it works for me too. When I'm out on a shoot, sometimes I'll pick up a hardened piece of dirt and toss it in the truck. When I get home, I'll present it to Her Majesty and sincerely look her in the eyes and tell her, "I found this pretty rock, and thought of you." Then I tell Anne that I think there's a gemstone hidden inside. She always says, "Thank you, honey," before she rushes to the sink with her Waterpik and tries to erode the stone to expose the jewel. It keeps her busy for hours.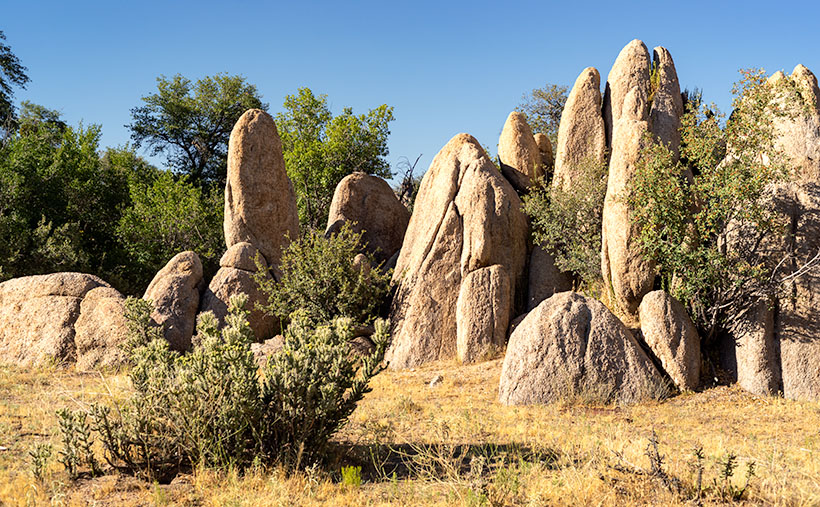 That's the story of why—whenever I'm out on a photoshoot—I always wind up with pictures of rock piles—like this week's featured image that I call Standing Rocks. "I saw these and I thought of you." On our August outing to Ferguson Valley, we passed a group of granite boulders at the edge of a field. These are the same granite boulders found scattered throughout central Arizona, except some cataclysmic event upended these. They could be the Jolly Green Giant's headstones in a cemetery overgrown with scrub oak. Anyway, when I saw this scene, I had to stop and snap a picture just for you.
You can see a larger version of Standing Rocks on its Web Page by clicking here. I hope you enjoy your rocks. I think there may be a jewel hidden in them. Be sure to come back next week for another Ferguson Valley image.
Until next time — jw