Queen Anne and I had only ventured into the Bradshaw's once before this month's Senator Highway adventure. We borrowed a friend's 4wd tow truck and wanted to see how well it performed on dirt roads. We decided to drive to Crown King for Sunday brunch. It was a horrible experience—lunch was nice, but the track was one long washboard. The truck bounced so much that it took a week for our eyes to stop vibrating. That was before Google Maps—actually, it was before computers—so we added another unnecessary 50 miles to the trip. Anne swore off dirt roads forever.
That's too bad because the Bradshaws (named for trailblazer William D. Bradshaw) fascinated me since I moved to Phoenix. From the valley, they're the high range to the north. When you head Flagstaff, they're the first pine-covered mountains that you pass. The Sunset Point rest stop, which is at the range's eastern flank, is where I feel that we've at last got past the city limits. Finally, during the summer monsoons, they create the storms that bring rain to the valley (as I look out my window today, I see what could be our first seasonal storm—and it's moving south from the Bradshaws—if it gets here at all).
Whenever we've stopped at Sunset Point, and I had to wait for you-know-who to finish up in the bathroom, I always looked up at the mountains and mistakenly thought that they were dry and deserted. I'd think to myself, "It's too bad there aren't any fishing lakes up there." On our recent trip, I found out that I was wrong because back roads lace through the range leading to former mining towns filled with summer cabins. There are even a couple of small lakes—but they're so close to Prescott, I'd classify them as town lakes. Perhaps it's just as well that there's no destination up there, because if there were a big lake up there, then there'd be freeways and planned communities around it.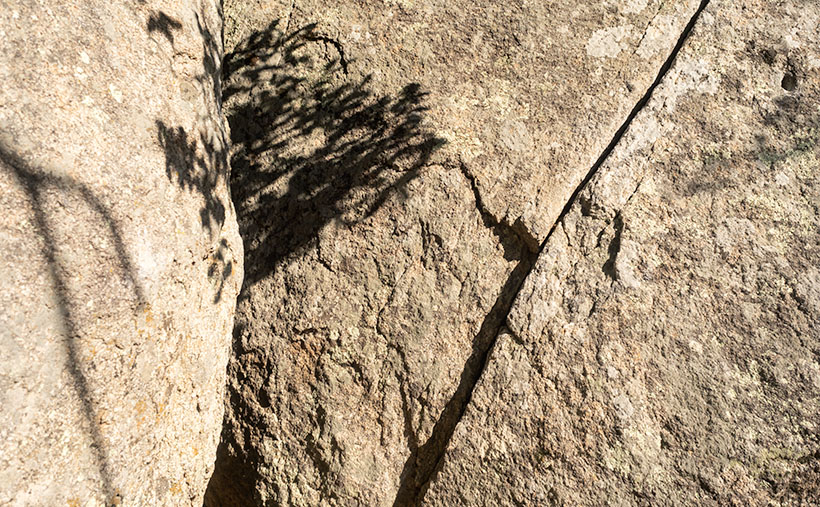 As Anne and I continued exploring Senator Highway, we came across a boulder field south of Groom Creek. I find these large lumps of granite interesting, but they're all over the state, and my rock collection is vast. I hear people say, "Meh. It's another rock picture." So, for this week's featured image, I tried to show just the part that made me raise the camera to my eye. In the case of this week's featured image, that I call Shadows, Boulders, and Cracks, it was the texture of the massive rocks, the delicate shadows of the deciduous trees, and the fracture that splits the right sphere in half. Even without seeing the entire boulder, you instinctively know that you couldn't skip one of these pebbles across Goldwater Lake.
You can see a larger version of Shadows, Boulders, and Cracks on its Web Page by clicking here. I hope you like it. Be sure to come back next week when we present another image from the Senator Highway going south from Prescott.
Until next time — jw