Arizona State Route 68 in Mohave County has substantially improved since I first visited Bullhead City decades ago. It was a two-lane back road with faded markings and crumbling tarmac. When it rained, it was impassable because the road ran through the flooded wash bottoms. These days it's a mini-interstate having four lanes and no lights or signs along its 28-mile length. It's impressive how infrastructure improves when it involves getting people into casinos.
SR 68 also has one of the best views of all the roads that I've traveled. That vista comes just west of Union Pass in the Black Mountain Range. You can tell it's coming when you see the Union Pass elevation sign (3570 feet). There is a wide shoulder here to enable truckers to safety-check their brakes. Immediately after you clear the mountains on either side of the highway, you can see a panoramic view of the Colorado River 3000′ below. Beyond the blue water ribbon, you can see into the Nevada Desert going on forever—especially now that APS dismantled the coal-fired Mohave Power Station. You don't have long to enjoy the view because suddenly you're on the downhill side of the roller coaster, and just for giggles, the highway department put a stoplight at the bottom of the 11 miles of 7% grade.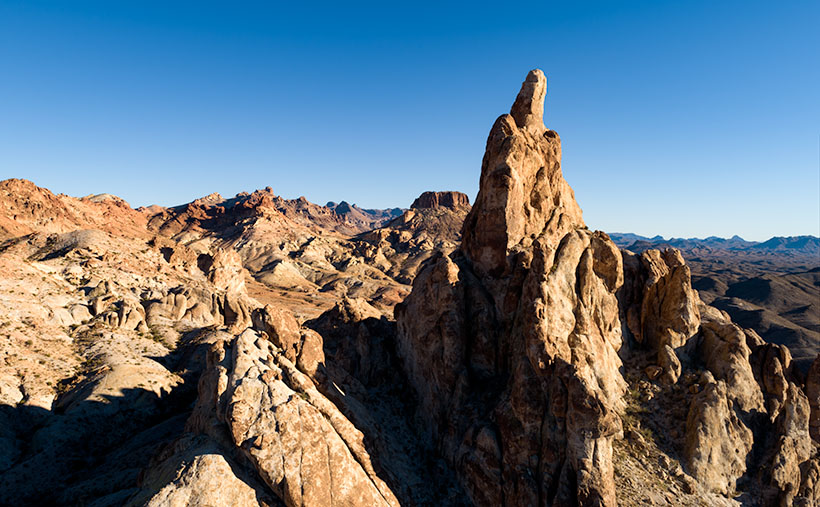 As you descend into the river valley, a thing that jumps out at you is an 800′ tall granite monolith on the left side of the road. On the maps, it's called Thumb Butte, but many locals call it Finger Rock. It's visible in both towns—Bullhead City and Laughlin—and from there, it looks like the universal gesture of ill will, the big bird, the highway salute, or whatever your favorite euphemism for the middle finger is. (There is another landmark a couple of miles south officially named Finger Butte—don't confuse the two.)
I have wanted to photograph the rock before, but my schedule prevented me from stopping. On this year's trip, I decided to make time. I watched videos, poured over the Topo maps, and found a Jeep Trail that goes right by the tower. So, late afternoon, Archie and I drove the dirt trail and took this week's photo that I call Thumb Butte.
I wanted to capture some depth and texture, so I shot the rock from the north side, looking into the Mount Nutt Wilderness Area. I'm happy how this image captures the rugged terrain of the Black Mountains—if only a tiny sample. Maybe I should regularly go back and work the range's entire length—from Needles to Hoover Dam. What do you think?
You can see a larger version of Thumb Butte on its Web Page by clicking here. Please come back next week when I'll show another photo from Union Pass and SR 68.
Until next time — jw