I was researching today's post, and I found some interesting statistics—at least they are for me—and on an online forum thread that made me smile. In case you hadn't noticed, I like mountains. I like them big or small, a long chain of peaks or lonesome butte, snow-covered volcanoes or desert ranges. I like them because they're not flat and they're visually stimulating. You can gauge travel distances with them. I'd be a terrible mariner out on the sea without landmarks. When I travel through Kansas, I have to replace peaks with grain silos.
I want to learn more about what I see and photograph. I want to know the peak names, their heights, their make up, and how they formed. Most of my curiosity is satisfied with topographic maps, but the geology stuff is gobbledygook.  I wish there were an easy decoder book written for simpletons like me.
The Harquahala Mountains—the subject of this month's images—are a substantial range, one of the highest in Arizona's southwest quadrant. I can see its distinctive round shape from my back porch. I started tagging my films with the name Harquahala Studios because it's fun to say: HARK—qua-hala. Last week I learned that the name in the Mohave language means "water, up high" presumably from the springs on its slopes—a handy fact to know if you live in the desert.
I Googled "Arizona Mountains" this morning and found it listed in the 5,000-6,000 foot elevation group. To find the exact answer that I wanted would have required more research, spreadsheets, and an effort that cut into my nap, so I gave up. But I saw another question in the list that piqued my curiosity. "Which state is most mountainous?" What's your guess? Set aside Alaska because they don't play fair. Is it Colorado, California, or Montana? In the discussion, some people were arguing that it's West Virginia, which is in the Appalachians, and the highest peak is under 5,000 feet—hardly a mountain. They explained that the little state has the lowest percentage of flat-land, so it's all mountains, therefore the most mountainous.
The answer wasn't Colorado; California has 500 more named peaks, and Montana is two-thirds prairie that the locals call West Dakota. The response surprised me, but since I read it on the internet, it must be true. Being entirely comprised of the Great Basin Desert with north-south running ranges, Nevada has the most named peaks in the lower forty-eight. They're not the highest, but there's a gob of them.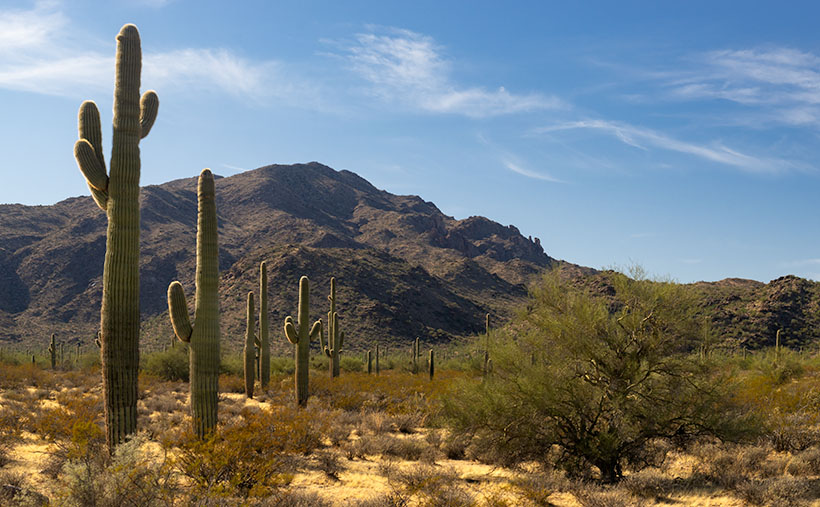 This week's featured image is called Saguaros at Harquahala Mountain, and I shot it south of Aguila, a few miles south of the Eagle Eye Peaks in last week's post. What made me stop to take this image was the line of saguaros that looked like a row of telephone poles. They create what's called a leading-line—a perspective tool that brings your eye into the massive mountain. The clouds and the small Palo Verde tree work to keep your attention in the picture's center—if it works right, your eye moves in a clockwise circle.
You can see a larger version of Saguaro at Harquahala Mountain on its Web Page by clicking here. I hope you enjoy viewing it. Join us next week as we continue our lap around the Harquahala Mountains, and remind me to stay out of the flooded washes.
Until next time — jw