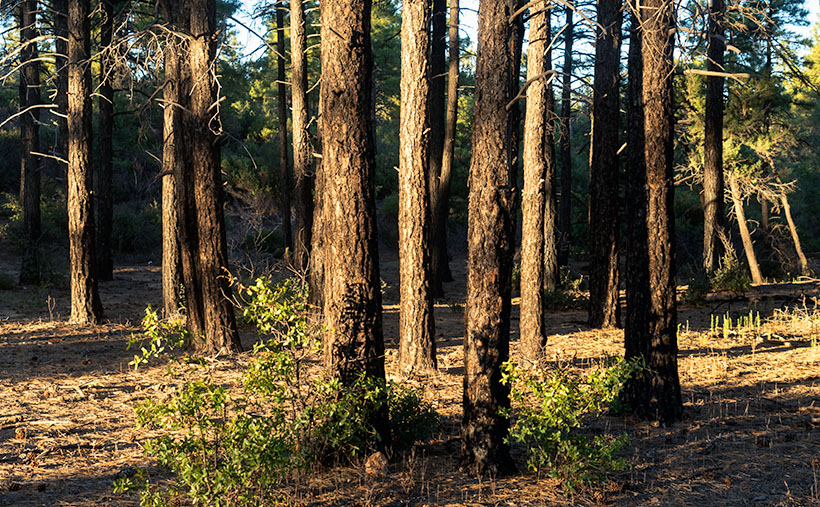 East of Camp Wood, the road is wide and smooth as it rolls through the Santa Maria Mountain foothills. There are a few isolated places with washboards, but it's quiet enough you might think that they paved it, although the plume of dust you see in the rearview mirror proves otherwise.
Queen Anne and I visited here the week after a heavy rain, so it packed down the dust, but the roadside troughs were full of debris. As we drove further, it looked like road crews had hosed the gutters with oil, because they were so black. We questioned if that was to keep the dust down, or were they preparing to pave the east end of Camp Wood Road. As soon as I got those questions out of my mouth, we rounded a bend and found a scene of utter destruction. On the north side of the trail, everything was normal, with pinions, chaparral, and gamble oak covering the landscape, but the south side was black and barren. Only charcoal-colored tree skeletons dotted the hills and valleys.
This road section was the location of the lightning-caused Sheridan Fire—one of those forest fires you watch on the evening news as they bomb the countryside with a fire retardant. The reporters tell you it's near Prescott—but they're always near Prescott—and it's so remote that you don't pay much attention. The fire started on August 5th, and it burnt through 22 thousand acres until early September rains finally put it out. I've never visited such a fresh burn site. Unbroken black ash covered the ground, and the rains washed some of it into the road gutters. The Forest Service blocked all of the side-roads, and hiking trails leading south with signs warning of fire danger.
Because Camp Wood Road is so wide here, it worked as an effectual fire break. The stark contrast between the left and right sides of the road drove home the destructive power of a forest fire. Although it looks like a barren wasteland now, within a few weeks, grasses will begin to sprout, and the fire area will renew itself. That's how nature works.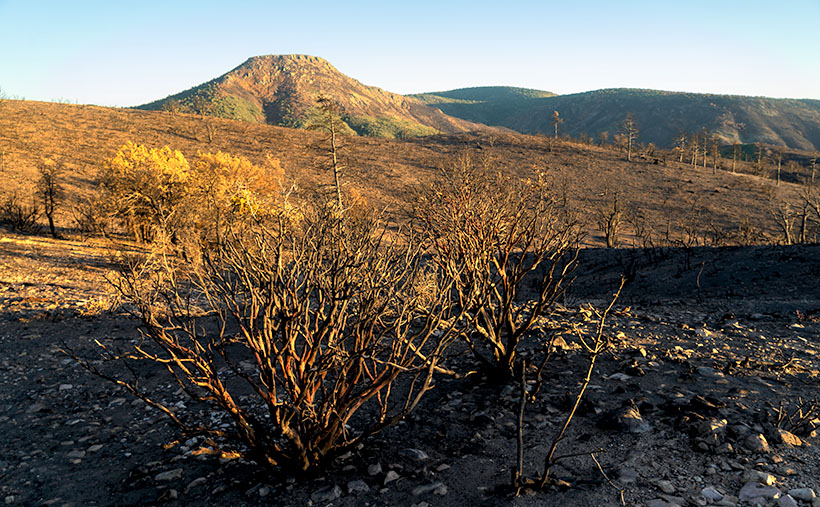 When we got to a place where I could see Cottonwood Mountain as a backdrop, I stopped to take a few images. My favorite of the group is this week's featured image. It shows burnt Manzanita skeletons in front of the flat-top mountain. Manzanita is one of my favorite plants because of its mahogany-colored bark, as you see in the photo. It only grows at higher altitudes in Arizona, and it's hard to photograph because its dense round green leaves always hide the brightly colored branches. I called this image Sheridan Manzanita, and I hope you enjoy viewing it.
You can see a larger version of Sheridan Manzanita on its Web Page by clicking here. I hope you enjoy viewing it. Next week, we'll make another stop along the Camp Wood road for yet another change of scenery. I hope you'll join us.
Until next time — jw