I am a reluctant traveler. When Linda — my wife — suggested we go to Serbia this year to join my son and his family on vacation, I was more reluctant. Then she said we would also be spending ten days on a Greek island visiting new beaches every day during the middle of our visit to Belgrade. That's when I reluctantly agreed.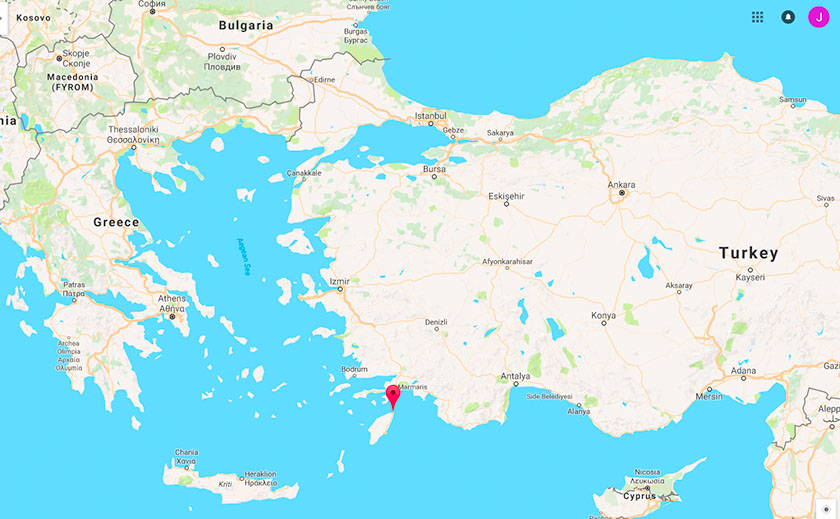 My wife, my son, Nathan, his wife, Nela, and their three-year-old son, Matija and I took a ten-day diversion trip from Serbia to see Rhodes. This was one of the best vacations I have ever been on. We booked a package tour that included the flight from Belgrade, ground transportation, and ten days at a hotel with what's called "half board". That means the price included breakfast and dinner and we were free each day to explore the island for good places to eat lunch
I am barely off the plane and I am already awestruck by the history of this island! Most of us are familiar with the Colossus of Rhodes, the giant statue that stood at the mouth of Rhodes harbor, and one of the wonders of the ancient world, built in 280 B.C. Historians estimate the statue was as tall as the Statue of Liberty. An earthquake destroyed it in 226 B.C. and the harbor it overlooked has a "new" lighthouse built quite recently (1412 A.D.).
The whole north and east coasts of Rhodes have become a resort Mecca on the Mediterranean Sea. The west coast is on the Aegean Sea. It's windier and has more waves, so all the resorts are on the east side of the island. The water on that side is calm, clear, and warm enough for even us Southerners to enjoy. All beaches have chairs and 'sunbrellas' to rent, and most have kayaks or motor boats to rent, and some even offer parasailing. Our hotel was in a small town called Faliraki. The town's main attraction is a long, wonderful beach with sand that felt like velvet under our bare feet.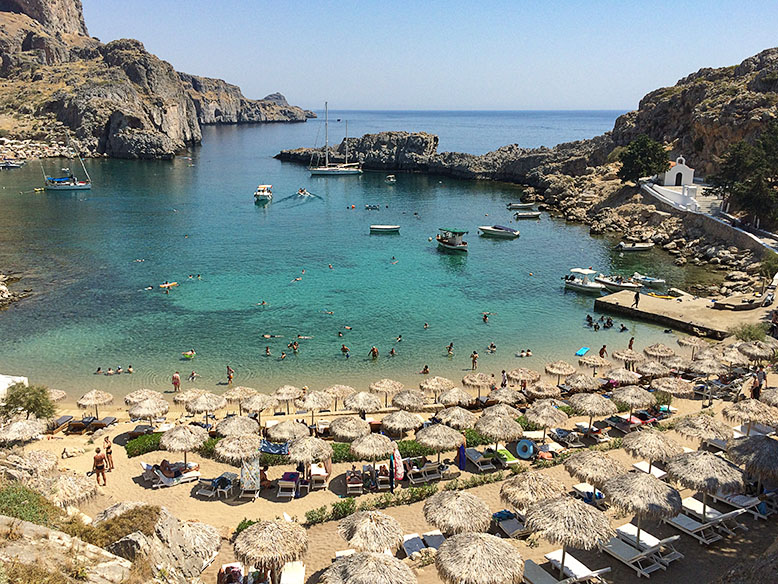 We shared a rented car with another family and used it to explore the island's beaches and attractions. Every other day we would drive to a new beach, eat at new Tavernas (as they call them in Greece), and explore new fortresses. One day we visited Lindos, a famous town with a huge fortification at the top of the hill, but found we could not get to the beach easily with our bags and grandson. Just around the corner, however, was another called Saint Paul Beach — my favorite of the trip. There was a scuba diving school, good food, excellent beach sand, and we could swim out to a rock and jump from it. We walked over to a small white chapel to see it up close, and we saw a plaque that explained the bay's name; it said Saint Paul visited here on his Third Missionary Journey as he returned to Jerusalem. The island's incredible history came at us like waves all week.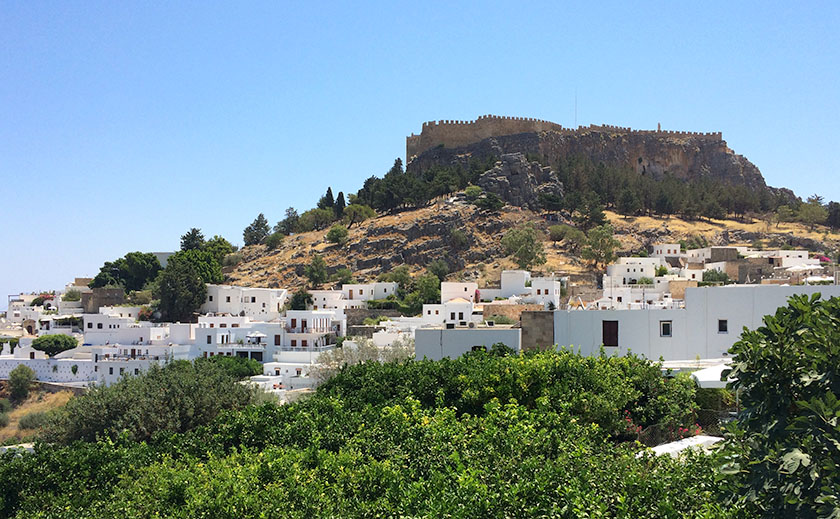 Speaking of waves, there weren't any. No tide either. This made for some very clear water and we realized it was perfectly safe to let the three-year-old play in the water without fear of him being dashed to bits by surprise wave action. Swimming was wonderful and the snorkeling was some of the best I have seen. The weather in July was incredible with blue skies every day, nice breezes to keep us comfortable, and temperatures in the mid-80s. One day there was a cloud and we all stopped to marvel at it; that's how good the climate is there.
Everyone we met was friendly and almost no one was American. Along the coastline, nearly all the folks in shops and restaurants spoke enough English that communication was simple. We did take a couple of trips to remote areas of the island where English was not spoken, but we quickly learned to point and grunt to make our needs known. The real Greek food was delicious and they press olive oil right on the island. All the dining was al fresco and most places where we stopped had good Wi-Fi so we could update our messages and stare at our phones like true Americans. My only complaint about Rhodes (and most of Europe really) is they still allow smoking in restaurants and even seem to encourage it with ash trays on all the tables. Make sure to get an up wind table!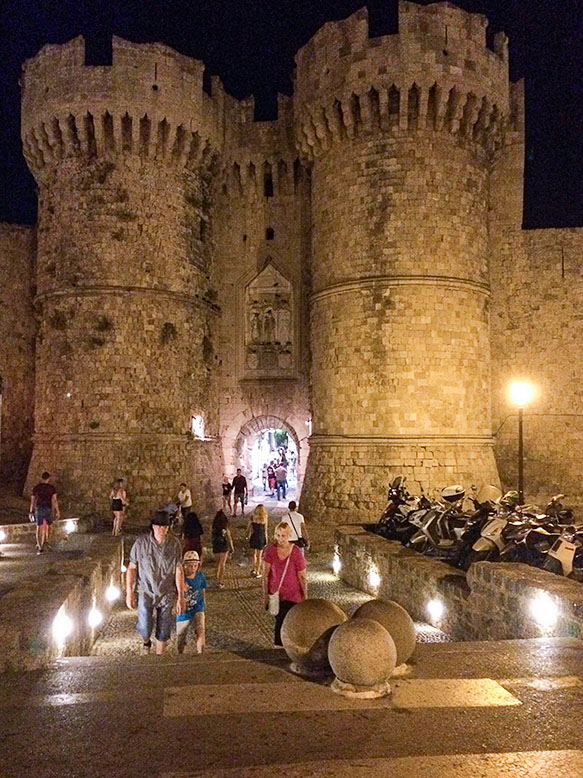 I have gotten this far in the telling and have not mentioned the old, walled city of Rhodes. Oh, my! The history there is worth its own narrative. We spent a day visiting the shops, eating gelato, looking in at several restaurants, touring the old walls and bridges, walking down narrow alleys and passageways; did I mention the gelato yet? One of my hobbies is geocaching — an outdoor treasure hunting game using GPS enabled devices — so I took some time and found all the caches in the city. It led me to places I would never have seen otherwise.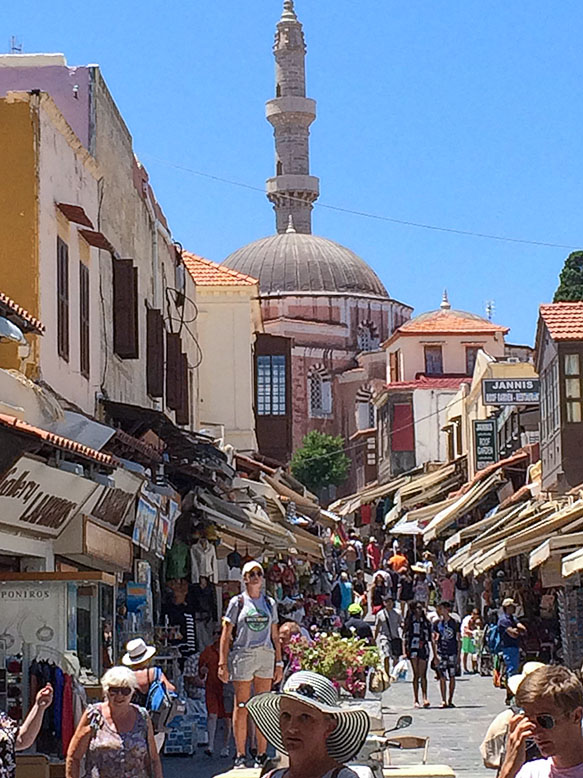 I wish I could adequately convey the sense of awe and wonder we all felt at seeing the ancient and modern artifacts on the island. I would go back tomorrow if I could and I am so grateful to my wife for cajoling me into going this summer. Perhaps I won't be such a reluctant traveler in the future.
Don
Don is Queen Anne's older brother and he and his wife live in Charlotte, North Carolina. I'm pleased that they shared this story and pictures with us and I thank him for contributing to our blog. – jw