After blowing all our money last year on the Alaska trip, Deb and I thought we were doomed to learning new survival skills for staying all summer in hot Arizona. Then our neighbor, Tom Beavert saved us. He spent his last five summers in cool Durango, Colorado and told us about jobs as camp hosts at the Lightner Creek Campground, so we checked in to it, and got the jobs.
We arrived in the middle of May, just in time for a little snow storm. This was a pleasant surprise after leaving AZ where it was already getting into the 90s. The campground is in a box canyon at 7000 feet elevation. That means the mornings are always cool (40s) and the afternoons are not that bad either (70s or 80s). We work 3 days on and 3 days off, so we have plenty sight-seeing time. It's really nice staying here for the summer.
Our first outing was to Mesa Verde National Park, about 35 miles west of Durango. We wanted to visit it before the hot summer set it. When we were dating, Deb and I had stayed in Cortez, CO and had stopped at the park, but only briefly. Hmm . . . I guess we had other things on our mind back then. This time as an old married couple, we saw everything. We spent 4 days in the park and took all the tours. There are a few self-guided tours and plenty of to do on your own, but the best ruins are only accessible via $5.00 guided tours, and because the tours fill quickly, you need to sign up early.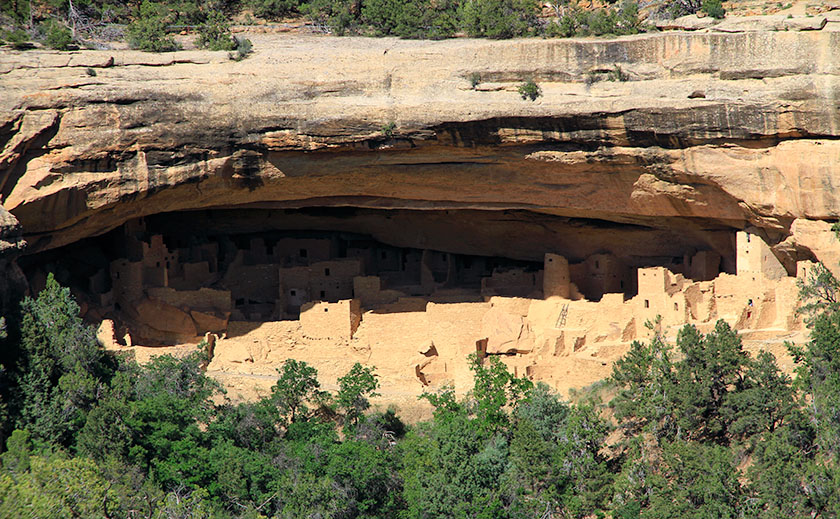 Chapin Mesa is the main visitor center. It's here you'll find The Archaeological Museum, Cliff Palace (the largest cliff dwelling), Spruce Tree House, and Balcony House. The tours of Cliff Palace and Balcony House are a must. Balcony House is the most challenging tour. It starts with a climb up a 32 ft. ladder and ends with a crawl through a 12 ft. tunnel on your hands and knees. Believe me; it's worth it. Allow a day to take both of these tours.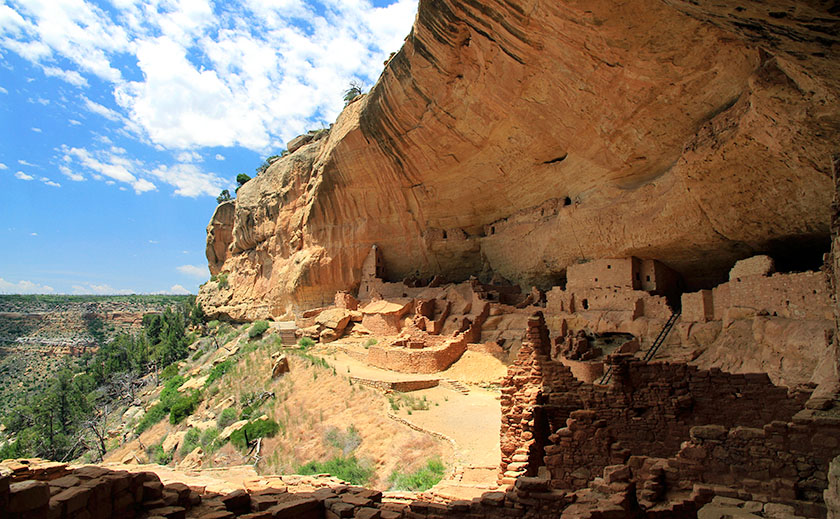 Wetherill Mesa is the "quieter side" of Mesa Verde. It offers a number of opportunities, depending on the season. Mesa Verde is one of the few National Parks that allow bicycling, and on Wetherill Mesa there is a 5 mile loop built for a shuttle bus. The bus was discontinued, so now you can walk or ride your bike on a nice paved road. Wetherill Mesa was my favorite because it was less crowded and had one of the best tours.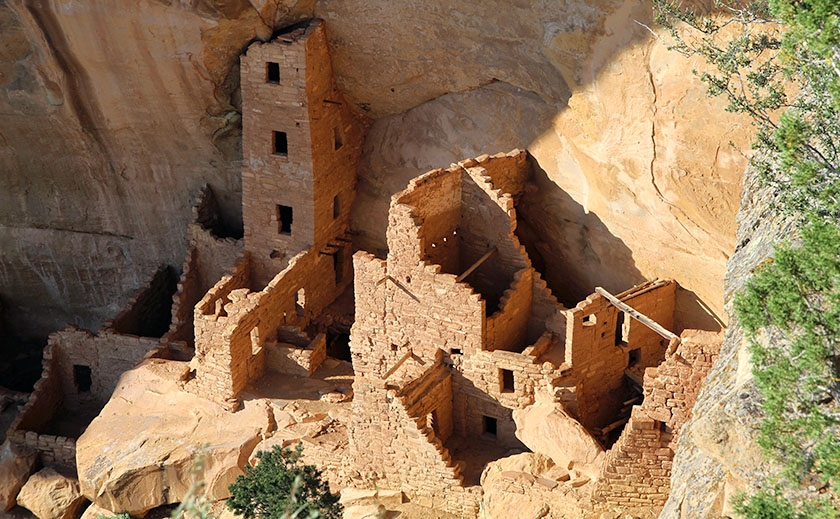 The Longhouse (the second largest cliff dwelling) tour takes 2 hours and you really get to explore all of it. Step House and Badger House are self-guided tours and you can ride your bike through the Badger House Community Trail. Allow one to two days to see everything on Wetherill Mesa.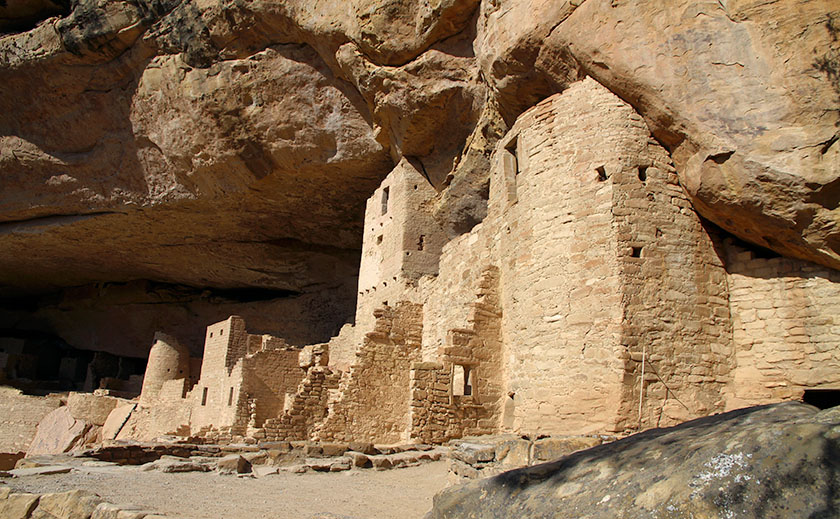 Here is a tip for grabbing a good lunch. Far View Terrace is a nice cafeteria with a gift shop run by the Ute Indians. Their prices are good and the gift shop has a better choice than the Visitor Center. The only other place to eat on Chapin Mesa is Spruce Tree Terrace, near the museum. They are both good, but Far View Terrace is much larger and quieter. We had a wonderful Navajo Taco. If you are going to Wetherill Mesa, they only have a snack bar and a covered patio where you can eat your own lunch.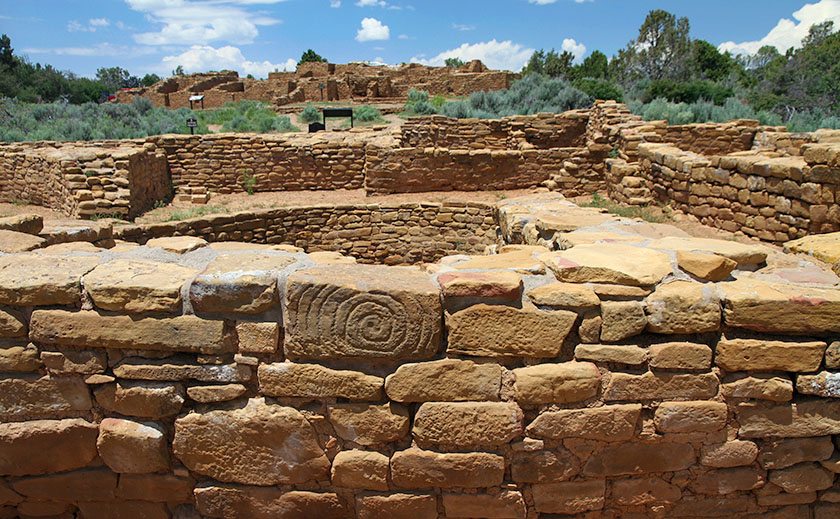 Don't forget to pickup the Amateur Photographer's Guide at the Visitors Center. It is just one sheet, but it has some pretty good advice. It identifies the most photographed areas, the light at different times of day, and suggested locations for shooting. You need a telephoto lens for some overlook locations, but don't wait for sundown to shoot from the overlooks. The best time is from 5:00 to 6:30 pm to get the most light on the cliff dwellings. Note that high contrast will overexpose parts of your picture and underexpose others. It is best to zoom in on either a dark or light area.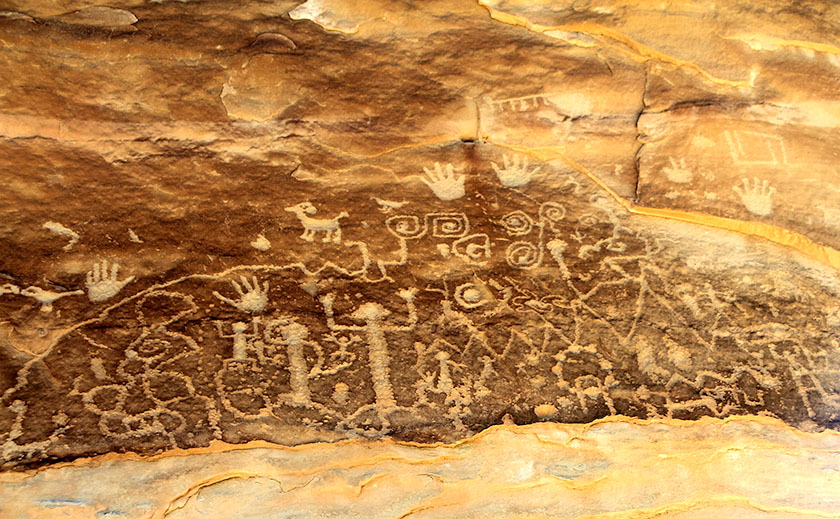 We really enjoyed Mesa Verde and now it's time to move on to our next adventure. We will be exploring downtown Durango and its surrounding area.
Fred