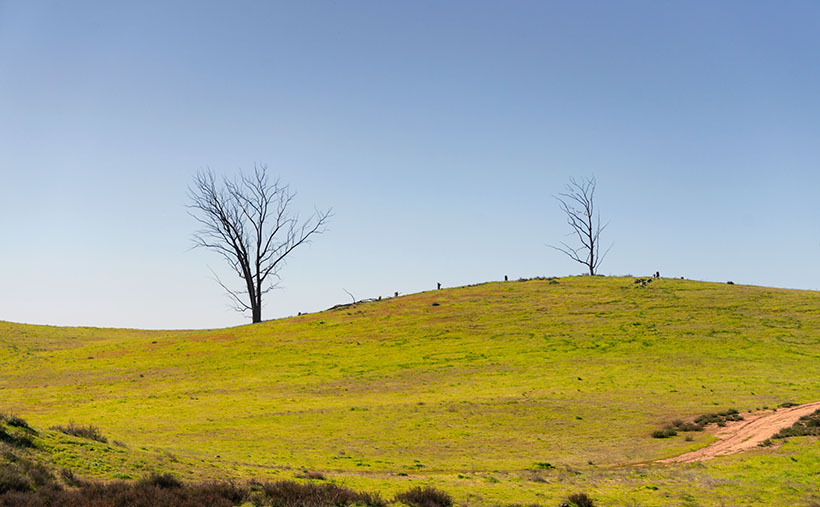 If you're a devout idiom believer, March's weather should be enjoyable. It indeed "came in like a lion." Here in the Weaver Mountain foothills, snow fell twice this week. With the surrounding mountains covered in white and our rooftops under a blanket of snow, it resembled Colorado around here. You should have seen Queen Anne covering up her plants with wet sheets. I should have taken pictures, but I didn't want to get my toesies all wet.
As you can see from this week's picture, we're taking a break from old cars and buildings this month. Instead, I've given you quite the opposite—pure nature. Well, it's Southern California farmland, and the trees were planted in a neat row. If you look closely, a half-dozen more have been chopped down. I'm not privy to why a farmer planted deciduous trees or the cause of their demise. I stopped the car for this photo because I liked how the dormant trees looked on the sine-wave grassy landscape. It reminds me of the Windows 97 background pictures. I call this photo Winter Trees.
We were driving around the rural Riverside County back roads because we decided to take a break from our hectic schedule of watching I Love Lucy reruns and go on a wine-tasting tour. It's one of the few road trips we enjoy, and Her Majesty will put down her Kendal and get out of the car.
Decades ago, when I lived in Scottsdale, I had dinner with a restaurateur friend, where he shared a bottle of new wine labeled Calloway. That name should seem familiar because the family makes golf clubs. It was a charming Fumé Blanc. It didn't come from Napa but from Temecula Valley—a small town north of San Diego. Over the past few years, we've tasted some lovely wines from that region and read a few articles praising the area. Since neither of us had visited Temecula, and it was only a four-hour dive, we turned the TV off, hopped in the car, and spent a few days exploring the town.
If you've ever driven from Phoenix to LA, you know Mount San Jacinto—the mountain towering over Palm Springs, whose feet begin below sea level, and its peak is 10,834 feet high. A tramway on its east face will take you to the top, and I guarantee you'll need a jacket once you get up there, even if the temperature is over 100°F below. Temecula is on the other side of that mountain, and to get there, you take US60 to Riverside, then turn south on Interstate 215 and continue on Interstate 15. Even on Wednesday afternoon, you'll run into traffic—it is California, after all.
I've been tasting wines from around the globe since I was wet behind the ears, and Queen Anne and I have continued that journey since she joined me thirty-five years ago. We have witnessed extreme changes in our tasting experiences as the years passed. Some of them have been good, and others have been a disaster.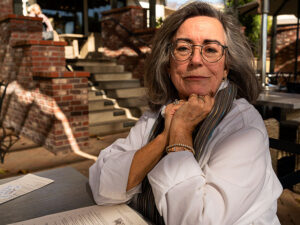 When we started so long ago, a vintner's profit center was selling cases of wine. The tasting bars were a marketing tool used to show off their product. If you liked the wine, you bought a bottle or a case if you were flush. Then the Napa area got uppity and started charging visitors for samples. At first, your charge was applied to a purchase, then you got a glass memento, and finally, you paid to play—period.
Other wine regions eventually followed suit. Today if you want to enjoy the experience of tasting limited-production wines, you can expect to pay from $20 to $30 per flight—per person. Of course, two people can share a taste, but the pours have become stingy. We experienced those prices in Wilcox, Arizona, of all places. Today, a vintner's profit center has moved to the tasting bar—somebody has to pay for those elegant buildings. It's discouraging for us poor little winos to have fun anymore.
Do you think that'll stop us? No way. Life's too short not to have fun, and during March, we'll share some of the sights and tastes of Temecula. Maybe we'll talk about what to look for in fine wines and call out swill for what it is. Meanwhile, clicking here lets you see a larger version of Winter Trees on its Webpage.
Till next time
jw
BTW:
I was pleased with all of last month's participation. I hope you'll join in on the conversations if this month's topic interests you.