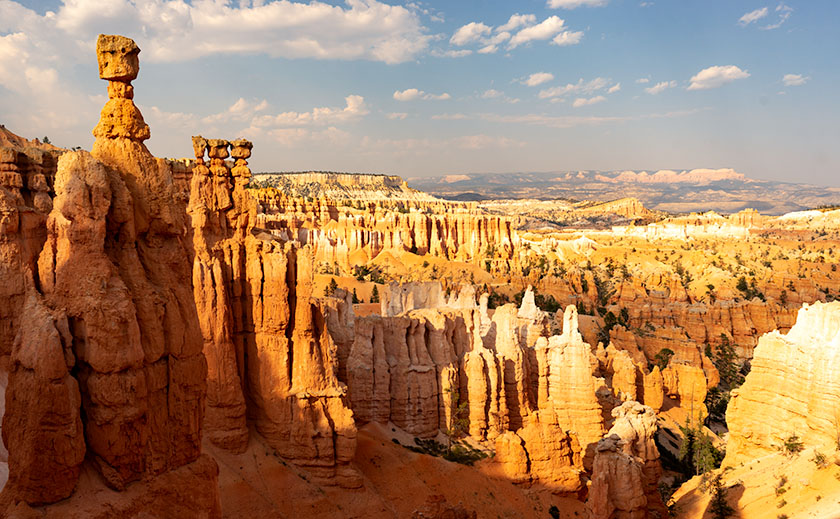 Of all the sights to see along Utah's State Route 12, Bryce Canyon is the crown jewel. All of the other stops along the way are sideshows. The park draws people worldwide and they have to use SR 12 to get to it. I, however, am a weirdo that stops at Bryce because it's part of the highway. Interestingly, Route 12 cuts through Bryce's north-east corner, so you get a taste of the Bryce Canyon without leaving your car.
We've been to Bryce a handful of times and it's one of our favorite national parks. With elevations exceeding 9,000 ft, it's always cooler than home. It has alpine meadows and forests of spruce, fir, and aspen, which are a definite change from cacti. There are great views from the overlooks dotting its 38-mile road and you get an understanding of the Escalante Grand Staircase when you look down from the top. Finally, there's wildlife—if you don't see at least one deer while in the park, well … you're just asleep at the wheel.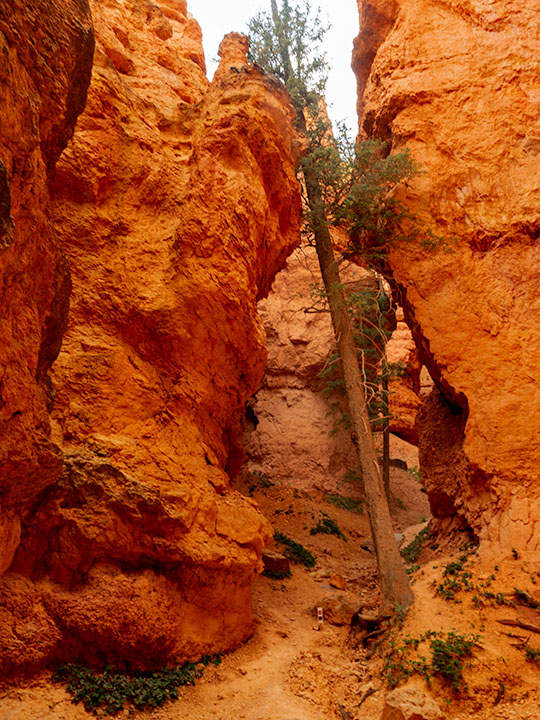 Like most visitors, Anne and I stopped at the overlooks on our previous visits, but I wanted to do something different this time. While we were in the visitor's center, I asked the ranger about the trails and she recommended the Navajo Trail to get the photographs that I was looking for. It's a loop trail that's less than a mile and a half long. On their chart, it was a moderate hike because of its 500 ft elevation change. I thought to myself, "Piece of cake, sign me up."
Before tackling the Navajo, Anne and I drove to the road's end—Rainbow Point. That's the park's highest elevation, and in addition to the great view, there's a flat trail—for Bryce Canyon—that loops through a grove of bristlecone pines. After completing the loop, we concluded that the bristlecone grove at Cedar Breaks was healthier, larger, and a better experience if you like walking among these ancient trees.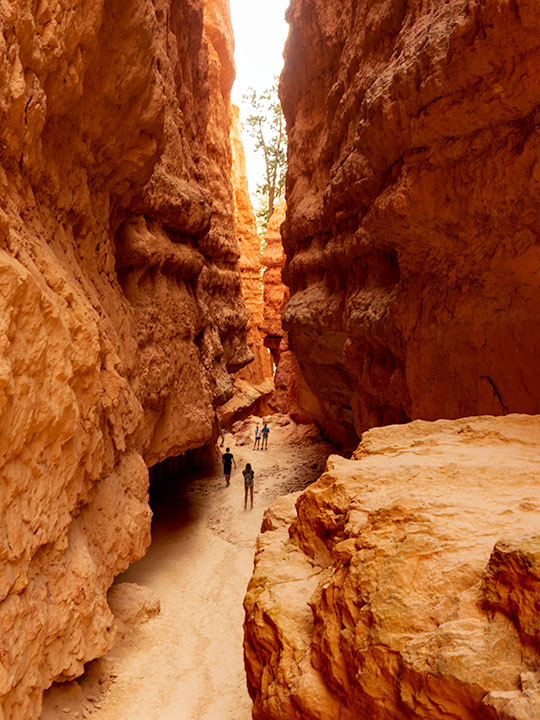 As we drove back to Sunset Point where the Navajo Trail is, Anne called our insurance agent and demanded that he increase my life insurance policy—she of so little faith. When we arrived, we couldn't find a parking space and I questioned if anyone was still at home in Europe. All of the spaces were full and a queue of three cars waited for each potential empty spot. We decided that I should go and Anne would circle the parking lot—like you do at the airport—until she found an open parking spot. With a kiss for good luck, I grabbed my camera and backpack—with water—which burst open and emptied before I made it to the rim—and set off on my great adventure.
Let me describe the Navajo Trail. On the map, it's a 1.3-mile loop with a 500 ft elevation change. I hiked down 500 ft on switchbacks for three-quarters of a mile. At the bottom was a log-bench that felt good to sit on. Then I walked around a column and began the trek up another set of switchbacks climbing 2,000 ft in under three miles. If I went in the other direction, the numbers would have been the same. It was one of the most exhilarating things I have done in my life. I didn't understand Bryce Canyon until it swallowed me.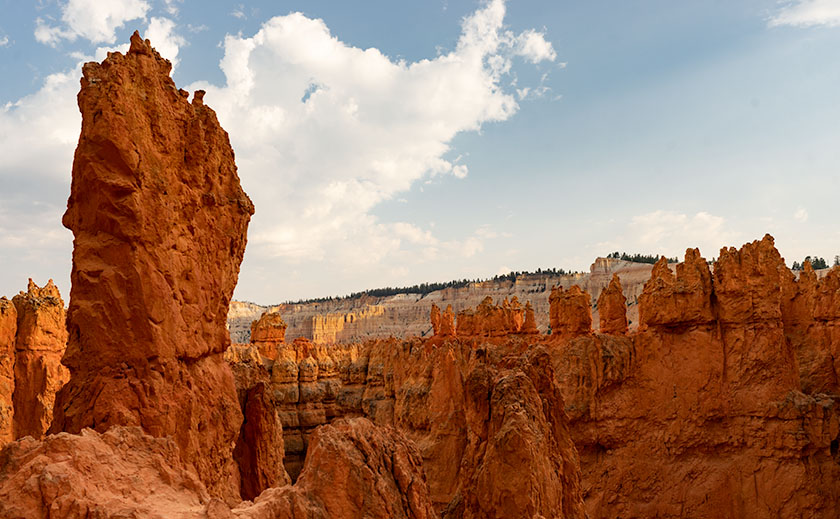 I made my journey in 1½ hours, but I was taking photos as I plodded along the trail. I resented the kids and a young man who ran up the hill wearing flip-flops. George Bernard Shaw was right when he observed, "Youth is wasted on the young." I'm glad that I made the effort because I got a different perspective of Bryce Canyon in a mental sense and in my work, which I hope you enjoy viewing.
Until next time — jw