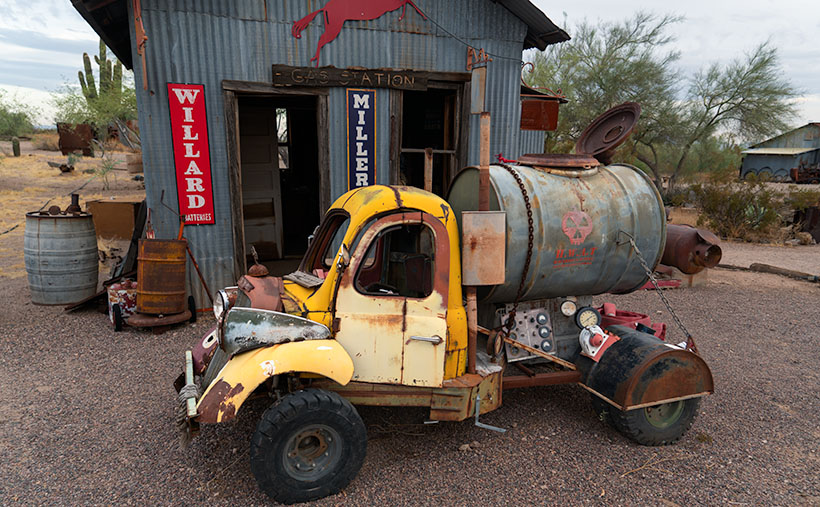 Have you ever heard the saying, 'Money can't buy you happiness?' Well, Henry Wickenburg might've echoed that sentiment. While our Prussian immigrant struck gold in the quartz shelf, there's a vast difference between finding and monetizing gold. Being a prospector and not a miner, Henry didn't venture much further than his initial discovery. Delving deeper into the earth to pursue gold requires a workforce and resources. And before we wade into the treacherous waters of math (and I'm watching Queen Anne for any eye-rolling), it's essential to understand the intricacies of return on investment.
Although the Vulture Mine produced gobs of gold—the top gold-producing mine in Arizona history—it wasn't that profitable. Its poor standing is because the mine is out in the middle of nowhere, with no water, timber, transportation, or other resources needed to bring the yellow ore to the market. The nearest river is the Hassayampa, some 12 miles away. In 1864, you couldn't just stroll to your local Harbor Freight and grab a generator. Those hefty stamp mills required steam, which needed water and fuel, be it wood or coal. So, the ore dug from the Vulture Mine had to be hauled to the mills for processing, either by pack mules, wagons, or in your pockets.
Henry's solution was genius. He sold the diggings to speculators by the ton. It's sort of like people buying unclaimed storage units at auctions. Buyers paid a set price at the mine and transported it to the river mills. Sometimes they made money; sometimes they didn't. But Henry always got his cut.
Funny thing about naming towns back then. Often, they didn't have formal names until a need arose. When the community sent a plea for protection against marauding tribes to the Army, the soldiers referred to their destination as the return address on the letter—Wickenburg Ranch. At his ranch, Henry lived a comfortable life. Investors like Baron Goldwasser (Goldwater) threw money at him, and he was able to give back to the growing community. He donated land for the town's first church and invested in the hair-brain start-up company Jack Swilling's Ditch Company—which you may better know by its current name, the Salt River Project. But as he aged, he gave a large chunk of his fortune to his caretaker, Jesus Maria Martinez.
In 1905, in a plot twist befitting a murder mystery, Henry was found dead with a gunshot to the head. And though the gun was right next to him and was ruled a suicide, not everyone was convinced. The twists? The bullet wound was on his right temple, despite Henry being left-handed. Just last week, an article in the Wickenburg Sun questioned the shooting. The people the paper interviewed called for a new investigation using modern forensic tools. They implied that his caretaker was involved in the death to get the rest of Henry's money.
This week's photograph makes me smile. What seemed like another rusted relic was an artist's whimsical touch—a sculpture concocted from disparate vehicle parts welded together to birth this fantastical mine truck. Other than an art piece, it's useless; it doesn't have an engine or frame, and the barrel is held in place with chains. Its colorful yellow cab certainly caught my eye and is the essence of mining equipment at ¾ scale.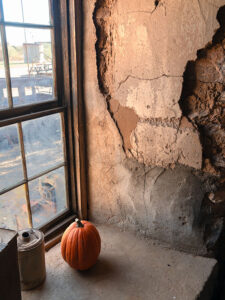 On a darker note, there's an issue with this week's other photo. When I went inside the assay house, I saw the crumbling plaster and deep window frame needed when building with adobe blocks. So, I took this shot using the wonderful natural window light. But when I viewed it on my computer—I saw the pumpkin. It wasn't there when I took the shot—I swear. I warned you from the outset of this series there's something spooky and evil about these creatures.
Thanks for joining our journey through Vulture City's history. Do drop by next week as we delve into the town's leaner times. If you want to examine the 'art' truck closer, please visit my website (Jim's Website) or the page I created on Fine Art America (FAA Link). In the comments below, we'd love your stories of makeshift repairs, gold mining, or mysterious pumpkins.
Till next time
jw
Techniques: Enhancing Photo Narratives
What's your story? Um, let me rephrase that. What are you thinking about when you take a photograph? No doubt, you've heard the phrase, "A picture is worth a thousand words." As a photographer, those words should be reverberating through your head while looking through your lens. If you're memorializing your kid's first step, your wet dog's first bath, or taking a shot of your cat napping on the windowsill (ew), snap the shutter—capture that unique moment. But then, you should think, "How can I frame this better?" Look beyond your subject. Is there too much clutter in the rest of the frame that you can eliminate by moving closer? Is there something that you can include to support the story? I always take at least two shots, but not identical (unless I know I blurred the first one). In my subsequent attempts, I either move or shift the camera and when I edit, I pick out the better photo and hide the rest. You have to be ruthless about that.
Take this week's photo, for example. I could have framed the Frankentruck tighter and let it fill the frame. But I included the fake gas station because it tells a richer story. Over the past two weeks, I've presented two versions of the same photo. A building in decay with an old vehicle in front of it. But their stories are different. In Echos of a Bygone Era, we see the assay office with a rusted hulk out front. The car supports the building by introducing a period into it. On the other hand, this week's Frankentruck is the subject, and the shed adorned with auto memorabilia gives it context. You understand the truck's purpose—everything else is the movie set.
So, always seize the fleeting moments when you're out with your camera. Yet, elevating your narrative is about more than just a click; it's about the intention behind that click. Every frame is a canvas, every shot an opportunity to share a tale. With each focused intention and deliberate choice, you're not just taking photos but crafting stories. And trust me, with time and practice, this art of visual storytelling becomes an innate part of your craft.