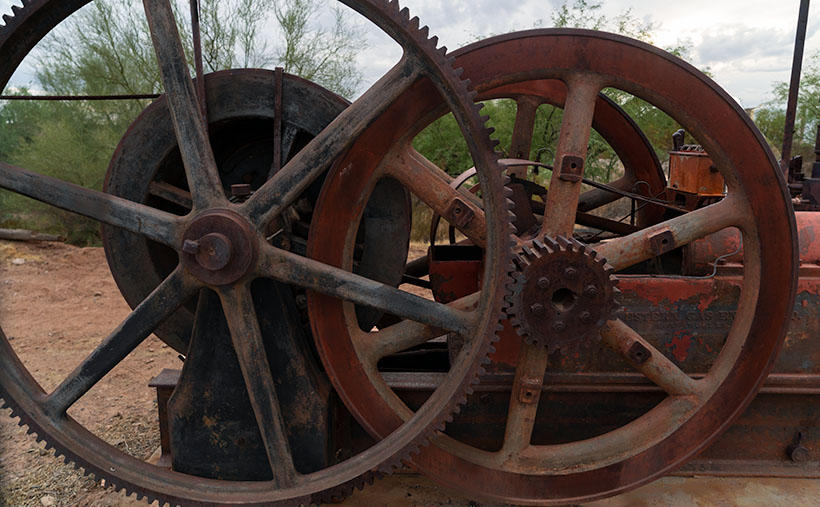 Welcome back, intrepid explorers, to our final haunting episode in Vulture City. Today, we're diving deep into the mechanical heart of this ghost town and a peek at the commendable efforts by the caretakers to ensure its stories are preserved for eons to come. Remember last week's little misadventure? Let's stick close together; one ghostly escapade is quite enough!
This week's spotlight is a relic from yesteryears—an old gas-powered engine. Not the vroom-vroom kind in your garage, but a stationary titan engineered to power the weighty machinery of its time. Its genius? To be fuel-efficient, it was crafted to ignite every other cycle, creating an unmistakable bang-pop-pop sound. This rhythmic cadence christened them "Hit-and-Miss" engines. Much like the nostalgic rhythm of a gramophone, the beat of these engines is Vulture City's undying echo from the past.
Surprisingly, despite their robust build with cast iron and boilers, you rarely find them in old abandoned mines. Why? Because most were sold or, unfortunately, scavenged for scrap. But in Vulture City, these pieces of history stand tall, painting a vivid picture of the bygone era.
Visiting Vulture City is akin to stepping into a time capsule. But don't be fooled by the town's pristine appearance. Recent photos showcase the harrowing reality of dilapidated structures just a few years back. However, the new stewards have tirelessly worked to resurrect the town. From rusty Core 10 stainless steel rooftops to stabilized walls, every corner has been touched with care. And while some artifacts aren't precisely period-authentic, they enhance the visitor's experience manifold.
OMG—They Do Exist!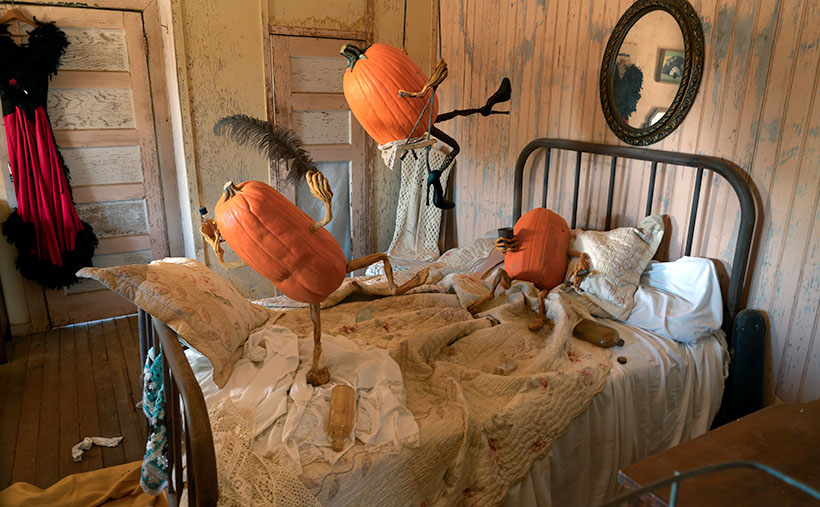 Have you ever met pumpkins with more charisma than the guests at some fancy parties? Thanks to Ray Villafane's magic touch, the pumpkins at Vulture City are a sight! Having showcased his prowess on HGTV, Ray's uncanny ability to breathe life into gourds has added a spooky charm to the town's Halloween festivities. For a deeper dive, check out this article here. All these initiatives spotlight the town's undying spirit and commitment to entertaining and educating visitors year-round.
Thanks for tagging along on our ghostly gallivant this month. We've been overjoyed to share our tales and would be thrilled to hear yours! We invite you to share your Halloween or even brothel stories in the comment section below. Drop by my website for a closer peek at the engine here, or visit its gallery on Fine Art America here. Next week? A new location and saga you won't want to miss. Be sure to tune in.
Till next time, keep your spirits high and your humor dry.
jw
Techniques: Shapes as Compositional Muses
Close your eyes and imagine… Oh wait, bad idea! Let's explore the transformative power of shapes in photography. Do you think a plain signpost is mundane? Tilt it a bit, and you've got a story! Here's a dive into how shapes craft a picture's narrative:
Horizontal Lines: These lines evoke a sense of tranquility and restfulness. Imagine the horizon during a sunset; it exudes peace and serenity.
Vertical Lines: These lines impart strength, rigidity, and stability. Think of towering skyscrapers or tall trees reaching up to the sky.
 Circles: Representing wholeness and unity, circles can create a focal point that keeps the viewer's eye engaged. The never-ending loop of a circle often symbolizes the circle of life or eternity.
 Triangles: Triangles can provide a sense of balance and stability in a composition, often directing the viewer's eye to the top or base of the triangle. They can be dynamic or stable depending on their orientation.
Curves and S-Curves: These lines are graceful, flowing, and can be sensuous. S-curves, in particular, can guide the viewer's eye through the composition, providing depth and interest. Picture a winding river through a landscape; it captivates the viewer into the scene.