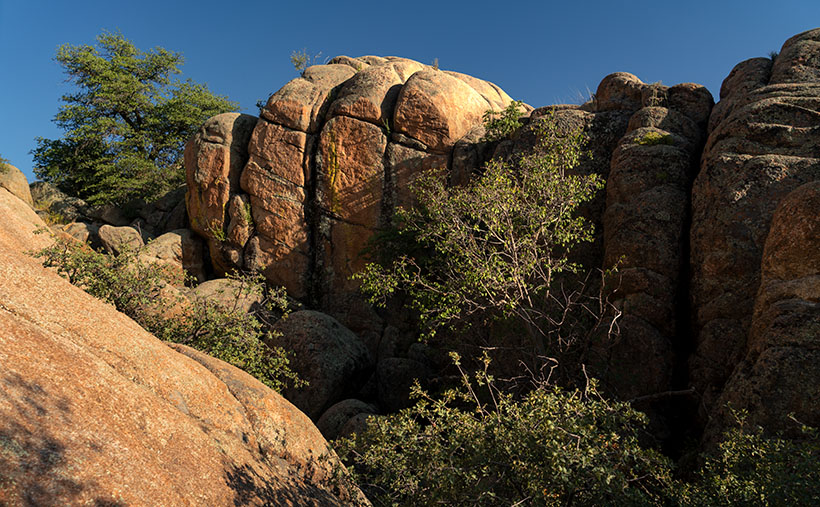 Thanks for joining us on the Constellation Trail in the Granite Dells this morning. Of all the paths I've dared to tread, the Constellation Trail welcomes both the adventurous explorer and those of us who occasionally confuse a hiking boot with something you'd wear to a dinner party. Located off Arizona Route 89, it's a sizeable, well-marked loop with several cross trails that make it easy to tailor your hike to your abilities. As you know, I'm not too fond of physical exercise, but I know that my best photos come from getting out of my truck, and once I'm out in nature, my senses become heightened. Last week's photo showed an example of the views you can see along the trail's high points, while this week, we explored the shadows on canyon walls where the trail cuts through the Dells' ravines.
In the heart of the Granite Dells, life thrives against all odds. Amidst ancient boulders that are silent witnesses to millennia gone by, scrub oak and sumac tell a tale of nature's indomitable spirit. They've evolved to survive and flourish, sipping sustenance from the unforgiving granite, striking poses of raw, untamed beauty against a backdrop that laughs in the face of gentleness. As the morning sun casts the canyon in a gentle glow, their silhouettes emerge sharper, paying tribute to nature's ability to find pockets of life even in the most challenging environments.
Interestingly, the Granite Dells aren't just a feast for the eyes but a geologic wonder. Estimated to be around 1.4 billion years old, these ancient formations are composed of a type of rock known as Precambrian granite. What you see on the surface only scratches the surface of their actual complexity. These stones have witnessed countless eras, weathered innumerable storms, and survived the ever-changing dance of geological forces. As a photographer, capturing these ageless guardians feels like stepping into a time machine, where every click of the shutter connects you with a history that transcends human comprehension. While the vibrant hues and shadows make for stunning imagery, the timeless wisdom in these stones adds an ineffable quality to the photographs. That's the unseen charm of the Granite Dells, a joy that plays hide-and-seek with your senses and challenges you to see beyond the obvious.
The path lured me to a breathtaking cataract surrounded by boulders that must have been hand-placed by giants. Navigating through the canyon was as easy as following a breadcrumb trail—if the breadcrumbs were the size of small cars and strewn by a mythical creature with a flair for drama. Surprisingly, navigating through the canyon wasn't challenging, thanks to the downward trail. I found the perfect vantage point on a ledge after clearing the gorge. From there, the sunlight playing on the rocks created an arresting visual that resembled a mighty fist. I had toyed with the title "Pow" but felt The Dells' Drama: Light, Shadow, and Stone captured the essence far better.
I have posted two larger versions of this image for your enjoyment. The first is on my Website, of course, and you can see it by following this link (Jim's Weblink); the other option is the page I made on my Fine Art America page, and the easiest way for you to get there is via this link (FAA link). Each click will transport you deeper into the heart of the Dells' magic. Queen Anne and I want to thank you for stopping by this week. If we've piqued your interest, tune in next Sunday. We'll uncover more mysteries of the trail, provided I don't get lost or distracted by something shiny.
Till next time
jw
Technique: Saturation as a Photographer's Opioid
In photography, playing with saturation is like walking a tightrope – thrilling, daring, and slightly less likely to end in a dramatic tumble. When applied with precision, it can elevate an image, adding depth and vibrancy. Yet, the temptation to overindulge can be difficult. Excessive saturation risks rendering photographs unnatural, pushing them into the realm of 'Disney-chrome'—a world where colors are too intense to be accurate. This impacts the aesthetic appeal and can be problematic when printing. Over-saturated photos, significantly beyond a medium's color gamut, lose their subtle gradations, often resulting in blotchy areas that mar the final product, like a print or book.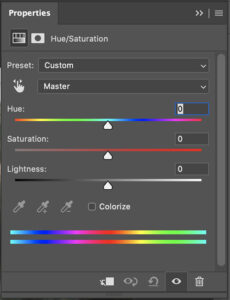 For the photography enthusiasts, here's a peek behind the curtain: When tweaking the saturation in this week's photograph, I worked with values that might seem conservative to some. The overall saturation was subtly lifted to a value of +5, while the green hues were enhanced a second time using a slider value of +10. These numbers aren't pulled out of a magician's hat but result from countless trials, errors, and what some might call an unhealthy obsession with color balance. Like a chef's secret recipe, these values are part of what makes the image uniquely mine. Feel free to experiment with your concoctions, but remember: With great power (or slider control) comes great responsibility.