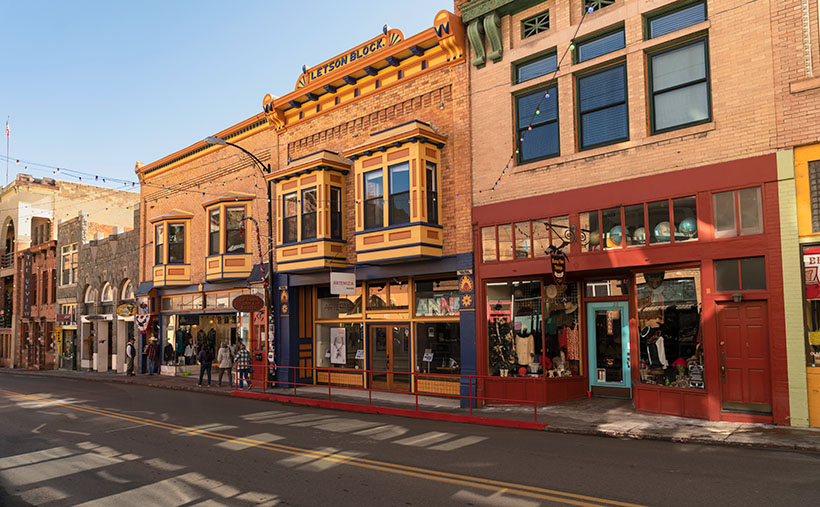 Welcome back to a new month and a new project! To play a joke on you, I almost sent out a blank post yesterday for April Fools. But, being the clever person you are, I deduced that you'd be too smart to fall for it. So then, I switched days on you and almost sent the prank out this morning, but I realized that you, a person of superior intelligence, wouldn't be tricked by that ruse, either. Instead, I fooled you and wrote this new article, and you never saw it coming—HA! Inconceivable! Happy April Fools' Day! – (thanks, Rob)
This month, Queen Anne and I will drag you back to Cochise County and Bisbee because we have a soft spot for this little mining town nestled in the Mule Mountains. Of all of Arizona's ghost towns, Bisbee has been our favorite since our first visit, sticking with us like a catchy tune you can't get out of your head. With its mile-high elevation, the weather's usually pleasant, even in the hot summer months—as if Mother Nature herself turned down the thermostat. Instead of decaying wood shacks, Bisbee's structures were built to last, and most of them are still standing, like proud survivors of a bygone era. The town boasts a thriving art community and a wide variety of shops, restaurants, and architecture. Oh, and let's not forget the Copper Queen Hotel, once the poshest place to rest your head between St. Louis and San Francisco, where even its ghosts have high standards.
The Mule Mountains and Bisbee area have a rich natural and geological history. Millions of years ago, the mountains were formed through volcanic activity and shifting tectonic plates, resulting in deposits of copper and turquoise hidden beneath the surface—the juniper-covered Mule Mountains cradle Bisbee, nestled in the folds of its canyons. The region's unique geological history has also led to the formation of these valuable deposits, shaping Bisbee's identity as a mining hub. Anne and I enjoy capturing the breathtaking landscape and remnants of the town's mining heritage. The area's natural beauty and rich history have made it a true gem in the heart of the Southwest.
Long before the arrival of European settlers and the establishment of Bisbee, the Mule Mountains were already painting a masterpiece in vibrant hues of copper and turquoise, like a natural work of art that only the Hohokam, ancestors of today's Tohono O'odham and Pima tribes, had the privilege of appreciating up close. These skilled farmers, traders, and artisans were the original caretakers of the land, leaving behind a legacy of pottery, petroglyphs, and other artifacts that offer a glimpse into their rich and colorful culture. The mountains were their muse, the copper and turquoise their paint, and the result is a stunning canvas that still takes our breath away today. The Mule Mountains had always held a special place in the hearts of those who called this land home long before Bisbee became the colorful town it is today.
Bisbee's European history began in the late 19th century when prospectors discovered rich copper deposits in the Mule Mountains. The town proliferated, attracting miners, merchants, and entrepreneurs worldwide. By the turn of the century, Bisbee was a bustling hub of activity, with saloons, hotels, and shops lining its streets. Bisbee has had its fair share of both good times and bad. The town has a rich history, from its early days as a mining community to its recent incarnation as an artsy, quirky town. But with its history comes some dark moments, such as the Bisbee Deportation of 1917 and the Bisbee Massacre. These events left a lasting impact on the town and its residents, reminding us that Bisbee's story is not just one of beauty and charm but also struggle and resilience.
This week's photo is a street scene of Bisbee's main street—Tombstone Canyon—lined with a row of historic buildings painted in various colors reminiscent of San Francisco's Painted Ladies. As was expected before WWII, the shops share a common wall to maximize their interior space. The most colorful building is topped with a plaque identifying it as the Letson Block. A small group of pedestrians is walking down the sidewalk; perhaps they're window-shopping tourists. On the otherwise drab street, reflections of the sun off windows create interesting random rectangles.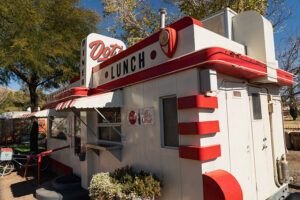 We hope you've enjoyed this week's photo of Bisbee's Main Street, showcasing Bisbee's charm. You can view a larger version of Technicolor Stroll Down Tombstone Canyon on the official website by clicking here. Join us next week for another exciting photo and tale from our favorite ghost town. We can't wait to share our enthusiasm for this quirky, historic town.
Till next time
jw
BTW:
I told you so. If you haven't gotten out yet, you need to get going. The fields are awash with flowers now. Grab your camera and get out there.