We indulged today. We rationalized that since this was our last real vacation day before heading for home, we'd make the best of it. I don't know how the day could have been any better.
Today started out by trying to make reservations for tomorrow night, Friday . . . Labor Day Weekend. We tried every combination that we could think of, but all the places on our route were already booked for the weekend, except the KOA, and they wanted a minimum of a three-day stay. So we planned an alternative route.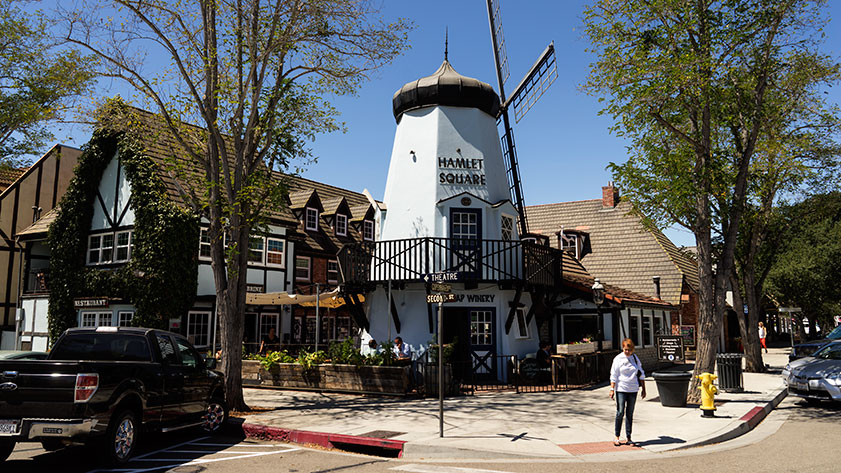 We had planned on swinging by Solvang, a Danish tourist town north of Santa Barbara. It was purely for medicinal purposes I assure you. The only thing we needed were pastries called Danish Waffles. They look like a flattened hot dog bun. They're two sweet phyllo pastries glued together with a creamy filling that has a touch of raspberry jam for a tart flavor. They're addictive, and there's only a few places in California to buy them. Two of them are in Solvang.
We left at 11 for the eighty mile trip down for lunch and we got to the bakery at 12:15. Anne and I split a sandwich (the bread was sourdough made fresh in-house this morning, yum!) and for dessert, we split one of the waffles. There is no graceful way you can eat one of these things without it exploding all over the table, the car, the bed . . . where ever. The crumbs are everywhere and they're too good to leave, so you wind up sucking them up from the table-cloth. Oh, I must warn you that these things are about 1400 calories apiece.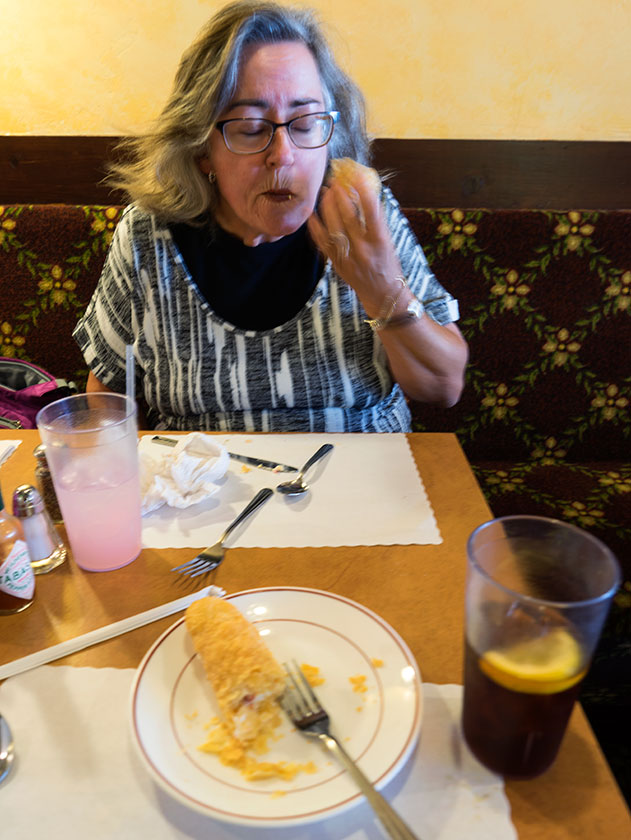 We ordered another half-dozen to go (Anne's already tossed back a couple, they'll never make it home) along with a bucket of Danish cookies. We had time to make it back to Paso Robles, hit a couple of wineries and still make our five o'clock dinner reservation in Cambria. We pulled it off even after driving down the old creek road.
One of the wineries we  always stop at is York Mountain. As readers of my newsletter already know, this place holds a lot of memories for me. It is the oldest vineyard in the area dating back to 1889. My original visit was with my first wife on our honeymoon in 1968. I was hooked then and have returned regularly.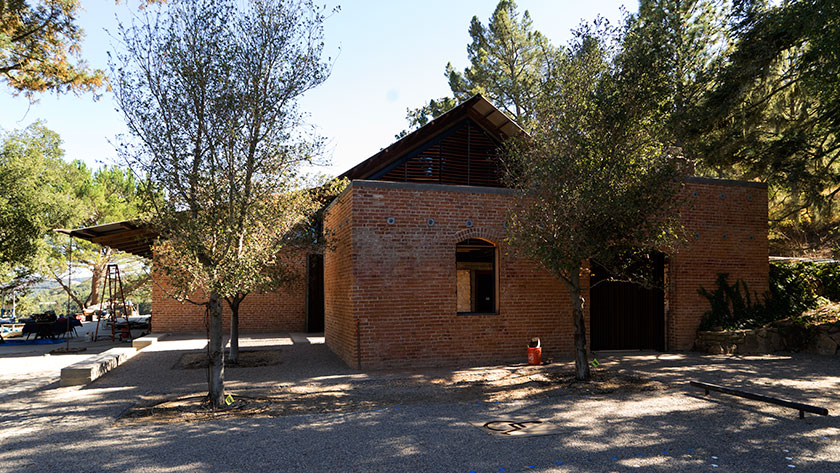 The last time Anne and I were here, the original cellars were badly damaged in an earthquake and the state condemned the building. I was saddened that the owners had sold the property and that the historic building would be destroyed. When we stopped today, it surprised me to see a different but very familiar cellar being readied for the public. New owners have taken over the property and they didn't want to lose the building either. They painstakingly disassembled the cellar, brick by brick, then numbered the bricks. They built a steel reinforced concrete structure and covered the new shell with the original bricks (in their original  sequence). The new cellar has some modern touches to it, but it brought tears to my eyes to see how lovingly they captured the feel of the original. As for the century old redwood tree, planted by the York brothers . . . it's alive and well, looking more stately than ever next to the new building. Bravo!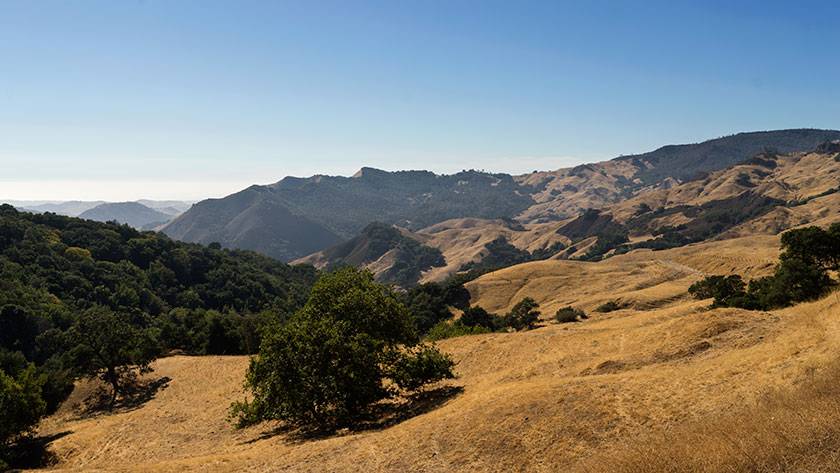 Dinner was wonderful. Anne had her favorite rack of lamb and they even had my favorite; duck breast served in a cherry-port wine reduction. On top of that, we splurged on a bottle of Cabernet that we sampled yesterday. Somehow, I even managed to get through the dinner without spilling red wine on the white table-cloth.
We learned a new trick yesterday and after dinner we used it. After leaving the restaurant, we stopped at the town liquor store. There, we found most of the local wines we liked at a discounted price. We picked out a bunch of bottles that we liked at the tasting rooms and saved about 25%.
So we had a good day. We wined and  dined, laughed and enjoyed each others company. We deserved it . . . for tomorrow will be in Bakersfield. It's not the armpit of California, but you can certainly smell it from there.
jw