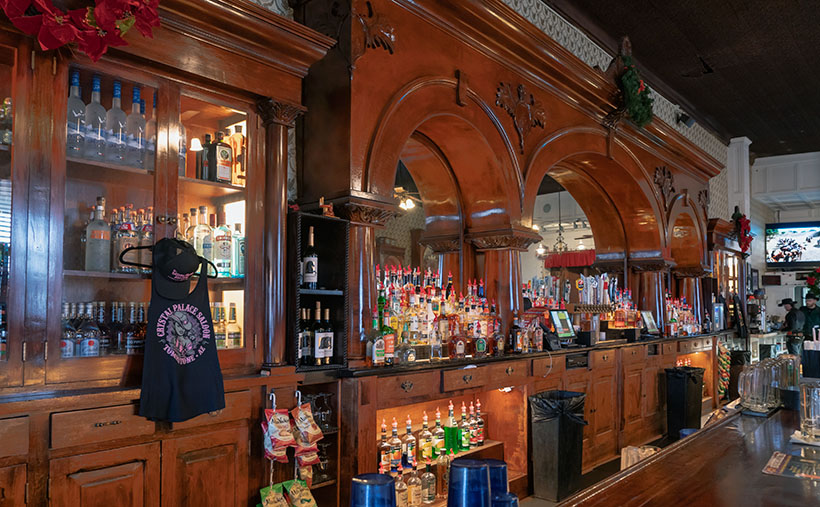 How adventurous are you? Do you try new things or stick with the tried and true when you return to a location? I'd say that Queen Anne and I are 25/75 split. We always seem to return to the joints we've enjoyed but try to see what else is out there. I'm unsure if that's adventurous or what other people usually do.
That holds for Tombstone as well. It may not be a surprise that when we get to town, one of our first stops is a bar—not just any bar, but we specifically make a beeline to the Crystal Palace. We don't go there because the beer is cold or the wine is vintage; let's face it, beer is beer, and bar wine is—ugh. When we are belly-up to the bar, the alcohol is only a vessel for a toast to a great piece of furniture—the Crystal Palace back bar.
The Palace is on the south end of town on Allen Street. During winter, they keep the front doors closed, but you can bust your way through a pair of a traditional cowboy swinging doors during summer. As you look around the cavernous room, you'll see a bigger-than-life roulette wheel hung as wall art. The ceilings are two stories high and covered in stamped tin tiles. There's a stage along the back wall where rows of cancan girls danced. On the room's left is a massive mahogany back bar dwarfing the bartenders. The room smells of stale beer, French fries, and hamburgers smeared on a leather saddle.
The cabinet that is the source of our admiration reaches about three-quarters of the way to the ceiling. It has three arches supported by Corinthian columns with mirror inserts. I wonder how often those mirrors were targets of bullets or flying cowboys. It looks like one piece, but I'll bet there's a seam hidden beneath the center trim and festoon. On each of its flanks are matching liquor hutches. If you don't have time to drive to Tombstone, you can see its twin sister in one of Prescott's Whiskey Row bars (I don't recall exactly which bar it was because I spent too much of my life doing research for this article).
We don't grow mahogany in Arizona or any other hardwood that would be nice enough for cabinets like this. This one was ordered from furniture makers in New England and then shipped around South America's treacherous Cape Horn (no Virginia, the canal wasn't yet built). Once the sailboat reached the Sea of Cortez, the bar was unloaded and carried overland by wagon.
If you're hungry, you can order food. It's not the worst place in town, but it's still bar food. They prepare onion rings in-house, notably better than those awful versions at Jack's or The King. If the tour busses are in town, the place will be packed, and the crowd can overwhelm the staff. Then you'll have to be patient with your food and bill. But it's not any better at the other restaurants.
There is one more thing about the Crystal Palace that I should warn you about—especially in spring. For some reason, enough couples are getting hitched in Tombstone; the town provides them with sideshows. On one of our visits, we noticed a table full of guys having a bachelor's party. They had a great time drinking beer and being loud when suddenly an attractive woman dressed in a bright red dance costume burst through the swinging doors. She was followed by three men with handlebar mustaches wearing long black dusters and deputy badges. The young woman walked over to the groom-to-be and pointed her finger at him. She shouted for the entire world to hear, "That's him! That's the slime ball. Last night he promised to love me forever, and today he's running off with another woman."
Then the deputies grabbed the scoundrel under his arms and dragged him through the side door to the hanging tree out back. The crowd emptied the bar and filled the streets. Once there, the posse strung him up but stopped until someone fetched the bride.
Once she arrived (accompanied by her entourage), the lawmen presented their case. After hearing what they had to say, she promised that after their wedding, she'd set him straight, and he would never do it again. The sheriff polled the crowd, "Do you believe her?"
Most of the mob said yes, so he removed the noose, and we all went back into the bar and ordered another beer—on the groom.
I called this week's picture Crystal Palace, and it's of the cabinets described in my story. I was happy that my shot was sharp in such a dark room without using a flash or a tripod. I lightened the wood in post-production to show off its luster and grain. To get a clean shot, I had to wait for the bartenders to go to the kitchen window. Sometimes it pays to be patient.
You can see a larger version of Crystal Palace on its Webpage by clicking here. I hope you'll join us next week when we come back with another Tombstone story.
Till next time
jw
BTW:
Are you ready for flowers? With the frequent rain this winter, we will have a bumper crop of wildflowers. Now is the time for you to come up with some strategery on where to go to photograph them.