Almost two centuries ago, a peculiar group of men earned a living by hunting and trapping wild game in the mountain west. That's right; they were the Mountain Men. Although they were legendary, there were only about a thousand of them, and their heyday only lasted 20 years. They preferred pack mules to people, so they traveled alone. One of these men was exceptional and was admired even among his peers. They called him Ol' Bill Williams.
The Arizona historian—Marshall Tremble—describes Bill as a 6 foot, skinny redhead with a high-pitched voice and a peculiar walk—more of a stagger. His Osage wife must have had olfactory problems because even his cronies complained that he should take a bath once in a while. I didn't find any references about Bill's Arizona travels, but he must have impressed many Arizonans because our state has a trail, an annual gathering, a river, a mountain, and a town named in his honor. That town is the anchor for our October project—Williams, Arizona.
Williams is another railroad town along Arizona's northern east/west corridor. First Nation people, trappers, railroads, and dust bowl migrants stopped here because there's water. It's located on the Colorado Plateau about an hour west of the Flagstaff volcanoes. A few miles west of Williams, you quickly descend into the transition zone and the grasslands around Ash Fork.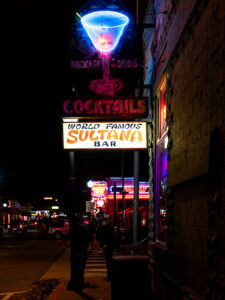 The current attraction of Williams today is Route 66 memorabilia. Shops line the historic downtown area selling posters, t-shirts, car signs, and other useless trinkets of that ilk. But that's not what we'll be concentrating on this month. I've already covered that in our Seligman series. Besides, I've already said that Route 66 may have already jumped the shark. Car stuff was important for my generation, and maybe the one following us. Millennials don't seem interested in cars or property. Owning a car was our independence. To them, it's a ball and chain.
Williams began as a railroad town on one of the busiest routes in the country. It also has a couple of exciting spurs. One that goes past my house into Phoenix and another that runs to the Grand Canyon. Santa Fe built that line to lure eastern tourists into seeing the park. That ride is still famous today, and passengers get dumped at the El Tovar Hotel. If you had deep pockets, you could hop a train at Grand Central Station and stay in two of Arizona's historic hotels—the Railroad Hotel in Williams and El Tovar at the canyon.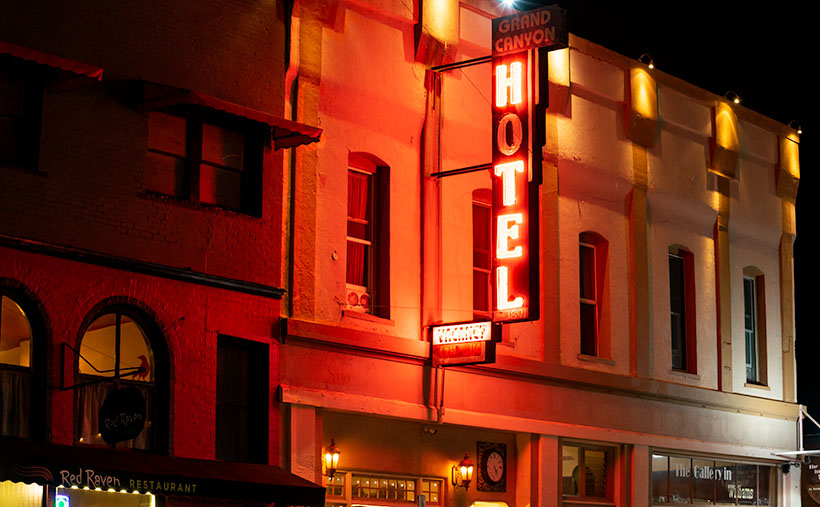 As I said already, I'm not going to focus (get it?) on the Route 66 stuff this month, but I couldn't help myself when I saw the historic and bright neon lights—ooh, shiny. I love them, especially when they're not working completely. So that explains this week's featured image that I call Grand Canyon Hotel (or should it be H tel). I'm not sure that I'd stay there. It would be like staying at Miss Kitty's Long Branch Saloon—dancing girls, cards, drunks, and gunfights all night long. The sign is the brightest on the street, and it casts its red glow for blocks.
Also, in the lower-left corner of the photo, you can see the Red Raven's awning. Trip Advisor rates it the top restaurant in Williams. Queen Anne and I had a wonderful meal there. It's a bit pricy but better than the rest of the burger-and-fries joints in town. I'll write a complete review if you're interested—that means begging me in the comments.
You can see a larger version of Grand Canyon Hotel on its Web Page by clicking here. Next week, we'll start our tour of the Williams area, and you can see what we found. Come back then.
Until next time — jw