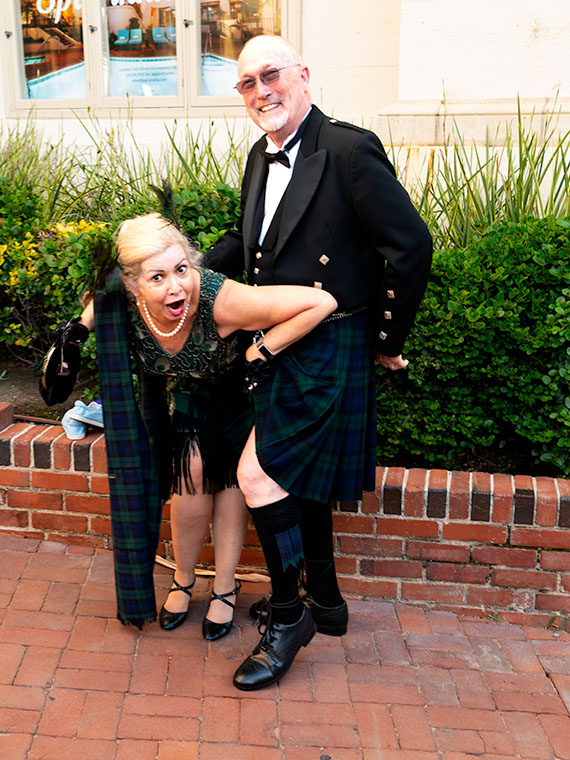 Since Avalon is a compact town, it's pretty easy to learn its layout. Even Queen Anne and I could walk around the business district in an hour. So, when noon rolled around on Friday, we decided on Avalon Grill for lunch, and we strolled down Crescent Avenue—the main street along the beach. The city could have squeezed four lanes of traffic with parking meters on each side, but instead, they closed it to traffic. It's full of pedestrians all day long. By the end of our stay, our evening pastime was to sit in the window of the El Galleon bar, sipping cheap white wine while people-watching.
The morning was bright as the sun ate most of the fog, but he couldn't finish because he got indigestion. The perfume of grilled hamburgers, ice cream cones, and pizza filled the air. If they could bottle that smell, it would be called American Carnival. Because it was Friday, more people were on the street than usual—the weekenders were arriving. They stood out dragging their luggage in tow, clickety-clack across the bricks. That's when we spotted the most bazaar couple.
Well, the pair weren't odd; they dressed in old clothes. I don't mean Goodwill old; these were costumes you'd see in a movie set in the '30s. He wore linen pants, a coral shirt with a loud paisley tie under a honey-colored jacket, and a straw fedora on his head. Her dress was knee-length white with blue diamond chiffon. On her feet were thick-heeled Minnie Mouse shoes, and she had seamed stockings. Even their luggage was of the correct period as it was hand-stitched palomino leather—but it had wheels so they could drag it along like a pull-toy. I tried to get a grab-shot of them, but I felt uncomfortable, so it turned out blurry.
As Anne and I ate lunch, the 'thirties-couple' was at the top of our discussion list. They must have gone to their hotel, checked in, and returned for lunch because they showed up outside as we finished lunch and waited for the check. They sat down on the patio with a large group of friends. Fortunately, the costume-dressed-people story didn't end there.
As the day passed, we spotted a second couple dressed in Gatsby-inspired clothes and a third. I told Anne, "Something is going on here; I'm going to find out." I repressed my natural shyness and walked up to the third coupled and politely asked, "Why are you dressed like that?" The answer shocked me. Architecture has groupies! They were members of the Art Deco Society of Los Angeles and were in Avalon to attend their annual ball Saturday night in the Casino. When I asked, they assured me, "Sure, you can take our picture; that's why we're dressed in period clothing." I asked a bunch of questions, and Anne and I made plans for an exciting Saturday evening when we learned more about the ball.
That evening we gussied up, put on clean T-shirts, and parked our butts on the stairs in front of the Casino. Soon the parade of attendees began. There were hundreds of them—too many for one person to photograph. I started picking out the couples that wore the most colorful outfits, and then I'd stop them by saying, "Hello. Welcome to the red carpet. I'm your designated paparazzi. Would you mind if I took your photo?" Not one person turned me down, and some would call friends to come to join the fun.
As check-in neared its close, I spotted a dignified blond woman wearing a stunning peacock dress and—what I believe—a Clan Riddoch scarf on her shoulder. His coat was black-tie with brass buttons, and he wore a kilt of matching Clan colors. I got a couple of shots off before my stupid mouth blurted out what my brain was wondering, "Is it true what they say a Scotsman wears under the kilt?"
Without hesitation, she bent over, yanked up his kilt, and expressed amazement. I was grateful that I still had my camera to my eye and instinctively smashed the shutter button. That's the story behind this week's image. I'm sorry that I can't credit it with the names of this (or any other) couple; my secretary didn't get that information. A couple of people asked for my card, but I never heard from them, or I would have tried to fill in those blanks. I titled this shot: Kilt Lifter. You can see the larger Web version by clicking here. Be sure to return next week when we finish our month in Avalon.
Till Next Time
jw