There's a place on US 89 about halfway between Page, Arizona and Kanab, Utah where the road gets lost. As you know, odd-numbered routes run north-south, but this section of 89 goes east-west for 60 miles between the two towns and right in the middle the road hits all the compass points. There's a perfectly logical reason they built the road this way. This is where US 89 cuts through the southern part of the Grand Staircase Escalante National Monument, and with three cliff tiers in front of you, it's just easier to go around them.
The explanation for the five-mile section of looping road is the same. This is when the highway crosses a rift valley and climbs around to the north side of Buckskin Mountain. This is also the spot on the map that is a landscape photographer's Mecca. You have probably seen photos of exotic geological features and wondered where they were taken. Places like The Wave, White Outcrops, Paria Canyon, Buckskin Canyon, Calico Mountain, and The Toadstools are all within fifteen miles from the road. The bad part of that—for us geezers—is that you must hike that distance to get to them.
This week's featured image only required a jone-mile hike, but it involved a climb to a shelf 300 feet above the road. Once you make it, you'll find a group of toadstools—columns of sandstone supporting a protective capstone. Although the trail up there isn't flat, you don't need to be an élite climber to make it. Queen Anne got far enough that she was able to watch her hero snap this photo, which filled her with so much emotion that she had to return to the car and do her nails.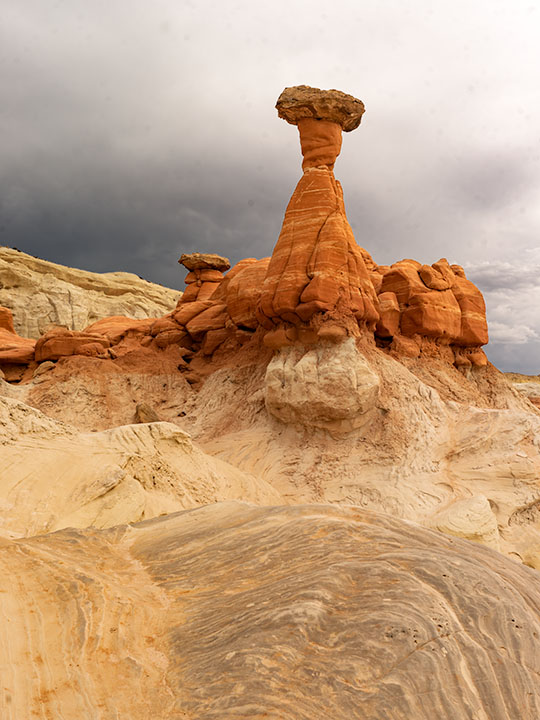 I shot this toadstool from a couple of angles and after viewing the test strips back at camp, I preferred this version even though it's smaller within the frame. The composition is stronger, and the image is uncluttered, so the formation becomes a stronger subject. The light wasn't what I envisioned when I planned this trip, but the thunder clouds are kind-of cool. I call this image Red Toadstool and I'm pleased to start a month of Utah photos with it.
You can see a larger version of Red Toadstool on its Web Page by clicking here. I hope you enjoy viewing this week's post and come back next week when we present another image from a different Utah site.
Until next time — jw