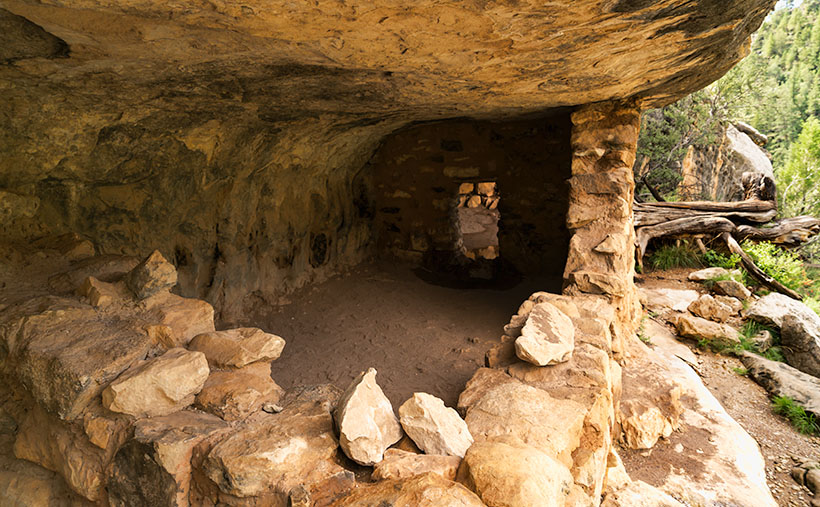 I'm going to shake the box and change the format of this week's post because I want your advice on something. This is the last photo from Walnut Canyon, and I'm sure you're tired of my bellyaching about stairs, so I'll start with the background of this week's picture, and then we can go into the conference room for the other thing.
This week's picture shows a doorway between dwellings at Walnut Canyon. Since it's hidden in plain sight, you probably wonder, "What's the secret?" Well, as I hiked past ruin after ruin, this was the only inter-unit doorway I noticed. We may never know the secret— why weren't there more of them.? Sinagua built their dwellings with shared walls, like our present apartments. I wonder if neighbors were extended family or strangers. The door suggests that family shared these homes—but it could also mean that the Sinagua Rockefellers lived here, and this unit was their equivalent of a south-facing Manhattan penthouse overlooking Central Park. As usual, there's a larger version on its Webpage that you can get to by clicking here.
"Now, for something completely different" – Monty Python
I use my favorite coffee cup religiously in the mornings, and when I can't find it, I panic. I search everywhere until I see it in the microwave. It was in there because I was heating yesterday morning's dregs and forgot about it. I had it custom printed with one of my photos, but the picture is worn after six years of use. Reluctantly, I ordered a new one.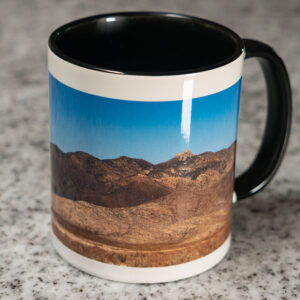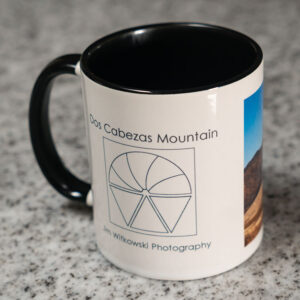 When it arrived, I thought, "These could be great little contest prizes." In the past, Queen Anne and I sponsored contests and gave away a photo as a prize. That's how we got a name for Anne's Mazda and our famous campfire treats. Now my brain is nagging me to work on another idea.
The second component is my annual calendar. As some of you know, I assemble pictures into my calendar and offer them for sale at cost. Because I usually print less than a dozen, their price is much higher than a Costco calendar, but I typically get a few subscribers that want one. After several years, I've figured out a system to make them come out as planned.
The next ingredient is these weekly posts. Over the years, my articles have evolved into a dependable format. Each month I pick a location, shoot pictures, and then publish the best photo each week. As Emeril Lagasse used to say, "I think I can kick it up a notch; Bam!"
My idea is: What if I added a picture of the month (POM) to the mix, and you helped choose them? Let me explain. At the close of each monthly project, I include a survey (like the example below), and you choose the picture you most liked. Of course, I could be the Supreme Leader and pick what I want and be done with it, but over the years, I've learned that my taste isn't the same as the public's. So a poll makes it more like the People's Choice Awards instead of the Oscars. After three days(?), we tally the survey; I'll lay out a design and print the winner on a mug—like a trophy. Then when calendar time rolls around, I will already have a dozen winning images selected.
What's in it for you? I already have too many coffee cups, so I'd like to give them to you. The problem is that I don't know how to give them away equitably. Each computer (or phone) gets one recorded vote with this survey app. The polls are anonymous, with no tracking, so I don't know who's voting. I can't say, "The fifth voter wins the cup." I've been racking my brain trying to figure out a solution, but it pulled a synapse and passed out. I need your ideas.
Another question that I have is how limited the cups edition should be. I can't imagine that any of you would pay $12 plus shipping for a $5.00 Walmart mug, but who knows? I am inclined to print one and be done, but I could limit it to a low number—such as five—if you prove me wrong.
I'm looking forward to reading your thoughts. Does this concept interest you? Should I grow messy white hair like Einstein's or shave it off like Curly's? Would you vote for a cup? What's an excellent way to pick a winner? You can share your opinions by leaving a comment below, or if you want privacy, then use my Contact Form (the answer to the robot question is "5" if you can't figure it out). I've included a poll so you can see how simple this is. Pick your favorite and click the Vote button. There's no cup this month, but see if you can break the survey in beta testing.
Till next time
jw