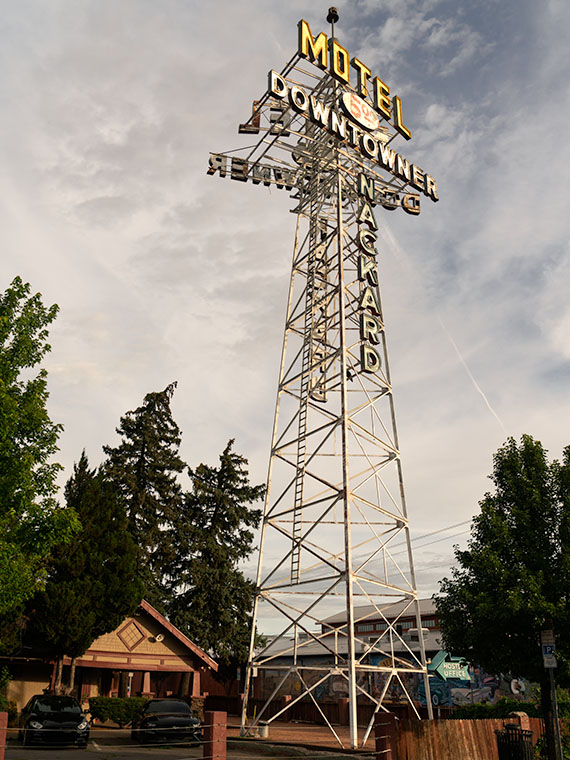 Tourism is Flagstaff's biggest money maker. According to one ASU study that I found, tourism accounts for 84% of the town's employment. Some of our non-Zonie friends may wonder what's the attraction; after all, most out-of-state people don't know much about our state and can only name two Arizona cities. Every season has a reason to visit the town at the bottom of the mountains. As I said at the beginning of this project, its 6,909-foot elevation (1,600 feet higher than Denver), mild weather is an excuse we valley lowlifes to visit and escape the heat. Fall ushers in colorful aspen trees that the annual fires haven't burnt—both of them. Then in winter, some people like to strap planks to their feet and slide down the big hill outback of town. Finally, everybody goes to Flagstaff to toast marshmallows during the spring fires.
In the above list, I didn't mention the daily traffic on Beal's Road—Route 66—now Interstate 40. It's an excellent place to stop for a meal or to get some sleep. And—oh yeah, I forgot—it's how you get to the Grand Canyon.
It's no wonder overnight lodging shaped and dominated Flagstaff architecture—from abandoned stone ruins to tacky Route 66 motels to today's boring corporate three-story shoeboxes lining I-40. I think it's understandable but sad that, as highways evolve, the old buildings and signs are disappearing. I get a big grin when I see one standing and add it to my collection. It must be the same thrill a hunter gets when shooting a Moose, Elk, or Kiwanis.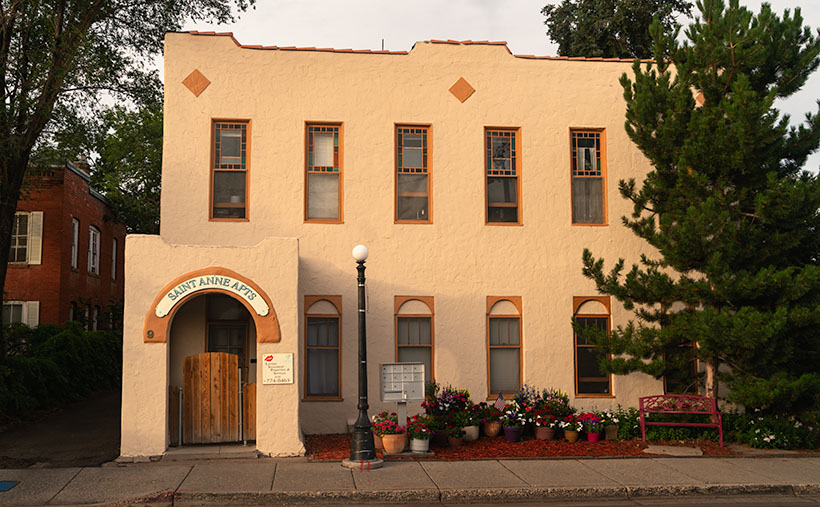 Last week, I wrote about Du Beau's novelty concept—lodging catering to the motor car traveler. His motel was the second of its kind in the country—the first was in San Louis Obispo, California (that one burnt down, which makes Du Beau's the oldest survivor). The buildings in this week's image are ten years older but were initially used for other purposes. According to one account, it was a brothel. How scandalous. There were whore houses in the west—who knew? It wasn't until the 1930s that K. J. Nackard bought the place and turned it into a motel. At the time of its opening, the main road through town was on the south side of the tracks. Later, the highway department realigned Route 66 to the north side. That's when the sign wars began.
If you're fishing for customers and they drive by your door, you can hook customers on a bamboo pole, but when the traffic is on the far side of the train station, it's time to break out the surfcasting tackle. Both motels began building bigger and brighter signs to lure travelers to the Bohemian side of Flagstaff. These signs make today's city planners shudder.
I took this week's photo that I call Motel Downtowner with the rising sun. I had been walking around town in the twilight, and the tower was one of the last places I shot. It was after 7:00 by then, and I needed a cup of coffee (Macy's European Coffeehouse—he's also a fellow photographer). I have tried to get a shot of this tower for years, but I've never been happy with my results.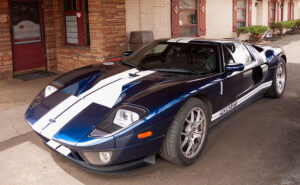 You'll notice that the characters are angled so that they're readable while driving the Mother Road, and that angle points to Route 66. The motel is no longer open. Another type of business has taken over the buildings, but the sign remains; somebody in Flagstaff appreciates good kitsch and history as much as I do.
You can view my Motel Downtowner web version on its page by clicking here. Next week, we have another historic Flagstaff hotel sign to show, so be sure to join us then.
Till next time
Jw
BTW:
Oh, you're still here even though the show is over. You must read to the article's end. Good on you, mate. You're probably wondering what's down here in the basement. This is my new ongoing section with announcements, follow-ups, answers, etc. I intend it to be a paragraph long (my fingers are numb) so I don't have to clutter your inbox with extra mailings. I hope you find it helpful.