I've been neglecting my social media for a couple of weeks because I was busy in the shop making my entry for the Worlds-Most-Expensive-Shelf contest. It took me a little over a week to make it—which is fast by my standards, and I installed in the closet yesterday. I didn't make it expensive on purpose. My pocketbook just suffers because of my cabinetry skills.
I made the shelf to hold my Keith Monks Record Cleaning Machine. You probably do not know, I'm a fan of vinyl records and I have a substantial collection. Any serious collector knows the advantages of record cleaners and they care for their records by running them through washers. We geeks know that even new records sound better when you wash the mold release from them, and if you depend on the used market for new vinyl, a cleaning machine is essential.
The Library of Congress uses a Keith Monks for their records and I found mine at an estate sale at a fraction of its original price. I've had it in three houses now but I've never had a proper place for it. Our shack in Congress has an ideal spot. The previous owners replaced the original air conditioner with a version that sits on an outside slab. That left the utility closet next to the stereo empty, so I claimed it before Anne converted it into another junk drawer. The closet is wide enough for the machine to clear with a half-inch to spare, so I set the machine on the bottom shelf while I thought about the shelf design. After two years, I worked down my honey-do list far enough that I made this project a priority.
It's possible to machine clean a record while it's in the closet, but it's hard to see in the dark—especially in the evenings when I do most of my listening, so my design had to have a slide, and a stout one at that. The thing easily weighs 50 lbs. At our Deer Valley house, I cut a piece of ¾ inch plywood which supported the weight, so I knew the general size I needed.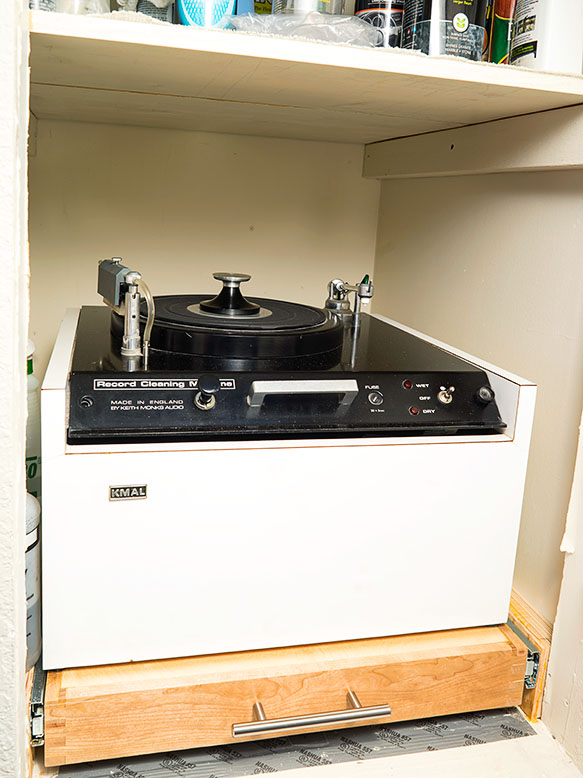 Last week, I set about measuring and drawing up the plans. I had a sheet of Baltic Birch Plywood and a plank of Cherry hardwood I bought for another project that's still on the to-do list. There were two pairs of 100 lb slides collecting dust on my workbench. With plans in hand, I grabbed the wood and set out to make some sawdust.
With such a tight fit, I cut the side supports so they would just clear the opening … or so I thought. After mounting the outside rails, they rubbed, so I cut a shim out of scrap quarter-inch plywood to properly space the rails in the opening. After they were in place, I carefully measured the space between them so the drawer would be a perfect fit. I cut the piece of cherry to size and milled box joints on the corners to control the frame size. Then I cut a dado and dropped the plywood into the frame. The width was perfect, but the depth was short. To fix that, I cut another strip of plywood and glued it in place. With that done, my shelf was square and the exact size. All that I needed to complete the project was to sand and finish and sand and finish and sand and finish for the next two days.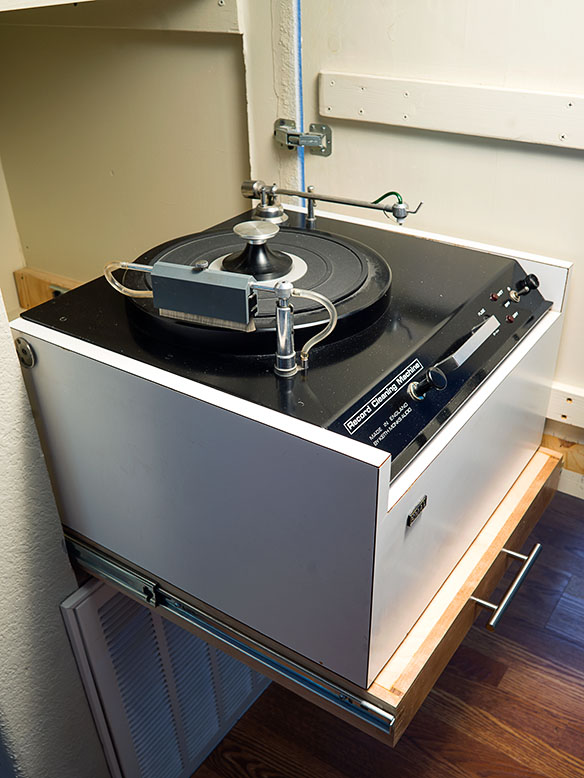 On Friday, my shelf was on my assembly table all shiny and pretty and I was proud of how it came out. I carefully measured and installed the rail inserts and took it in the house to slide it in place. It didn't fit. The rails would insert but they wouldn't slide in. So I did the most logical thing; I got a bigger hammer. With a lot of pounding it went into place and now it wouldn't come out. "Maybe the shelf is too wide," so I sanded the sided with very coarse sandpaper. I gave up after a while and left it till morning.
Starting fresh on Saturday, I shaved each side .05 inches. The slides inserted but they'd stop with a clunk, so I looked closely at them and I saw that during my bout with the big hammer, I had damaged them. They were bent and some ball bearings had come out of their races. Then I saw that the right side was not parallel; when I put the ¼ inch shim in, I misaligned the track so it was binding.
After installing the second pair, the rails worked smoothly, but now the shelf was too narrow from all the trimming. Now I had to take the rails off again and use shims to space them correctly. It was late morning before I slid the shelf in place and worked it in and out. For a millisecond I thought about pulling it apart to finish the sides, but I decided to save that for another year when I get a round-two-it. I'm looking forward to next Friday's music session when I get to relax while listening to clean records.
Till then … jw