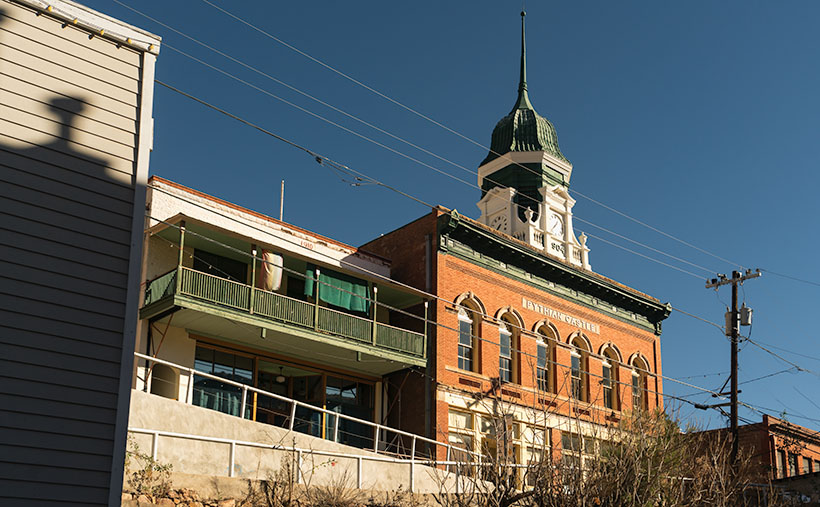 During our December visit to Bisbee, Queen Anne and I was once again captivated by the town's beauty and rich history. We finished the morning enjoying lunch at the historic Copper Queen Hotel before embarking on a walking tour of the city to capture new angles and perspectives with my camera. However, as we made our way up the town's hilly streets, we were reminded that walking in Bisbee can feel more like hiking, and I must admit, as someone who dislikes exercise, I was less than thrilled.
Bisbee's layout is like a wicked witch flashing you a peace sign with her crooked fingers. Her left finger is Tombstone Canyon, with galleries, shops, and cafes. The right finger represents Brewery Gulch, which holds several boutique hotels, restaurants, and a most attractive building—the Pythian Castle. This grand and ornate structure always winds up at the other end of my lens each time we're there.
The Pythian Castle was built in 1904 as a meeting hall for the Knights of Pythias, a fraternal organization popular in the late 19th and early 20th centuries. The Knights of Pythias were known for their philanthropy and community service, and their membership included many prominent business people and politicians. The castle's grandeur was a testament to their wealth and influence, and it quickly became one of Bisbee's most iconic landmarks. Over the years, the Pythians gradually faded into obscurity, and the castle changed hands several times. Today, it is a popular venue for weddings, events, and ghost tours, but its history and architectural beauty inspire visitors and locals alike.
When I stand before a historic old building like the Pythian Castle, my mind floods with ideas of what I'd do with it if I had the wealth, time, and my youth back. At first, I saw it as a restaurant worthy of a James Beard award. The castle's grandeur and history would make it a perfect establishment, offering diners exceptional food and an unforgettable experience. But why mess with a landmark the town is already proud of when there's a better option next door?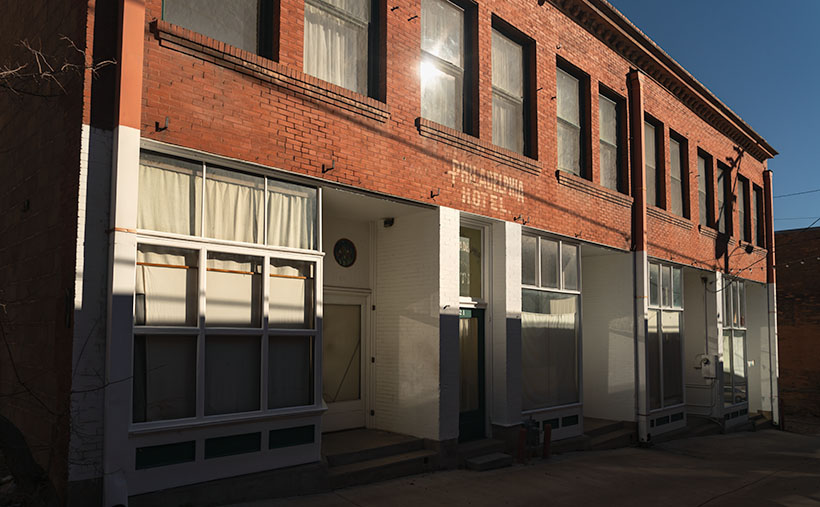 Just a few steps away from the Pythian Castle is the Philadelphia Hotel, a historic building that has sat empty for years. Although there were plans for its renovation in the past, nothing ever came of them, and the hotel continues to await its chance to shine. Imagine the facade transformed with yellow-striped awnings like a grand Parisian bistro beckoning visitors to come in and dine, and the faded sign replaced with new copper letters. Inside, the hotel could be renovated into a destination restaurant, complete with tables covered in white tablecloths and serving up gourmet cuisine—I'd call it W.C. Fields. Our café only needs half of the building's first floor, so that would leave enough room for another complementary business. Which would you choose: a bakery and gourmet deli, a Patagonia-style clothing store, or a luxury day spa where guests could indulge in some well-deserved pampering?
But the real gem of the Philadelphia Hotel lies in its 38 hotel rooms. With some TLC, a lot of elbow grease, and modernization, these rooms could be brought into the 21st century. The conservative route would be to restore each room with period furniture and modern plumbing. But why not go hog wild by halving the room count, doubling each room's size, and wind up with 20 suites? Either way, the hotel would become a sought-after destination for travelers from all over the world. And with Bisbee's growing popularity as a tourist destination, the Philadelphia Hotel could become the next big thing, drawing visitors in with its historic charm and modern amenities. The Philadelphia would rival The Copper Queen.
In my photograph of the Pythian Castle, I wanted to capture its grandeur and sense of mystery and intrigue. The late afternoon winter light added contrast to the scene, highlighting the details of the clock tower and spire. I chose a low angle to emphasize the castle's height and dominance over the surrounding buildings, while the receding perspective of the street adds depth and dimension to the composition.
I hope you've enjoyed seeing this week's images from Bisbee and that you found my pipe dreams fun. Click here for a larger version of the Pythian Castle photo on its webpage. Join us next week as we delve into Bisbee's thriving art scene. We can't wait to share more of Bisbee's charm with you!
Till next time
jw
BTW:
Our friends, the Poteets, are touring southern Arizona and meeting with their adoring fans. Before they left, Fred swore on a stack of Bibles that their first stop would be Picacho Peak to capture the wildflowers growing on its slopes. When they return and have their slides developed, perhaps Fred will consent to share one of his finest.