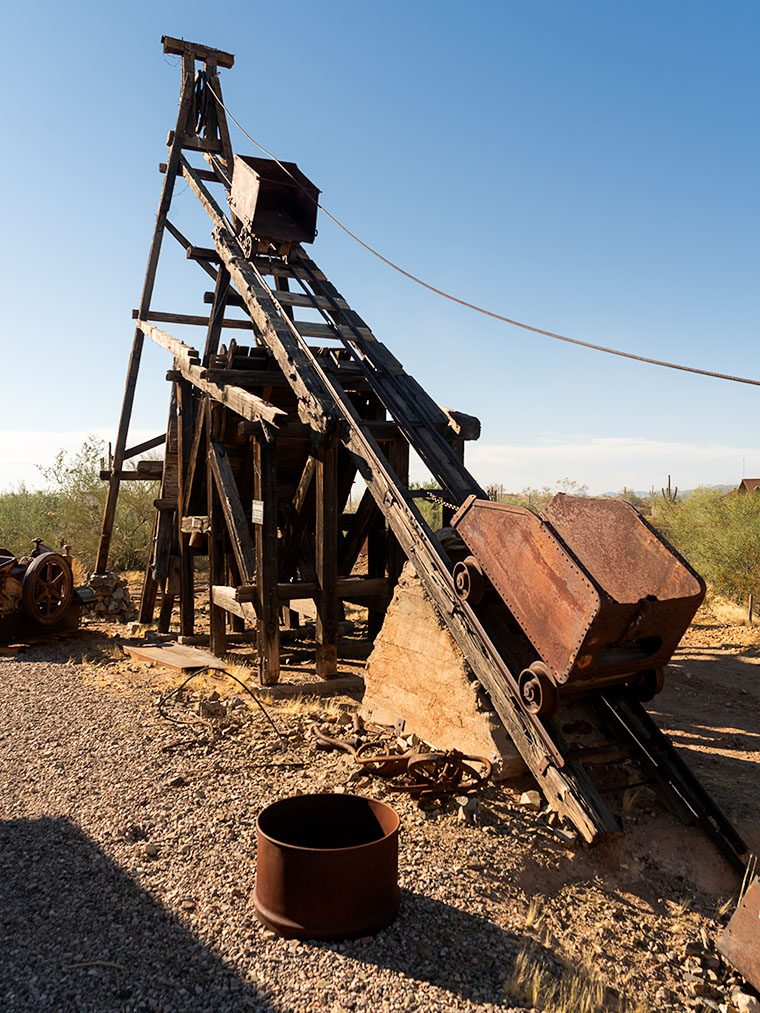 Hello again from Vulture City, where the unexpected is just another Tuesday! As I've continued my explorations here, I uncovered stories hidden in the shadows and surprises around every corner. I have butterflies in my stomach, and I can't wait to tell you that I was right about those menacing pumpkins—but let's talk about this week's photo first, and then we'll get to the paranormal.
Leading the tour today, we're craning our necks to take in a lofty structure known as a headframe. No, it's not the latest in chiropractic care; it's an essential tool in mining. Headframes served as the backbone (pun intended) of many mines, hauling not just ore but the brave souls who ventured deep underground. While the exact inventor of the headframe remains a debate for the history books, these mechanical marvels evolved from humble hand-powered origins to the might of steam and electric prowess.
In our arid southwest, standing headframes are rarer than rain. Given that lumber had to journey to these barren expanses, and the indigenous trees weren't quite up for the task, it's hardly surprising. The smaller mines often skipped the theatrics, as their digs weren't exactly the stuff of Jules Verne novels. However, tread cautiously if you're trekking across the desert and spot one (or just heaps of sturdy wood)! There's likely a yawning chasm lurking beneath.
The sentinel at Vulture City isn't the grandest I've encountered, and it's been repositioned away from the original mine shaft. I surmise it's a safety maneuver to stop kiddos from taking unplanned trips down under—after all, youngsters aren't toast. They don't pop back out when they're done. With its singular pulley setup, this headframe likely relied on sturdy equine muscle power. Imagine that—an equestrian gym session! These timber titans might be mute but resonate with tales of grit, ambition, and underground treasures.
When I thought Vulture City couldn't get any more bizarre, the town proved me wrong. As I walked through the displays, I saw one building marked with a Brothel sign. Of course, I had to check it out because—that's the kind of guy I am. I expected to see an excellent museum-style exhibit featuring swanky furniture and feather beds covered with hand-made quilts. You know, the usual dust-covered stuff. But what did I find when I walked into the Brothel's waiting room? Three pumpkins casually lounging on the sofa, arms and legs crossed, discussing the weather (I presume—I don't speak pumpkin). But the moment they saw me, it was like I'd flipped on the lights in a New York City apartment at midnight—those pumpkins scattered faster than… well, pumpkins with legs!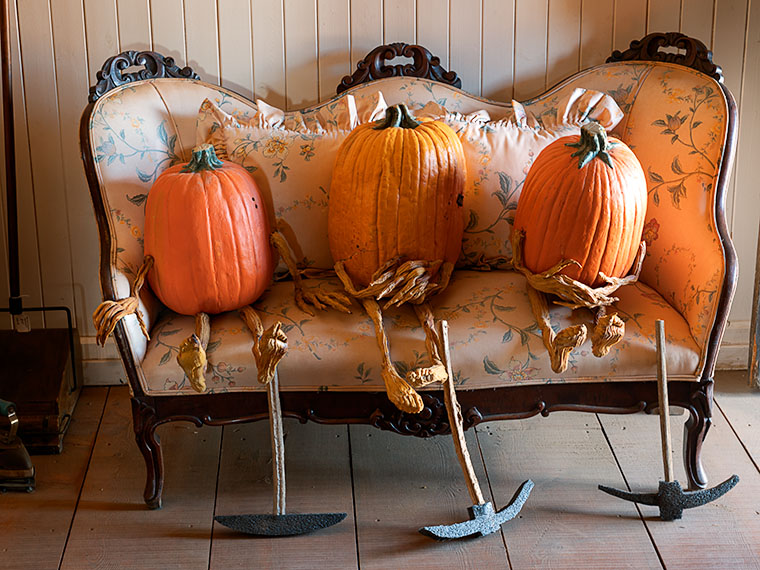 I was lucky that I already had my camera at the ready. I was able to squeeze off one clear shot before all of that dust was kicked up. They scattered in different directions so fast I sprained my eyeballs tracking them. You see—I was right about these pumpkins, and unlike the fuzzy Sasquatch photos you see in the check-out counter rags, this one's sharp as a tack.
As we inch closer to the spookiest day of the year, keep your camera ready, and more importantly, keep a wooden stake and garlic clove nearby! Who knows what might be lurking around the next corner? If you'd like to examine the headframe closer, it's on my website (Jim's Web page) and a page at Fine Art America (FAA Link). Join me next week as we conclude our Vulture City voyage and, fingers crossed, solve the pumpkin enigma.
Till then, keep your spirits high and your humor dry!
jw
Techniques: The Art of Capturing the Unexpected
The most mesmerizing snaps in photography often arise from serendipity—like those jaw-dropping space launch vistas captured by eagle-eyed air travelers. Hence, when queried about the best camera, I quip, "The one you've got handy," which, nowadays, is probably your phone.
Photography, much like life, is peppered with unforeseen marvels. Whether it's anthropomorphic pumpkins or whimsical backdrops, mastering these fleeting instances demands foresight and improvisation. Here's my toolkit for seizing the spontaneous:
• Stay Vigilant: Your camera should be an extension of your arm. Magic rarely sends an RSVP.
• Opt for Rapid Shutter: The key to pinning down swift, fleeting moments in pristine clarity.
• Experiment with Perspectives: An unusual viewpoint can accentuate the oddities of a scene.
• Keep a Cool Head: When faced with the unexpected, breathe, tweak, and click.
• Welcome the Unscripted: Don't shun the anomalies; let them enhance your photographic narrative.
Remarkable snapshots often sprout from impromptu events. So, let spontaneity be your muse, and you might clinch that once-in-a-lifetime frame.
BTW:
I just added another YouTube video to my On the Road series. This one covers my Arizona Mountain Portfolio. If you'd like to watch this six minutes of eye candy, you can see it here: https://youtu.be/pN0dbZ2tBj8