We've driven about two hundred and fifty miles south of Prince George today ('about' means they measure things in that demonic metric system here, so you can't trust those commie numbers). It's only another four hours to Vancouver, but we stopped here for the evening, because … well, we could. Besides, in the travel catalog we've gone by, we found an RV Camp that looked interesting, so we stopped to check it out.
It's like any other camp we've grown used to over the past two months, except it has grass and shade trees. We pulled in and parked. I got out and tried to follow the maze of signs to the office. I wandered about for a while before finding a full size cut out of Donald Trump, wearing a baseball cap and holding a sign that said, "Welcome to Clinton." After catching my breath, I ventured further and somehow, I wound up in a kitchen when a voice bellowed, "Can I help you?" I replied that I was looking for the park office. The rather large gentlemen responded, "Well, you've found it. If you took off your sunglasses you'd be able to see that."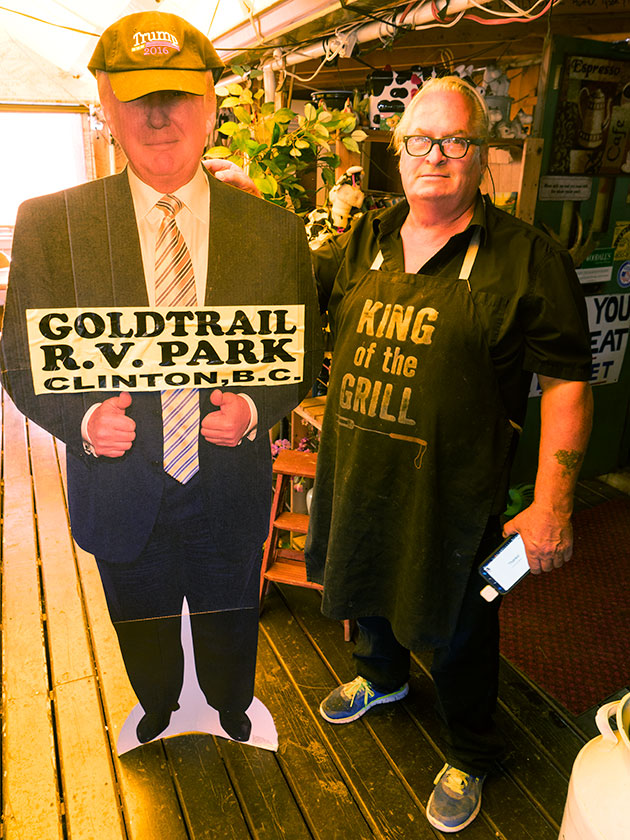 Anne had followed me in, and assuming from the press blurb that he was the proprietor, asked if he was Michael. "It's Sir Michael to you." That's all it took, we were staying. As we checked in, he told us about the on-site restaurant named the Road Kill Grill; "You kill it, we'll cook it." If you haven't dragged in something of your own, there is a choice of several protein mains to go along with an all-you-can-eat side dish buffet. I know it doesn't sound appetizing, but the food was really good. The flavors were complex and in spite of his demeanor, he knows how to cook. You have to bring your own wine or beer to the table, otherwise, alcohol isn't allowed in the restaurant.
Because the evening was still early, Michael had time to join us at our table. As I suspected, he's a world traveler and explained that he spends time in the Philippines when he closes the park for winter. Even though his sense of humor is gruff, it didn't take long to realize that it's his public face and he's a wealth of local information when you get beyond that façade.
I'd recommend dessert when you come. Ours was a hot crisp with rhubarb and wild berries (picked from the surrounding hills) topped with black cherry ice cream. Even rhubarb haters will find something to like in this.
If you happen to like the fresh restaurant vegetables, they're for sale.  They're grown in the park's garden (except the tomatoes). There's a stand at the entrance where you can select what you want. We couldn't help but buy some onions, potatoes, tomatoes and one of the monster zucchini from the bins. I haven't a clue where or how we're going to cook them, but we'll figure something out.
Tomorrow, we reach Vancouver, where we'll be able to stop and visit for a couple of days. I'm searching for a meal that I saw on Triple D. If I find it, it may well be the last thing I ever eat . . . heart attack city.
jw