Shoot out at the border.
We spent three nights in Vancouver at a very nice RV Park, but when we got ready to leave yesterday morning, I found out that it was only a couple of miles from the border crossing. "Great," I told Anne, "We'll get a late start, I'll buy gas with the remaining Canadian money, and still be in Seattle by noon." Since it was early on Wednesday morning, we really didn't expect much traffic, there was little reason to go eleven miles out of our way to the smaller port of entry on BC15.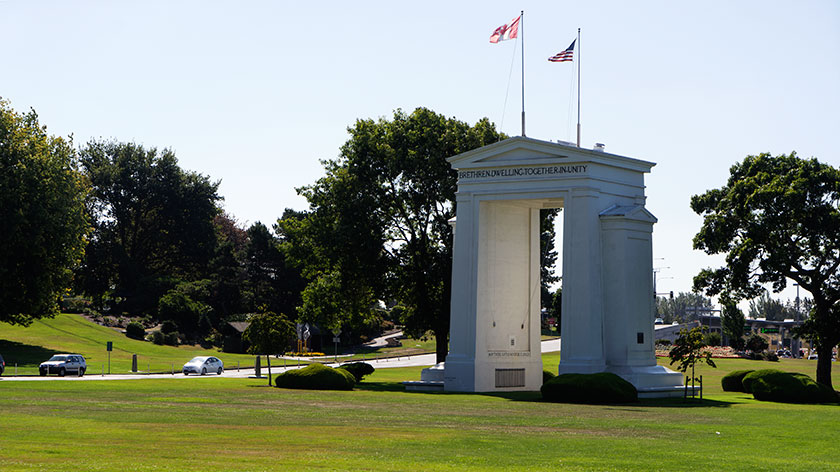 As it turns out, BC99 is Interstate 5 after crossing the border, and very few customs stations handle more traffic than this one. It was ten lanes wide with traffic backed up for a quarter of a mile. We were committed now, so I picked a slow lane. It really didn't matter, because which ever lane we would have chosen, would wind up the slow lane.
After about a half hour, we finally made it to the customs agent (or are they TSA? maybe border patrol . . . whatever), who turned out to be Edwina (Holly Hunter in Raising Arizona). She rattled off the standard questions; Where do you live?, How long were you in Canada, Why did you go to Canada, did you buy anything in Canada, are you carrying any meat or produce with you . . .
"Well, we have some bacon, but we bought that in Montana, and some steaks, which we bought at the Anchorage Costco. We don't have and citrus." (I knew that citrus is a very bad thing to have.) "We just have a tomato, a couple of potatoes and an onion."
Hearing that, Ed's eyes narrowed and her lips pursed and she filled out an orange slip and slapped it on the windshield. "Follow the yellow arrows to the building over there, then take the form inside along with your passports for further inspection." We obediently followed the yellow arrows and went inside.
Inside, there was a very long line, which as it turned out, was for the bathrooms. Relieved (in a different kind of way), we entered the main hall and saw a much bigger line snaking its way to a very large counter. Forget what you know about TSA lines, this was worse. There actually were two lines, one said Nexus, Agriculture, Meat. That line was empty, so it couldn't possibly be the right one. The other line was for everybody else and everybody else was already in that line.
We stood for a moment trying to figure out which line we belonged in, when a sweet young customs woman walked up and asked if she could answer our questions. We explained what Ed had told us and we were just trying to figure out which was the correct line.
"Oh, this is for produce, you're here to see me, come up to the counter over there." That was a first, but who was I to argue. We met her at the counter and handed our passports and orange form to her and explained about where we lived, why we went to Canada, how long we were there, where we left the States and did we own the truck and trailer. She slipped a declaration slip across the counter for us to fill out and sign.
"We'll need to inspect the produce, may I have the keys please?"
"Sure, I show you," I offered.
"No, you and your wife take a seat on the window sill over there and we'll call you when we're ready. Is this the trailer key?"
I explained that it wasn't and told her where the trailer keys could be found in Fritz. Then we took our place on the window sill, with all the other smugglers.
After what seemed like an hour, but was probably only half that long, she came back in and summoned us to the counter. She showed us a bag of evidence: the remaining beautiful beefsteak tomato and five small Yukon Gold potatoes we bought from Michael in Clinton. "I'll have to confiscate this produce."
Anne actually blurted out, "Can I at least have a bite of the tomato?" That didn't go over very well, and she moved the bag out of reach then bid us a safe trip and handed back our passport and signed orange slip. As we left, she said something curious, "Be sure to check the trailer and lock it." So, once outside, we did.
It was now noon-thirty; two and a half hours later. We got into Fritz and headed out the exit with our orange get out of jail free card. The gate guard examined it and lifted the barrier. Once again, we were free US Citizens.
We stopped for lunch and then headed for our new camp site. After checking in and parking the trailer, we opened the door. Aah! It looked like two pigs had a cat fight in there. The doors and drawers were all left opened and all of their contents spilled out on the floor. Neither one of us knew how to react. I felt so . . . violated.
We're spending a couple of days in the Seattle area to restock, regroup and to visit some dear friends living here. After that we'll be traveling over the Cascades to Yakima, the center of Washington wine country. We could use a bottle or two.
jw