While we were still in Carcross Sunday, I needed to get up during the night. It seemed pretty dark, but I didn't really pay much attention, because Queen Anne made some black-out curtains for the windows. As I got back in bed, I peeked through the curtains, and I saw stars in the night sky. I'll let that soak in for a minute. It was finally dark enough that stars were visible. I don't know if we were enough south, or that much time has passed since summer solstice, but we're beginning to have real nights. That does wonders for my sleep.
We hit the road early yesterday and made our way along the Alaska Highway towards Watson Lake. That section of road is in good shape and we made good time. The Canadians are good about putting orange markers along the road sides, indicating the bad sections. Either you slow down or drive on the left side around the road hazard. Since we were the only ones on the road, we could easily maneuver in any lane we chose.
Since I didn't have to drive a slalom course of potholes, I drove relaxed, and that gave me a chance to look around. I noticed the willow leaves were turning yellow already. This is the beginning of August and fall colors are starting above the 60th parallel. The second thing I noticed was how beautiful the Yukon is. Sparsely dominated by black spruce and willow, where even with a modest grade, we rose above tree line. The mountains, separated by lakes, are not craggy, snow-capped and grandiose, like we've seen in Alaska, but they stand tall above the tundra. They also go on forever, range after range for hundreds of miles.
Unless we wanted to go back the way we came, we needed to take another road south, and that was Highway 37, about fifteen miles west of Watson Lake. We originally had planned to stay in the RV camp at that junction, but we had made such good time that we decided to press on. After driving south five miles we crossed the sixtieth parallel into British Columbia.
Have you ever had the feeling that you were sure you've made a mistake even though all the signs say you haven't? That's Highway 37. On the map it looks like a major road cutting south through upper BC, but through the windshield, it looked like a Kentucky back road. Barely two lanes wide, it cut between the bogs twisting every which way. The speed limit was 48 mph (80km), but only a lunatic would have driven that fast pulling a trailer. It had no center lines and no shoulders. As we drove further, the road began to widen and became what we consider normal. We had almost worked up the nerve to go the speed limit when we had to stop to let a black bear cross in front of us.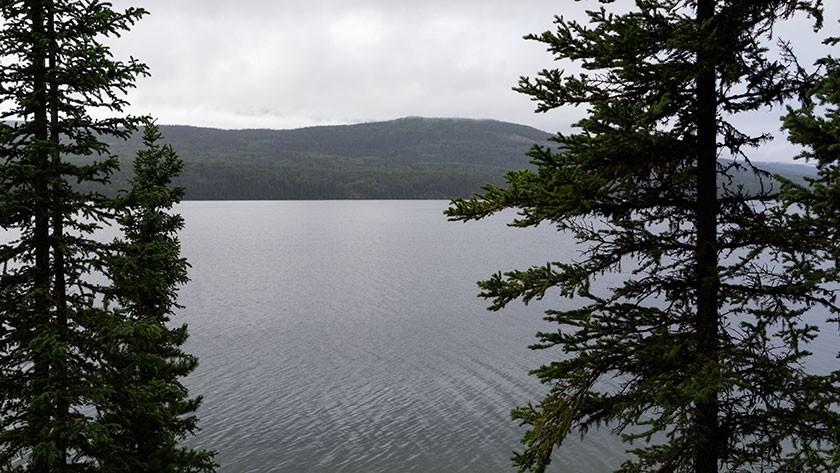 We stopped in a dry camp for the night about a hundred miles into BC. A place called Dease Lake. Our camp site was on a bluff overlooking the lake, and the view was so pretty that we broke out the window cleaner and scrubbed the back window so we could enjoy it. We slept the night with the curtains pulled back.
As with every road we've been on during this trip, there was the usual construction sites and the dirty mess on the vehicles. This road was full of such projects and by day's end, The Ritz was carrying ten pounds of mud on the front.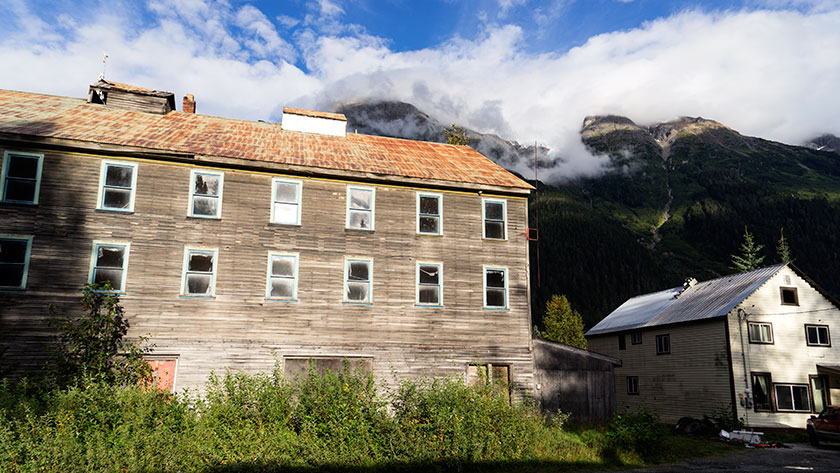 Towards the end of day two and four construction zones later, route 37 finally turned into a real highway with center lines and shoulders. We have another day before we're done with this road, but tonight we've made camp in the town of Stewart. I'll show you why tomorrow.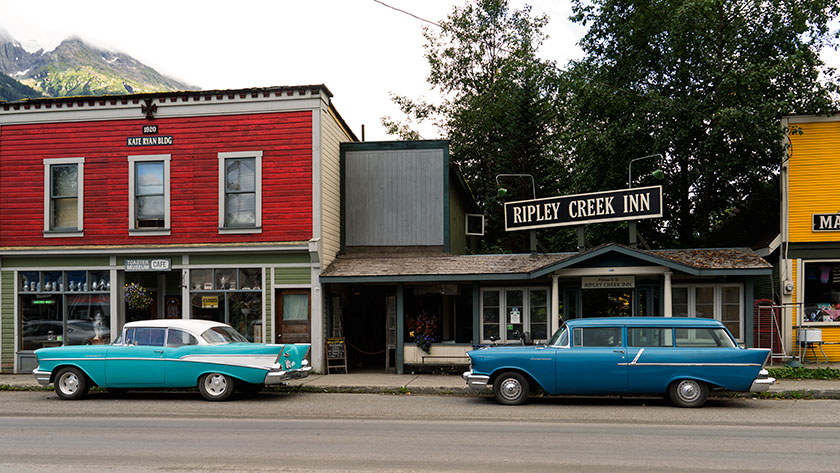 jw