It's been a long and successful day on the bus. After yesterday's post I thought I'd share with you a shot from the Eielson Visitor's Center and relieve the suspense. The shot is of the Denali complex, from The Wedge to Peter's Dome all surrounding Denali like jewels in a diamond ring.
As I explained in a earlier post, only 30% of the Denali National Park visitors actually see the mountain. What we learned today is that only 10% of those visitors ever see a cloudless mountain. They sell the 30% T-shirts here, but not one for ten per-centers. At the end of our trip, the first thing that the Queen and I did was to march into the gift shop, and buy our tee-shirts. I can die now.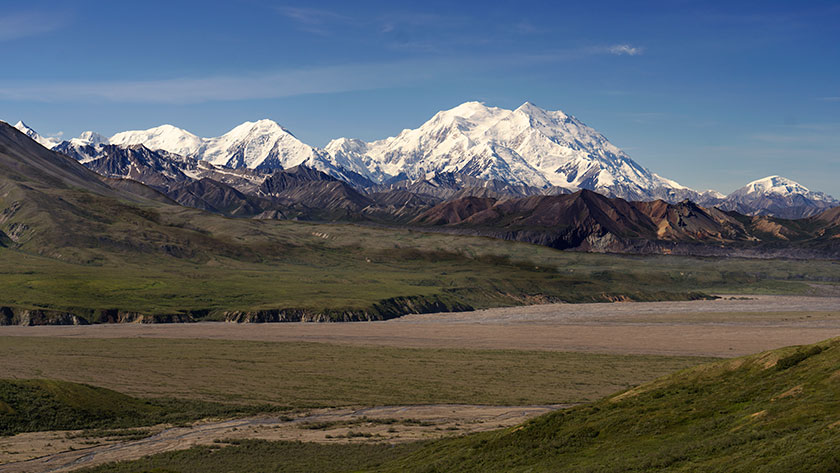 I can't begin to explain how massive this mountain is. The photo included was not taken with a telephoto lens. It was a normal lens from thirty-two miles away. There are two peaks on Denali, the north, which is pyramid shape, and the south which looks like a scoop of ice cream. The south peak is over twenty thousand feet making it the tallest mountain on the North American Continent. The distance between the two peaks is two miles. Another bit of trivia that sells tee-shirts here is that Denali's base plateau is under three thousand feet, while Mt. Everest sits on a plateau of sixteen thousand feet. So, with pride, the Alaskan's boast that Denali is taller from base to peak than Mt. Everest. I'm not going to join that argument, I'll just say there are windows in the visitor center two stories high, and this mountain fills the center panel. 'nuf-said.
jw