We had lunch in Skagway today. It was an international meal. We had to leave the Yukon Territories  for British Columbia, and then go through customs at the Alaska border. The trip took about an hour from our Carcross camp. With this little jaunt, we have covered every mile of the Klondike Highway, from mile zero in Skagway to the Dawson City ferry.
The Klondike Highway between Carcross and Skagway is pure eye-candy. It climbs beside a series of lakes up to the three thousand foot White Pass, and the border. There the road descends back to sea level in thirteen miles, with grades up to 15% (my guess, they're not marked). I would compare it to Arthur's Pass in New Zealand. If you lost your brakes on either hill, I'm sure you'd hit the ocean and skip across the water.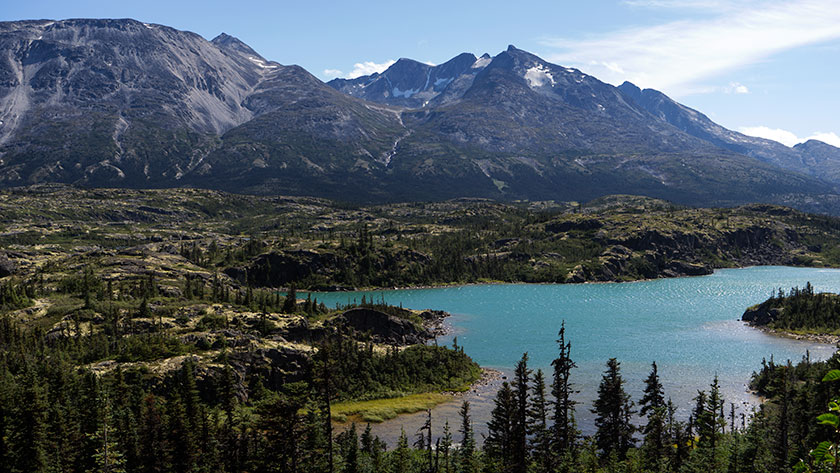 The vegetation along the road ranges from dense spruce to above tree line, then back to broad leaf forests. The top of the pass is glacially scraped bedrock with thousands of little alpine ponds. If you keep watch on the high slopes, you may see a mountain goat or two. After passing the summit, it's easy to see how a glacier cut the fjord that Skagway is in.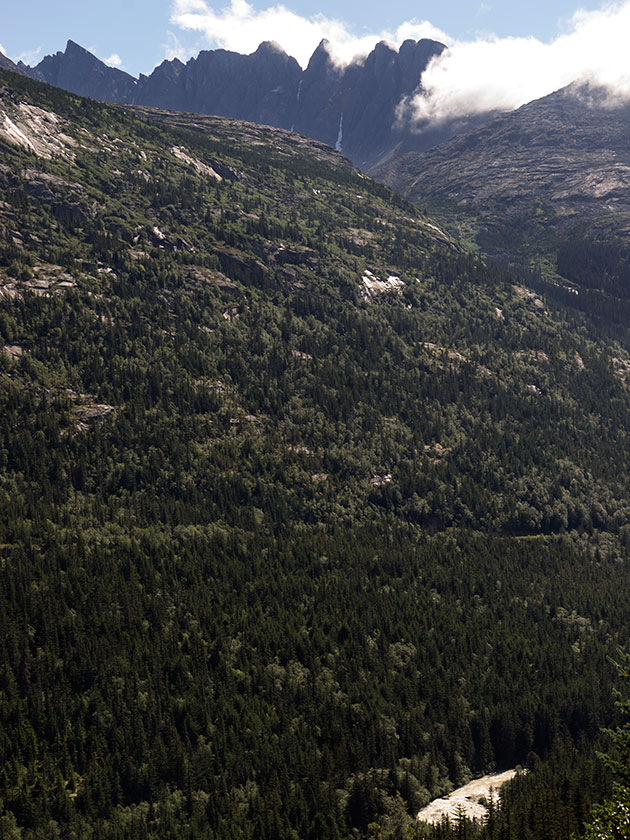 As for Skagway . . . there were two cruise ships in port, so the town was packed. There were shuttle vans taking people up to the pass, there were trains taking people up to the pass, and there were airplanes taking people up to the pass. You can rent bicycles, mopeds or just walk thirteen miles up the hill.
If you don't know the history of the pass, here's the thirty-second version.
Part A: During the 1890's Klondike gold rush, prospectors throughout the world converged in this area trying to get to the Yukon gold fields. The original preferred route was the Chilkoot Trail. Historic photos show men shoulder to shoulder, climbing this pass in the snow. To cross into Canada, you had to prove that you could sustain for a year, so you had to have a ton of provisions with you. You, or someone you paid had to carry all that junk up to the border and pile it on a scale. Only then could you enter the Yukon.
Part B: In 1900 an US/Canadian company completed a narrow gauge railroad that runs between Skagway and Whitehorse (it still does) through White Pass. After that prospectors abandoned the Chilkoot route. Twenty years later, all the easy gold was gone anyway.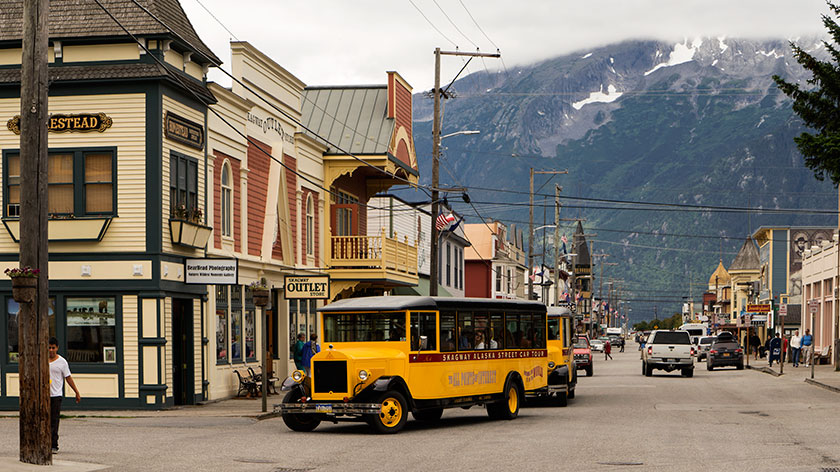 Back to Skagway. A lot of today's tourists didn't care about the pass. They'd prefer to shop for jewelry, furs, tee shirts or fudge. While they're at it, maybe they'd like a beer, a meal, or visit a brothel. That's what Skagway does very well. The historic buildings are well-kept and neat to see. There are several museums to visit and learn about its history. But the things you need to live there are hard to find, like a gas station, grocery store or even a working bank. They are in a different part of the town.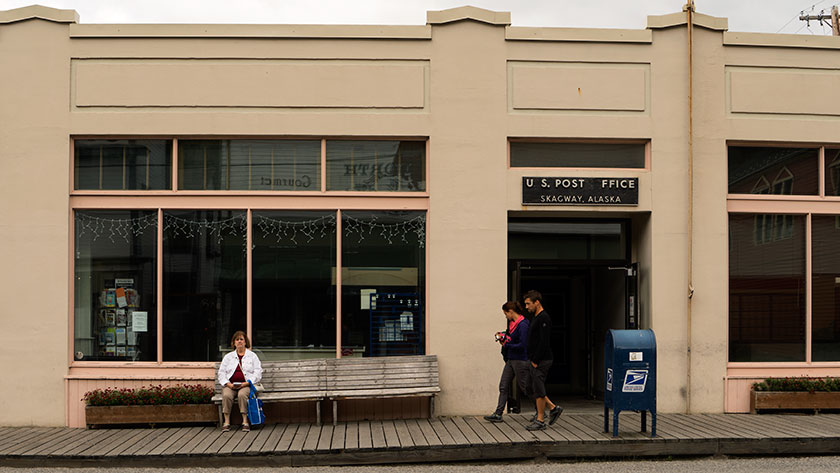 I'm glad we visited, we had fun visiting the brothel (it's on the haunted building registry), but we didn't pay ten bucks for the twenty-minute tour (same price as in 1899). Continuing a tradition that started on my fiftieth birthday, Anne bellied up to the bar and bought me a beer, but not a the tee-shirt.
Tomorrow, we break camp and move south into British Columbia where we will be dry camping lakeside at a Provincial Park. We won't have an internet connection, so my next post will have to wait till we return to civilization.
jw