We need to drive an hour to show you a different part of the Algodones Dunes. I hope you had breakfast because we're not stopping. There are only two roads that cross the dunes, Interstate 8—east of Yuma and California State Highway 78. We'll hop onto I-8 and head west to Holtville, then north to Brawley.
Most of this drive is flat and dull except for the towering green John Deere tractors that take up three lanes of the two-lane road. The farmers drive them on public roads to remind you that if you eat steak and salad in winter, this is where they were likely grown—either here in the Imperial Valley or Yuma.
Once we get to Brawley (there's a bypass, so thankfully, we don't have to go into town), we'll turn west onto S.R. 78—the road to Blyth (boy, it keeps getting worse, doesn't it). It isn't far out of town that you see a cloud bank on the horizon—or at least that's what it appears to be. The sand reflects light on a bright day, and the detail gets lost. The shapes and color begin to resolve in another mile, and the windshield fills with an overwhelming sea of golden sand.
We have arrived. This area of the dunes is the home base for So Cal dune-buggy enthusiasts. As soon as the highway starts up the sand, you'll see Gecko Road on the right. It's a paved street loaded with vendors, campers, and rangers. This road is a fee area, so we may have to buy a permit if the rangers come to work today. There are several designated camping areas along the road, and they're full of R.V.s and trailers—even in the middle of the week. Judging from the size and luxury of these rigs, they've come from the L.A. Basin—and they're richer than anyone from Arizona. There must be a thrill racing up and down dunes; otherwise, what's the point? I wouldn't try it in Archie, but with Bluto, I might. It could be fun.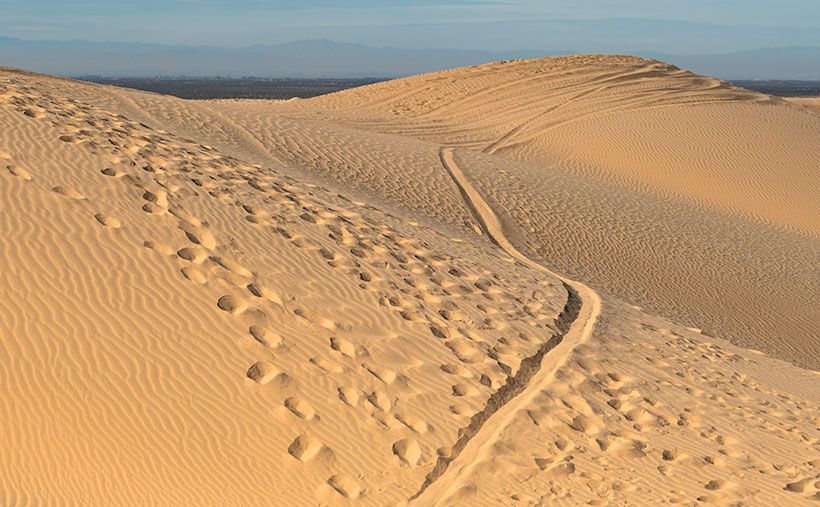 It can also be dangerous. Some creatures live in the sand that nobody's seen—their tracks are the only evidence that they're real. They're called sandworms, and they feed on unsuspecting victims as they try to cross. It's true; they were in the '90s movie Tremors, and you can see for yourself in this week's picture called Predator Tracks. In it, you see footprints from a herd of bikini-clad tawny blond valley girls, moving north across the sand while staring at their phones. They were defenseless because they ignored their parent's warning to take a chainsaw.
As they incessantly chattered about their Instagram likes, they overlooked the sandworm lurking behind a distant mound. Like dolphins feeding on a school of mackerel, the sandworm blindsided the girls. From their midst, it snatched Cassie in its massive jaws and drug her under as she complained about losing all her bars. None of the others noticed. They continued to the snack truck making snide remarks about how Cassie had just ghosted them. The only record of this tragedy is the tracks in the sand in my photo. Within a couple of days, even those will blow away.
You can see a larger version of Predator Tracks on its Web Page by clicking here. Next week we'll hang around the Imperial Dunes and see what other sand tracks we can find.
Until next time — jw