When Queen Anne and I make our quarterly medical run-to-the-border, the drive is usually three-hours each way. Most of the time, we leave at dawn, see our dentist, buy prescriptions, and then come home. For me, those are long days behind the wheel; for Anne, not so much. She's usually asleep in the passenger seat until her snoring wakes her up.
Occasionally when we have lab work done, or the customs line is three-hours long because the snow-birds have arrived, we'll get a room in the elegant east-side Motel 6 and dine at the swanky four-star Denney's. Our December visit was one of those occasions. Since I needed a topic for January's posts anyway, we spent an extra night and took a circuitous route home—we'd go up to Blyth to work the Algodones Sand Dunes for this month's project.
The great swath of sand starts about three miles south of the border outside of Los Algodones, Baja. It continues 45 miles northwest into the Coachella Valley (California's Imperial Valley). They're the most extensive contiguous dune system in the U.S. The dunes are also called the Imperial Dunes, Glamis Dunes, and Gordon's Well. The name varies with location and the leisure activity you're doing. Still, the entire system is officially named Algodones Dunes (in Spanish, it means cotton plant—the predominant crop grown on both sides of the border along the Colorado River). This week, we'll start west of Yuma at the Mexican border—at Gordon's Well.
Imagine it's 1850, and you've traveled by wagon hundreds of miles across the scorching Sonoran Desert, forded a raging Colorado River, and finally crossed into California. You'd think your hardships are behind, but then, you're greeted with 6 miles of Sahara-like sand to cross. With each step, you sink up to your knees. Even in 1926, when the nation's first Ocean to Ocean highway was built (U.S. Route 80), the shifting sand was an engineering nightmare. They couldn't simply scrape the sand away because the prevailing wind constantly covered it up again. Even today, if you're caught in a windstorm along this section of road, you'll risk a chance that the sand will blast the paint off your car.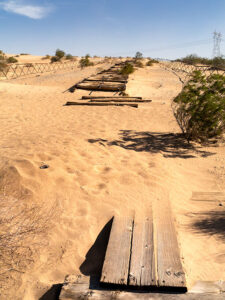 The road builder's solution for getting across was to build a plank road—movable wood sections on railroad-lie ties that floated on the sand's top. It turned out to be challenging to maintain, but it drastically cut the crossing time when it was clear. Eventually, the planks were replaced with new and expensive asphalt, and eventually, it became Interstate 8. There is a section of the original plank road at Gordon's Well on display. When you grow tired of looking at the old wood road, you can walk over to the border wall and lean on it.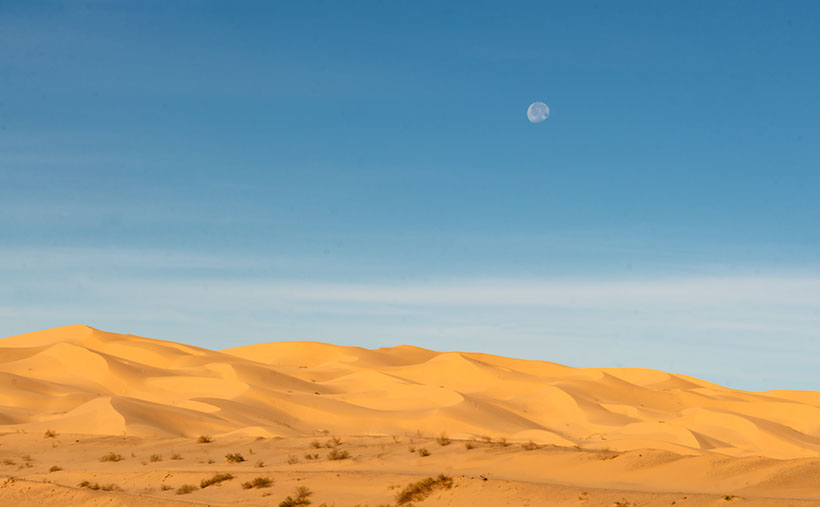 As Anne and I drove west on the freeway, we spotted a waning moon setting on the dunes, so we looked for a place to stop. We've got stuck in these sands once before, so we were careful not to drive off the blacktop. I didn't want to pay for another hook to come to yank us out. As you can see, we found a good spot and took this week's picture called Dune Moon. The name could have been funnier if I had shot it during a particular summer month. Se la vie.
You can see a larger version of Dune Moon on its Web Page by clicking here. Next week we drive north up the Imperial Valley to visit the northern dune crossing. Be sure to come back and see what we found.
Until next time — jw